The proof is in their recently released audiobook of affirmations, "I Believe in The Power of You: Affirmations for Kids by Kids". With this book, Aaron and Langston Aizenstros are one of, if not, Canada's youngest Afro-Canadian children authors. It is their hope that when kids listen to the audiobook they will feel "amazed", "happy", "enjoyed", and "excited".
Now I know what you're thinking, and I thought the same thing at first: "Wait, what? That's amazing, but aren't they too young to be writing affirmations? Why not a comic book?" However, while listening to their mom share stories about the boys discussing veganism and God, and, wait for this, using the word "photovoltaic" (It's okay. I'll wait while you Google it) it became quite clear that Langston and Aaron aren't typical kids--despite their abundance of energy (which was obvious over the phone) and love of "soccer, hockey, football, basketball and other games".
Considering too, that their mom-- renowned media personality Janét Aizenstros -- started practicing affirmations with the kids when they were younger, it is not surprising, that the boys would be interested in creating a book.
When Aaron and Langston were babies she would play a CD of affirmations in their room at night. "I just started thinking of all the things I didn't have as a kid to help build up my personality and give me coping skills when life did hit. So I started [affirmations] with the kids at a young age," she says. Naturally, "I think what inspired Aaron was that he heard me saying affirmations but ultimately he just wanted to do it".
As a mom who doesn't want to set limitations on her kids, but instead hone their abilities, Janét jumped on board—and so did Langston. But her support didn't mean taking over. With a lot already on her plate, Janét was adamant about the boys leading the project. Though she facilitated it, Aaron and Langston did most of the heavy lifting.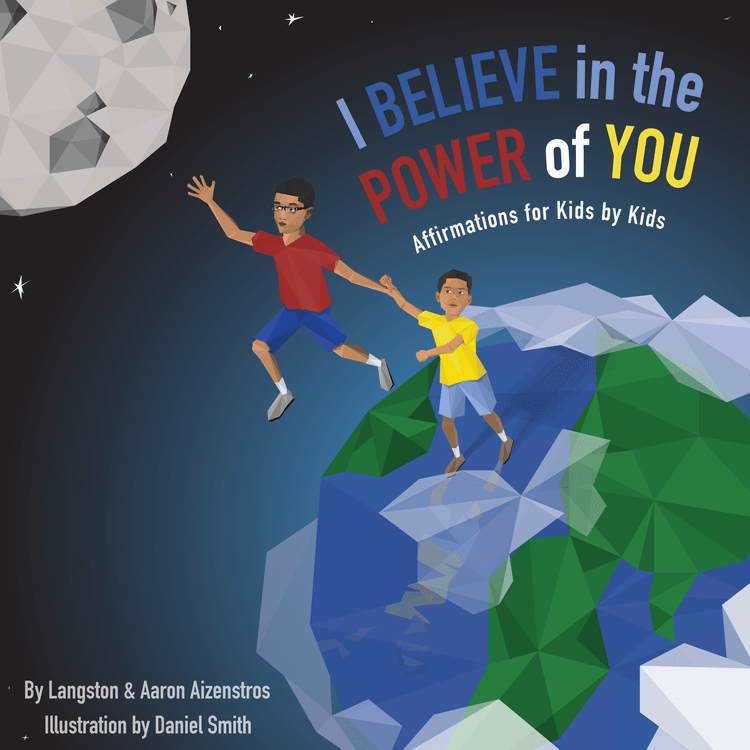 They wrote and recorded "a little under 100 affirmations" for the audiobook. Although they couldn't agree on who was to blame for the re-do's, they seemed to agree that redoing the recordings was the hardest part of the process. The best part? "When we got to say the words!" exclaimed Langston, and "being able to share it with other kids", noted Aaron.
When asked how saying affirmations makes them feel, Aaron and Langston casually mentioned that it makes them feel happy and puts them in a good mood. But the affirmations were also useful during difficult and life changing moments. Janét remarks, "They are really happy. I was previously married to their father, and we went through a life transition and they felt minimal effects from this. So I think that the affirmations were helpful. It has also helped them with school. They feel really positive. Langston has a learning disability; he was diagnosed with ADD. He went from having difficulty reading at a kindergarten level to being able to read at his own grade level within 7 months. He was able to cope and pull through."
The project which started in November of last year took six months to complete. Janét, who has partnered with countless professionals in her career, muses that she didn't realize the project would take as long as it did. "If it were me it we would have had it all recorded within a week," but "I'm not going to force them to do anything they don't want to do."
She says working with her kids was a positive experience and it presented "character building mommy moments". "It brings a perspective that they are kids; not adults. Sometimes we have to step outside our adult space and realize that. What may be easy for adults to say is not as easy for kids to say. I think I probably got that the most out of that experience."
Janét who says she's been "inspired" and "healed" by her kids, also has some advice for parents out there with budding child entrepreneurs at home. "You want to hone it [their pursuit]; you don't want to hinder it. But it has to be self-motivated. It cannot be a parent pushing their child into anything, because when that child gets older it's easy for them to get distracted because they don't know who they are. When it comes from within and they [kids] are motivating it, you can keep them grounded in knowing who they are."
Between the two boys, it's Langston who wants to be the author when he's older. Aaron has his eye on being a hockey player--maybe for Montreal since that's the team he enjoys watching.
A paperback version of the audiobook will be available in the future. To learn more about Aaron and Langston Aizenstros, their future ventures and order the audiobook, you can visit their website: ari-lang.com.
Click HERE to buy the audiobook now.