The same city and university (University of Hull) where I studied and completed my Masters degree in Slavery Studies, only seven years earlier. Upon seeing the opportunity to submit an abstract for this conference back in August 2017, I jumped at the chance to submit a topic where I could showcase the Ontario Black History Society (OBHS) and all the work this organization has been doing for the past forty years to preserve, promote and celebrate African Canadian history.
The OBHS is a non-profit registered Canadian charity, dedicated to the study, preservation and promotion of Black History and heritage and was founded in June 1978 by Dr. Daniel G. Hill, his wife and four other friends. While all were important in the creation and foundation of the OBHS, I wanted to take this opportunity to take a closer look at Dr. Daniel G. Hill, who was the catalyst for the organization's creation. Whose passion, interest and knowledge of Black History in Toronto, Ontario and Canada, ignited the need for an organization who would be responsible for the memorialization and celebration of the rich and long lasting history of Black people in Canada.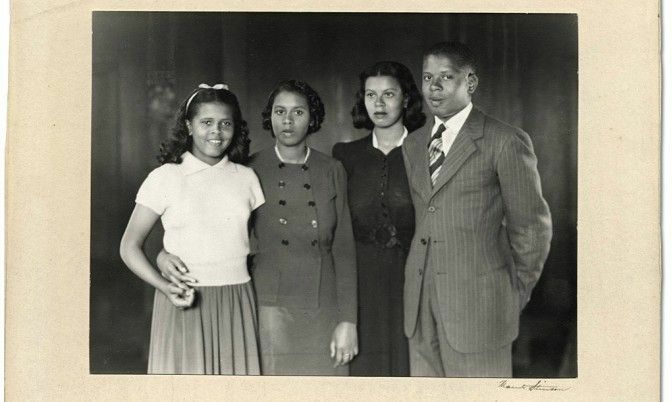 Daniel G. Hill and his three sisters when they were teenagers, [ca. 1937-1939]
Born on November 23rd, 1923 in Independence, Missouri to Black American parents, Daniel G. Hill had two particularly formative experiences as a young man: fighting in World War II and taking a year to study abroad at the University of Oslo in Norway. It was during these experiences that Hill decided that life in the United States was not for him due to the deeply entrenched patterns of racial segregation embedded in the very fabric of America. In 1950, he moved to Toronto to begin his Masters degree in Sociology and graduated with his MA from the University of Toronto in 1951. After graduation, he moved back to the United States to live with his parents in Washington, DC while he taught Sociology at Morgan State College in the nearby city of Baltimore for a year. It was Hill's plan to move back to Canada to complete his PhD in Sociology and settle there after his year of teaching.
It was while teaching at Morgan State, that Daniel met and fell in love with Donna Mae Bender, a white woman, born in South Dakota and raised in Chicago to a conservative Republican family. However, Donna shed her conservative
 upbringing and became a Civil Rights activist, working as a secretary for a Democratic senator and planning and staging anti-segregation sit in protests in America's segregated capital city. On June 8th, 1953, fourteen years before the Loving v. Virginia case which invalidated all laws prohibiting interracial marriage across America, Dan and Donna married in Washington D.C. Their interracial relationship and marriage caused quite a stir and totally went against the grain of segregation that was the norm in both America and Canada.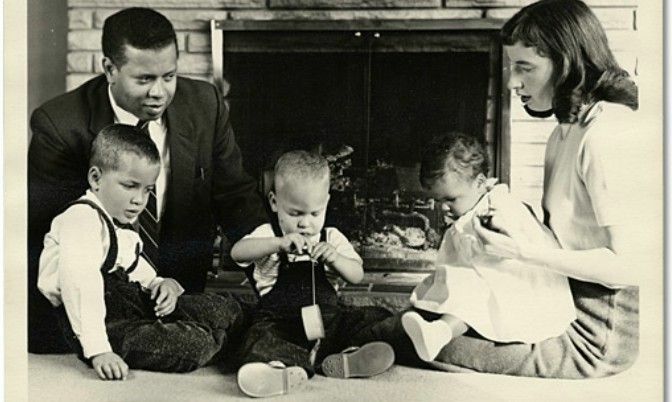 Daniel G. Hill at home with family, [ca. 1958]

After moving back to Toronto so Daniel could begin his PhD at the same institution he received his MA (The University of Toronto), Donna continued her work as a civil rights activist, working for the Toronto Committee for Human Rights to document examples of racial discrimination in Ontario. She wrote a 43-page booklet titled, "A Black Man's Toronto: The Reminiscences of Harry Gairey, 1914-1980", about a man born in Jamaica and who moved to Toronto in 1914 when he was 15 years old. Meanwhile, Daniel completed his PhD in 1960. It was through the process of researching and understanding the history of Black people in Canada for his PhD thesis titled, "Negroes in Toronto", as well as his and Donna's shared passion and interest in Human Rights and Black History, that the idea for the Ontario Black History Society was birthed.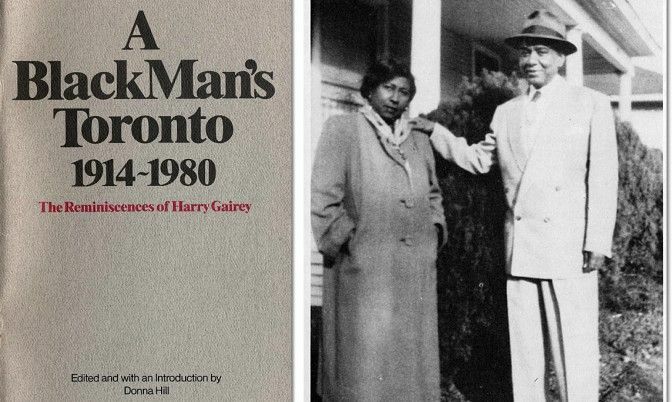 Hill said, "...back in the 1950s, when I was a somewhat younger student of sociology, I went searching for documentation, articles, pamphlets or books on Toronto Blacks, but unfortunately information in written form did not exist. An oral history among the old-timers was evident, but the life and times, the contributions and trials of Toronto Blacks, never had gotten into print." Realizing the amount of rich history of Black people that the city of Toronto had, and that there was nothing written down, nor any organizations or groups that celebrated or promoted this Black History, in Toronto, Ontario or Canada, Dr. Hill dedicated his career to bringing awareness of Black History in Toronto specifically.
Founded by six friends, who all shared an interest and passion for Black History, the OBHS became the first major public organization in Canada focused on the history of Blacks in Canada. Hill remained at the helm of the Society for about six years. Having provided many exhibition materials over the years, the OBHS first started the practice of showcasing exhibits back in 1980, when then Toronto Mayor, Art Eggleton, supported the OBHS by launching a major Black history exhibit at Toronto's St. Lawrence Market. At this exhibit, Hill unveiled a portrait of the important, but forgotten William Peyton Hubbard, Toronto's first municipal politician of African descent. A trained baker and inventor, William Peyton Hubbard was born to American slaves who had escaped slavery in Virginia and reached Canada in 1840 via the Underground Railroad.

While the OBHS continued in its development and solidifying its foundation in its early years, Hill had always hoped to publish his dissertation, but for whatever reason was not successful in this particular goal. However, he did write numerous articles, such as: "Black History in Early Toronto" and others about the history of Black people in Canada. His scope and interest widened from the history of blacks in Toronto to the history of blacks in Ontario and Canada. In 1981, he wrote his first book titled: "The Freedom Seekers: Blacks in Early Canada".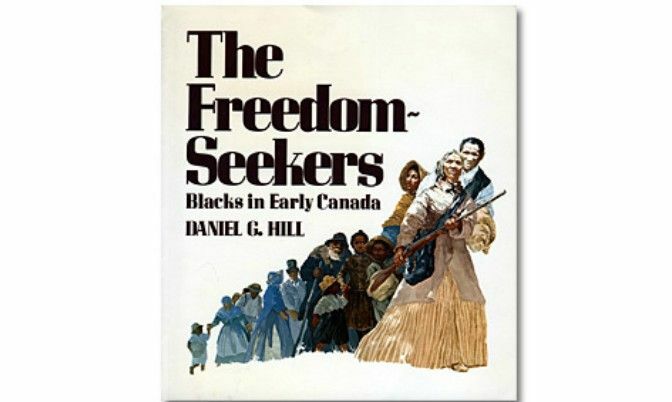 This book was pivotal not only because it was the first of its kind to recount the history of Blacks in Canada, but also because it was written for a popular reading market.

"Freedom Seekers" remained in print until 2002. It reached thousands of Canadians and chronicled the phenomenal success story of Black enslaved peoples and refugees and their struggle to break the chains of slavery and gain the full rights of citizenship in their adopted country. "Freedom-Seekers" provided an in-depth look into African-Americans' movements' northward, during different periods in history, as well as the interconnectedness of people and communities on both sides of the border. Having been born and raised in the United States, but making Canada his permanent home, Hill was able to utilize his experiences living in both countries to connect to the history of black people in Canada and how and why they travelled to Canada from the US. While attempting to find a title for his book, Hill really wanted to find an appropriate term for Black people who had settled in Canada and celebrate them and all that they had endured as enslaved peoples. He wanted to emphasize these Black settlers' desire to overcome, win, and protect their freedom, dignity and the quality that they so rightly deserved. That is why Daniel Hill came up with the term, "Freedom Seekers".

Hill was largely responsible for pioneering the study of history of Black people in Toronto, Ontario and Canada. After six years at the helm, Hill departed from the OBHS and went on to an illustrious public service career. He worked as a researcher for the Social Planning Council of Metropolitan Toronto, Executive Secretary of the North York Social Planning Council, Assistant Director of the Alcoholism and Drug Addiction Research Foundation, Professor in the Department of Sociology at the University of Toronto, Director of the Ontario Human Rights Commission, Ontario Human Rights Commissioner, founder of his own human rights consulting firm, before retiring at 65 from his position as the third Ontario Ombudsman.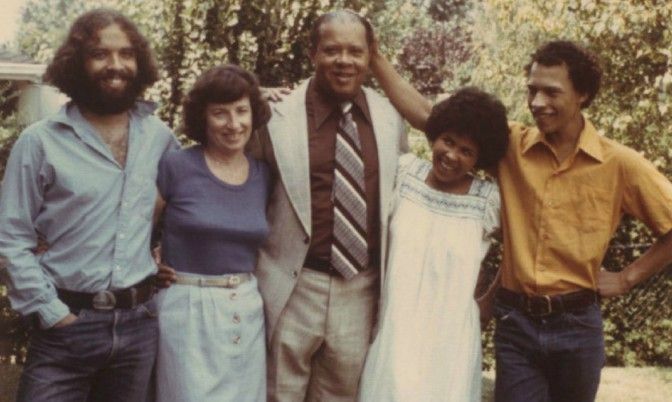 Dr. Daniel G. Hill (centre) with wife Donna (left) and his children Lawrence Hill (right), Karen Hill (right) and Dan Hill (left) in 1976.
Hill was awarded the Order of Ontario in 1993-the most prestigious official honour one can receive in the
 province of Ontario and in 1999 was made an Officer of the Order of Canada-an honour that recognizes the outstanding merit or distinguished service of Canadians who make a major difference to Canada through lifelong contributions in every field of endeavour, as well as the efforts by non-Canadians who have made the world better by their actions. Dr. Daniel G. Hill exemplified this through his life long work of uncovering Black History in Toronto, Ontario and Canada. He passed away at the age of 80 on June 26th, 2003. Hill achieved many amazing accomplishments in his life, but one of the most long-lasting accomplishments is the creation and foundation of the OBHS and the legacy that is still being carried on, even today.

The Ontario Black History Society is at the forefront in the celebration of Black History and Heritage, with a demonstrated record in the study, preservation and promotion of Black History in Ontario. The OBHS is also the only Ontario Provincial Heritage Organization of the Ministry of Culture devoted to Black History. From its inception, the OBHS has continuously celebrated, commemorated and memorialized significant African Canadians and important events relevant to the Black Community in the province of Ontario.
For example, the OBHS is responsible for initiating the formal celebration of February as Black History Month at all levels of government in Canada, due to our yearlong efforts to extend this celebration. Through our annual Black History Month Kick-off Brunch and other notable programs including in-class presentations, exhibit development & procurement and political involvement in promoting and representing Black Ontarians, the OBHS is a leader in memorializing African Canadians and maintaining their legacies. The thirteen member Board of Directors, under new leadership, continues to be busy throughout the year with our various events and programming to bring awareness to the rich African Canadian history in the country.
The OBHS is also responsible for erecting plaques, wreaths and other memorabilia to memorialize African Canadians who have made contributions to the Black community. The memorial materials and plaques provide education and information related to African Canadian History and are placed at locations which are historically and politically important. The OBHS hosts several major events throughout the year including our annual "Leaders of Tomorrow Conference" at the University of Toronto, our Emancipation Day event, as well as the aforementioned Black History Month Kick-Off Brunch, which provides us platforms to showcase the history of African Canadians.

With recent leadership changes, the OBHS including Nikki Clarke; Past President and current President Natasha Henry, and myself as 1st Vice President, we are dedicated and have directed our efforts towards engaging the younger generation in the works of OBHS and our African Canadian heritage. Forty years later, the OBHS continues to play a vital role in the preservation, memorialization, promotion and celebration of African Canadian History. The goal of the OBHS, just like it's founding members and leader, Dr. Daniel G. Hill, remains, to be at the core of the Black community where various stories and experiences of African Canadians can be shared and memorialized and where people can come to find out anything they want about African Canadian History.
Channon Oyeniran is a historian and vice president of the Ontario Black History Society. Follow her on Twitter @hopefreedomxo