Good news is, the tickets are free. Bad news is, it's a temporary thing and the "experience" will only be available until June 9th.
ByBlacks entertainment writer Teneile Warren and I had the chance to preview the art space before it officially opened at the media launch Monday. If you want a place to go chill, while sitting in a giant bowl of Ramen noodles, or laying in a dimly lit room in a hammock, or crouching in a mini house surrounded by foam fauna - then go! Superstar actress and producer Issa Rae jumped right into the noodles, and said this is definitely a place she would spend some time in. "The fact that AMEX is supporting local artists is so dope to me," she said.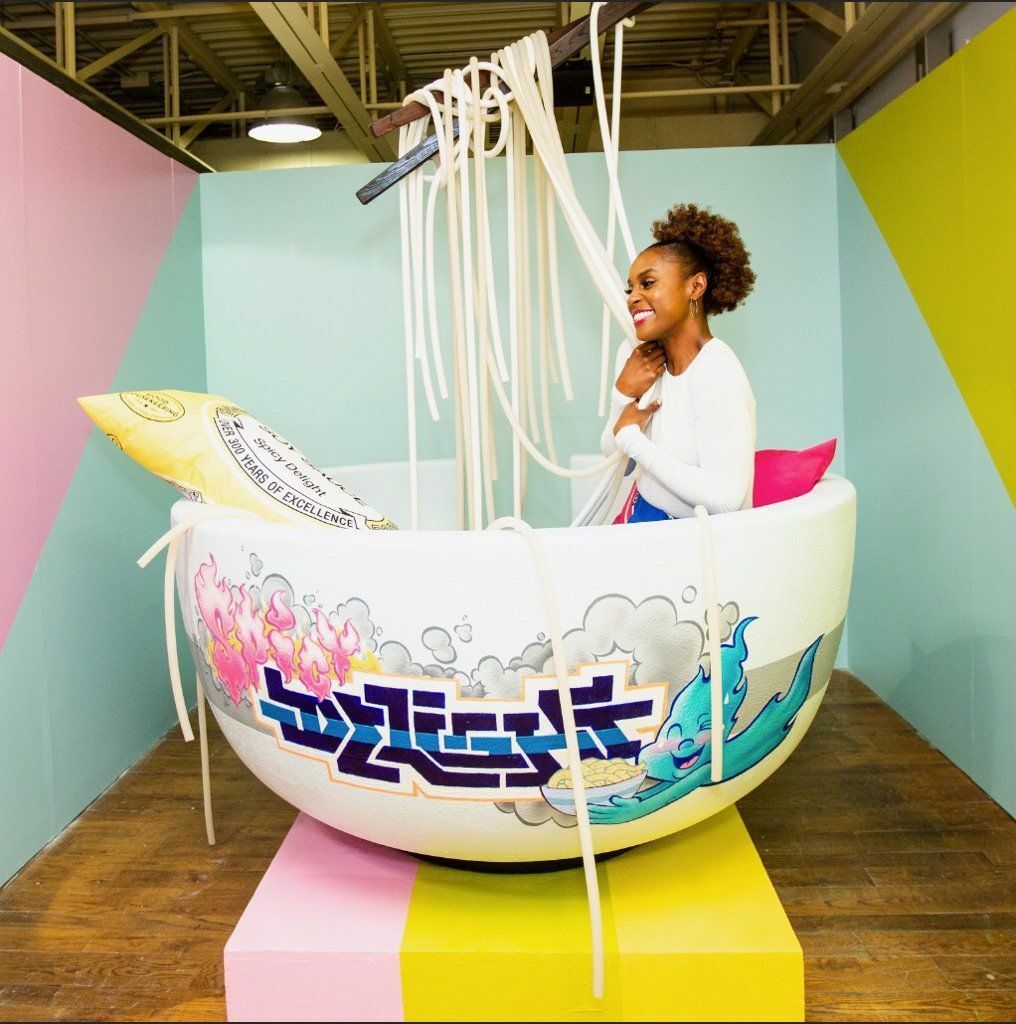 The space is part gallery, featuring the work of a number of artists, who are all connected to Well and Good, 'a grassroots arts organization' in Toronto. We spoke to one of the artists, whose name is Mediah. He describes his work as "dynamic abstraction with a spiritual quotient."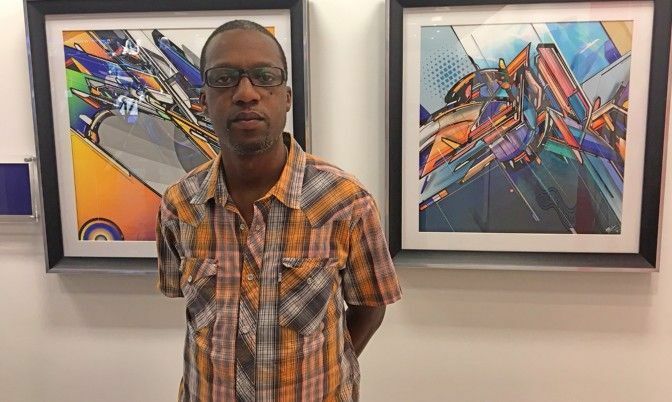 Photo credit: Teneile Warren
These same select artists are also the ones who created the walkthrough exhibits, which reflect the themes of AMEX's new campaign, such as food, travel and leisure. The credit card company is rebranding to reach younger consumers who are ditchinng life-work balance for life-work integration.
I like that you can actually touch and interact with the art. My favourite room showcased two dinosaur-like playground rides, and a suspended swing with a huge bird mask. Teneile found her happy place in the hammock.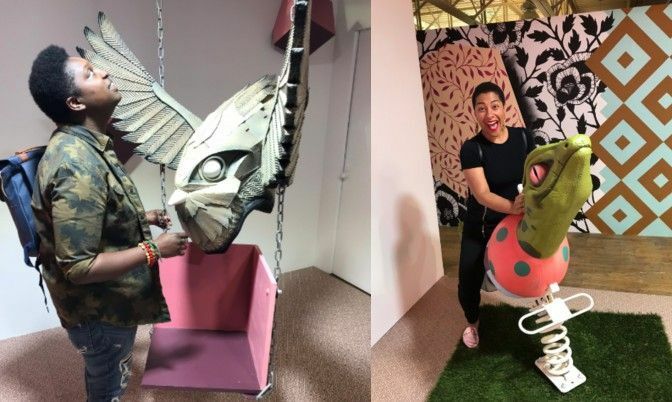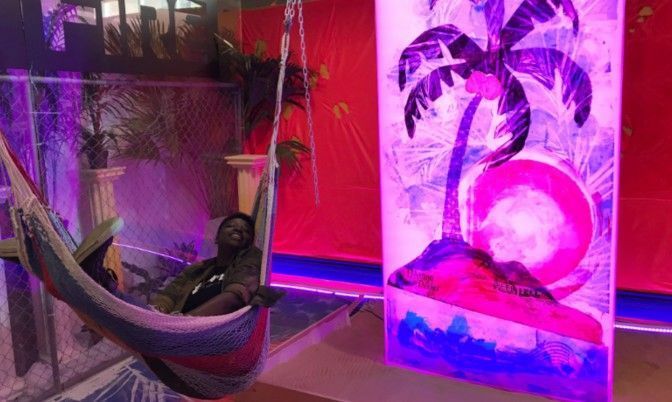 The whole experience is supposed to provide an escape from reality and the busyness of life. It definitely delivers.
In opening the space, AMEX country manager Rob Maclean talked about supporting local artists and referred to Rae as one of those "annoyingly talented" artists who seem to be able to excel at anything.
Rae is the force behind the wildly popular YouTube series The Misadventures of Awkward Black Girl, which catapulted her into fame and snowballed into the Peabody Award-winning HBO show Insecure. If you're reading this, you already know what Issa means to Black people. But if you don't, just understand that "Blackness" and the idea of "supporting other Black people" is at the core of Issa Rae's brand. She created a whole cultural moment with 5 words last year on the Emmy red carpet when she said, "I'm rooting for everybody Black!" She caught lots of heat from the usual 'reverse racism' trolls, but Issa Rae DGAF! She is unapologetically Blackity Black. In accepting her Peabody award last week she tweeted:
"We'd like to thank every writer of color that has come before us who worked on a show they didn't want to, so today we have an opportunity to tell and create our own stories." #Peabody pic.twitter.com/d5GQxy7Lnt

— Issa Rae (@IssaRae) May 23, 2018
So Teneile and I were disappointed to realize that no other Black media were present at the media launch. To be honest, the only reason I knew about the event was because I am still connected to the mainstream media organization where I used to work, and a sister gave me the heads up. Were it not for her, there would have been zero black media representation. The organizers said they definitely wanted to have more people at the media event but were only permitted a handful of interviews with Issa for the entire day.
So we were given two minutes to speak to Issa Rae. Here's how the convo went. Full disclosure, the hardest part of this interview was looking professional on the outside when inside I just wanted to grab Issa by the wrists and jump up and down in circles screaming yassssssss bish yassssss!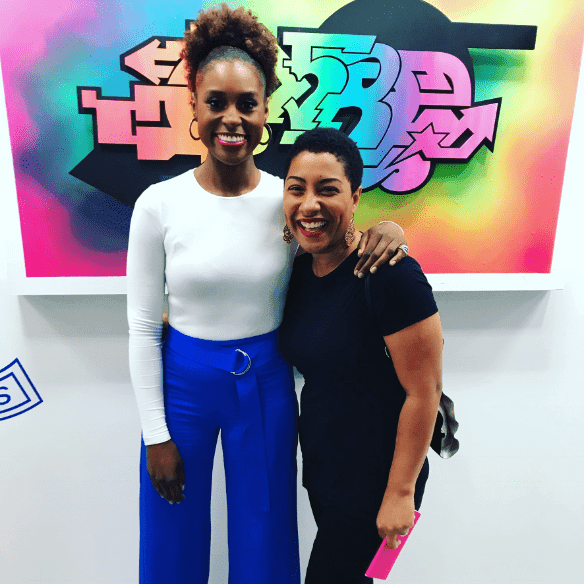 Me: Hi, I'm Camille Dundas, editor in chief of ByBlacks.com.
Issa: Dope, where all the Black people at?
Me: *laughs awkwardly* Oh ummm welcome to Canada girl!
Issa: Yes thanks, it's my first time to Toronto.
Me: It's been so amazing to watch your meteoric rise. You went from YouTube to getting picked up by HBO, and Insecure just won a Peabody Award last week! But I wonder, is there anything you miss about your old life when you weren't connected to a major network?
Issa: Yes! I miss the lack of expectations. You know, people feel a certain ownership over your work and entitled to give their opinion. And on the one hand, it's the dopest thing ever that people feel so attached but it's also like... shut up. It's that constant battle between telling people 'shut the fuck up' and 'thank you' that I'm constantly battling.
Me: How do you handle the major spotlight that's on you right now?
Issa: I really just stay away from it. Like when we're shooting, I'm not on social media like that. But at the same time, like when we're not shooting, I just live my life as normal. I have to do that in order to be inspired to come up with the next big thing. And you know, that philosophy is really important to me and very present in our writers' room. A lot of writers just chain themselves to a room and work 12 hour days. And we said that's never going to happen on our set because writers have to go out and live their life because that's what they bring to the show.
Me: Your number one tip for any artist trying to promote their craft?
Issa: Invest in a team, don't do it alone. And you have to workshop with people who you really trust, people who will give you the real. Cause you know you'll have people around you who will be like yeah girl go ahead and do that, and then you put it out there and nobody watches it because it's trash. Find people in the industry who will give you honest feedback.
Me: This is an American Express event so I'm gonna ask, what's the craziest thing you ever charged to your credit card?
Issa: A whole ass film camera that ended up getting stolen anyway!
I had so many more questions but those two minutes with Issa were magical, and I'm determined to not let this be the last time I speak to her. Oh, and there was also some kind of soiree later that evening where social media influencers got to mingle with Issa. Lots of #blackgirlmagic happened here!
If you're having major FOMO right now, I feel you. But we'll all have more Issa soon when Season 3 of Insecure comes out on August 12.
P.S. While the tickets to the Live Life exhibit are free, they are first-come, first-serve. AMEX has already SOLD OUT of tickets with the AMEXLIFE code. So you have to keep an eye on their social media channels for when they release another code.