They were supposed to write a final exam the next morning. Instead, they were loaded onto trucks, with no idea of what was next. Some managed to escape over the next few days but the rest were sold as brides for thirteen and a half Canadian dollars each.
Turaki Hassan, a local reporter told CTV News, "They cherry picked the girls, they went around and looked at the ones they liked and they conducted a marriage ceremony for them."
That has been corroroborated by local villagers who say they've witnessed the girls taking part in mass marriages and being distributed as wives for other militants. Now there are fears the girls have been split into smaller groups and shipped to neighbouring countries in canoes and boats, making it that more difficult to track them down.
The alleged captors belong to a terrorist group called Boko Haram; a name which means "Western education is sin" in the local Hausa language. Their intention is to establish a pure Islamist state. It is the same group suspected to be responsibile for the recent bus shelter bombing near Nigeria's capital Abuja on April 14, that left more than 70 people dead. Boko Haram leader Abubakar Shekau first threatened to treat captured women and girls as slaves in a video released in May 2013. It appears the group is adhering to the ancient Islamic belief that women captured during war are slaves with whom their "masters" can have sex.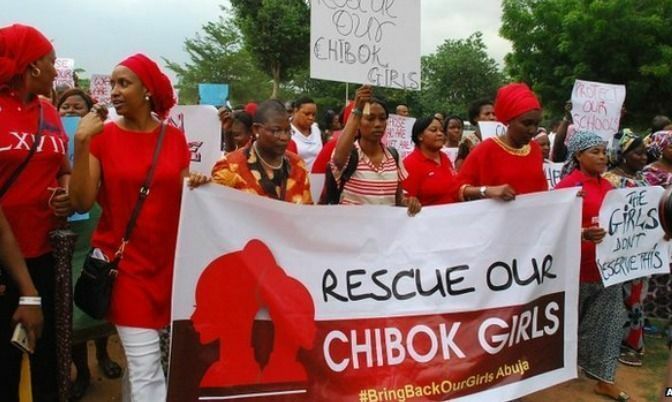 Today, women in Abuja organized a Million Woman March. Only a few hundred showed up but their voices did not go unheard. March organiser Mercy Abang told the BBC's Focus on Africa radio programme that the government should do whatever is necessary, even if it means holding negotiations with the abductors, to make sure the girls returned home "alive - not in body bags".
And yesterday a group of mothers marched on the national assembly demanding their government do more to bring back their daughters. They wept openly with the kind of anguish a parent never wants to know. All these mothers want to know is... where are their girls? If they are dead, they want their bodies back.
As for the Nigerian government, it says it is doing everything possible to find the girls. Officials say they could not give details about what they're doing to rescue them and are acting "discreetly" because Boko Haram has threatened to kill the girls if certain action was taken.
Now, a social media campaign to raise awareness is building. You can participate by using the hashtag #BringBackOurGirls and calling on the UN to put more pressure on the Nigerian government to return these daughters to their families.