Hundreds of people showed up and didn't hold back with comments and questions. Black Canadians engaged online too, with #ONBlackVote trending on Twitter during the debate.
Premier Kathleen Wynne, Leader of the Ontario Liberal Party, Andrea Horwath, Leader of the Ontario New Democratic Party and Mike Schreiner, Leader of the Green Party of Ontario participated in the Black Community Leaders Debate on April 11 – the first provincial leadership debate of the 2018 election.

A chair sat empty at the head table for Doug Ford, Leader of the Ontario Progressive Conservative, who was invited but declined the invitation saying he had a campaign tour planned for northern Ontario.

The leaders fielded questions from moderator, Royson James, pertaining to, among other things, the International Decade for People of African Descent, the streaming of black students in the education system, overrepresentation of black men in the criminal justice system, and supports for small businesses negatively affected by provincially funded projects.

There were also prepared questions from some members of the audience and impromptu questions about matters related to the Ontario Basic Income project, privatization, expunging the records of those who had been incarcerated for marijuana use, affordable housing, and the presence of police officers in schools in Peel.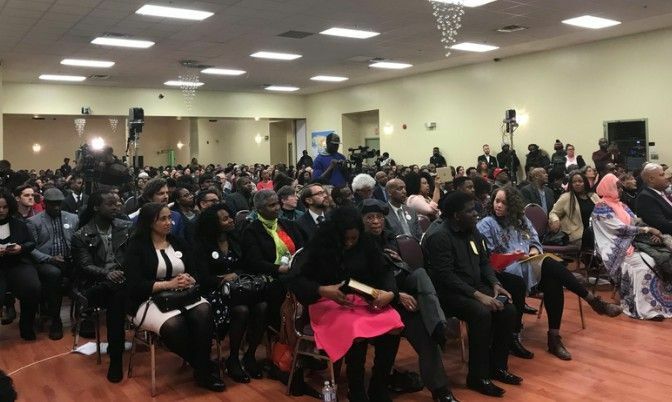 James referenced 2011 statistics of the Toronto District School Board indicating that only 7 students out of every 10 were graduating from high school and barely half of those who graduate did so with subjects and grades that did not qualify them for university.

Forty-two per cent didn't even apply to go to university or college and of those who applied to go to university only 1 in 4 were accepted.

These are all statistics related to the lived experience of black students in Toronto but James also referenced those for Ontario as well.

"As Premier of Ontario, what do you plan to do about this abject failure of our schools to educate black students?"

Horwath said the first thing that has to be done is to admit that there is a problem.

"We need to name the problem as we've absolutely done but we need to make sure that we are dealing with the curriculum in our schools, the processes in our schools, the supports that our students need to make sure that the successes are there."

She said this means that when kids go to school they should see "some black teachers teaching them too" and when dealing with a student who might have challenges the response shouldn't be to kick them out.

"We know that unfortunately we continue to see black people with higher representation in the ranks of people living in poverty in our province. That continues to be a problem so that's why we've brought forward ideas to help support families."

Horwath listed things in her platform like dental care for everyone, prescription drug coverage for all Ontarians, "decent jobs, decent opportunities for young people," a plan for more co-op placements for youth and getting them exposed to the opportunities of the trades.

Schreiner said one of the reasons he got involved in politics was to fight to change the status quo because the statistics James quoted are unacceptable.

"We have to mandate anti-racism, anti-discrimination and anti-harassment training in all of our schools for all of our schools' staff so that everyone would go to school and be treated with dignity and respect."

He said when high school students graduate and move on to postsecondary studies, the province needs to make sure that the financial resources are available for them to succeed.

Schreiner noted that in the Greens' Vision Book they have a complete outline detailing how to create "those economic activities and how we can ensure our schools have the resources they need to provide the services that our students need."
Wynne said there is absolutely no doubt that there is more structural change that's needed.
"We've put in place the first Equity Action Plan, we recognize that there is more training, more mentorship that is needed for teachers, for kids to help them to know what the opportunities are and help them to be exposed to all of those opportunities."
She said the Ontario Black Youth Action Plan is about those organizations on the ground helping kids not just with community activities but helping them to find a pathway to success that includes education.
READ: Mike Schreiner And The Green Party Emerge As The "Surprising Winner" Of The Black Community Provincial Debate

The premier said the $47 million that the government is putting into those supports is part of that. $116 million is being targeted for mental health support for kids from racialized communities, the raising of the minimum wage, and making sure that families have childcare -- all of these initiatives are poverty reduction and economic development issues.

James followed up after Wynne's answer with, "You do know that whatever you're doing isn't working?" The crowd responded with applause to his remark.

"I get that," said Wynne in reply to James who said the question suggests that the people who are responsible for the school system… "do they have a sense of urgency, and that this is a ridiculous situation and this is really a provincial emergency?"

"Clueless," someone yelled from the audience.

"I get that there is a huge frustration and I feel that frustration because we have been playing…," said Wynne whose response was cut off by "No, you don't," from some audience members.

"Fifteen years," chimed in Horwath.

"I get that that's going to be Andrea's theme. I get that Andrea, you're going to say a million times. I get that but the reality is I buy into this business because our education system had been stripped by the previous government. We're building it up. I know there's more to be done, I know that we're not there. We've got huge problems, but the fact is that we are tackling these problems head-on."

Horwath asked why couldn't streaming at schools just be stopped.

"Why can't we just have the educational assistance and supports that people need to help their teachers support the kids in the classroom? Why don't we have a social worker in every school? Why don't we have arts programs in every school?"

Horwath said the New Democrats platform will be coming out very soon.

James' question about the criminal justice system referenced data showing that black people in jail waited longer than white people charged with the same offence, sometimes close to twice as long.

He noted that carding is still a sore point and police say that they rarely card anymore but anywhere that Justice Michael Tulloch goes with his public consultation team he hears the same complaint – people are still being carded, "stopped by police and not being offered the 'Know Your Rights' information and they are not receiving a receipt detailing the reason for the stop."

"What policies will your party implement to rid us of what most people in this audience believe is systemic inequality in the criminal justice system, and specifically, will you eliminate street checks, not just regulate?"

Schreiner said carding should be absolutely eliminated and that the data collected through carding should be destroyed to protect the people who are affected by that data.

"Our police services should have mandatory anti-racism training, more training to de-escalate conflict, better training to deal with mental health issues," he said, also noting that juries need to be fair and equitable and the Greens would propose changing the way in which the jury pool is put together.

This means not choosing jurors from property rolls but OHIP rolls so that there is more diverse community from which to select jurors.

Wynne said she sat at the policy tables and listened to the issues on both sides of this issue "and we have worked to find a balance."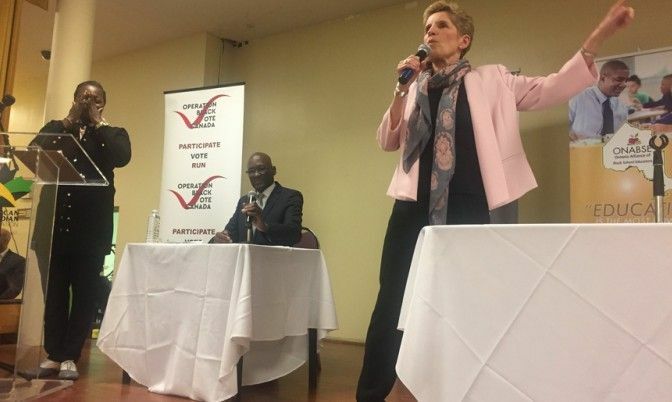 "The notion that random street checks would happen, random carding would happen is unacceptable. And the regulation that we've put in place does not allow that. It does not allow random street checks."

The premier said she thinks it is still happening and that it is a culture shift that has not been completed.

She agreed with Schreiner that there needs to be more training for police officers.

"We're going to continue to work to solve this challenge," said Wynne about finding "a balance between allowing police officers to do their jobs and making sure that they were not overreaching and treating people randomly and unfairly as they had been."

"End it, end it," shouted a man from the audience, to whom Wynne replied, "I hear what you're saying, that's what the regulation is intended to do."

Horwath noted that the NDP have said, unequivocally, that they will ban carding in the province of Ontario.

"It is unconstitutional and it has no role to play in a fair and free society. Look, it's not about balance. The balance has been unfavourable to the Black community for decades and decades and centuries."

She said it is about fixing the imbalance that has occurred for too long.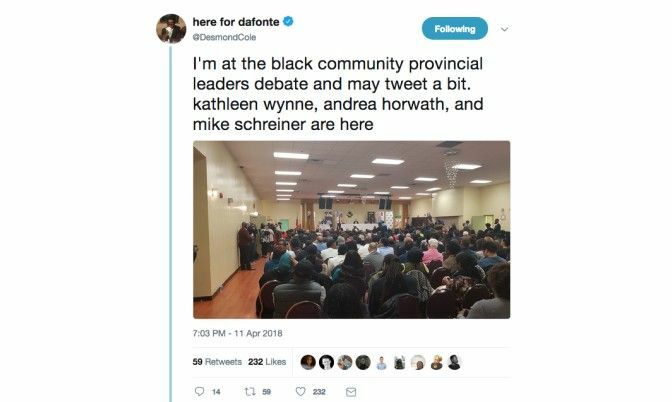 Desmond Cole had a follow-up question in which he noted that police in large municipalities such as Ottawa and Peel Region now say that they are only conducting a handful of what they call street checks, what is known as carding.

Citing examples, he said in Ottawa, a city of over one million people, police said they conducted only seven carding stops last year. In Peel Region, police say that they have only two street checks in 2017. They conducted 26,000 the year before.

"Do you accept the police statistics?"

"Do I accept those statistics? I think that we're in the midst of a transition so I don't know whether those are accurate or not," said Wynne.

She said what Horwath had said was a very coherent riff on carding but the reality is it doesn't tackle the real challenge of making those attitudinal shifts, of changing people's behaviour and changing people's understanding.

Horwath countered Wynne's description of her comment as a riff.

"The person who has said that he's going to bring back carding and stop even trying to sort this out isn't even here tonight so that we have to recognize," said Wynne, alluding to Ford.

"Desmond raises the issue though and it's an important one about what kind of information is being gathered, in terms of how police forces are reporting, is there consistency across all of the police forces and where is that requirement of consistent reporting and information. And I think that's work that absolutely needs to be done. The question itself raises that other question about the efficacy of the information that's being provided," said Horwath.

Schreiner said given the conversations that he has had with people from the community he "can't imagine how those numbers could be anyway accurate."

Dr. Chris Morgan of the Black Health Alliance (BHA) said since 2006 there had been three pieces of legislation that, collectively, talk about providing a healthcare system which is accessible, equitable, and focused on reducing disparities and inequities.

He said despite these legislations, members of the Black community, second next to probably the Indigenous community, experience a significant burden as it relates to health.

Dr. Morgan wanted to know what would the leaders do to rectify and create an accountable healthcare system which will reverse the trend of high diabetes and hypertension rates, low funding for mental health, and high number of black women affected by HIV/AIDS in Ontario.

Wynne said the government is committed to collecting race-based data and Local Health Integration Networks (LHINs) now have health equity as part of their mandate.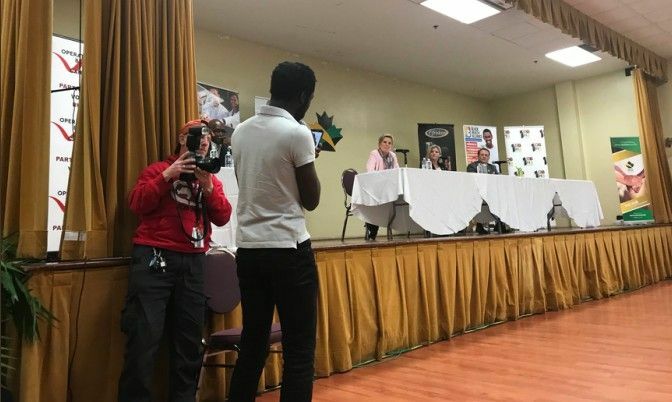 She said there is more that needs to be done, in terms of targeting resources, like money for mental health among racialized youth.

Horwath said there are some organizations doing great work to try to make sure that the access to healthcare services are available.

She said the community health centres, for example, TAIBU, " who is doing a lot of great work to meet the needs particularly of the black population."

Schreiner said one of the big challenges that the status quo parties face in Ontario is the inability to think about "how we can transform our healthcare system to make it more about promoting health and preventing illness instead of just treating sickness."

He said the province needs to invest more in nurse practitioner-led clinics, community health centres, family health teams, "more holistic, stronger primary healthcare in our community" and looking at healthcare through the social determinants of health.

Nakia Lee-Foon, also of the BHA, asked the leaders if elected, would their government commit to developing a population-focused Black health strategy.

"Yes, the work that we're doing right now to develop statistics, to gather statistics, to develop a strategy that actually is accurately targeted is exactly our intention, " said Wynne.

Horwath said it was obvious that the current situation where LHINs are supposed to have a health equity mandate isn't working.

She said the Francophone health centres and other community health centres in Ontario are on the frontlines working with the Black community and their work needs to be supported.

Schreiner agreed that population-based health programs need to be developed and that data need to be collected to know what action to take.

James noted that the Crosstown LRT Project is "a terrific project that will add wonderful improvements to our community but the construction is threatening to destroy Black businesses in the area around Oakwood Avenue, also known as 'Little Jamaica.''

He said many business owners who have been around since the 1970s are seriously considering closing shop – which could remove a vital and historic portion of Toronto's Caribbean community and usher in gentrification.

"Did the province do enough to insulate these businesses, and as premier, what would you do retroactively and immediately to salvage these businesses and prevent their displacement?"

Horwath thinks the Community Benefit Agreements (CBAs) that are put together when these major infrastructure projects are undertaken need to be effective.

This means making sure that local communities are benefiting from the jobs that are being created on these projects, she said.

Schreiner said it is critical to start having a fund that is part of the infrastructure fund that provides cash flow relief to small businesses to help them survive these major disruptions.

"I think that, honestly, we got off to a very bad start, in terms of the relationship between Metrolinx and the local community. I think it's gotten better, there's a better understanding, there's learning and the Community Benefits Agreements that are in place are improving," said Wynne.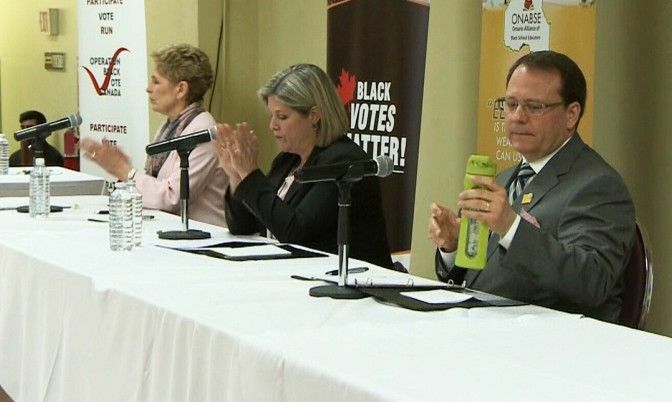 She said there is more that the government can do but the concept of the CBA developed in partnership, is a good thing and they need to develop on it.

Denise Jones said advocacy to establish a museum of Black history and culture in southern Ontario has come from the Black community for many years.

"Concurrently, our artists, entertainers and cultural entrepreneurs fill the provincial coffers with taxes generated from festivals like, can I still call it Caribana, Afrofest, Jamaica Day, JAMBANA, JerkFest, Rastafest, and many others. And we've started a coalition to actually make a case about what we're working on."

She said Black Artists Networks Dialogue (BAND), Ontario Black History Society (OBHS) and the Black museum in Chatham continue to provide significant education and edutainment experiences for Ontarians to learn about black culture.

"If elected, what will you do to make the museum not just a dream but a reality? And, more urgently, what plan do you have for sustained funding and promotion of black arts and culture to the benefit of Ontarians for the 1.4 million visitors we bring into this province every year?"

Schreiner said there needs to be more funding for the Ontario Arts Council and directed specifically to minority communities.

"The economic benefits for our local businesses of cultural activities is huge and so financial support to those activities not only benefits the communities whose culture we're celebrating but it also can benefit those communities economically," he said, giving support for the museum.

Wynne said the government has just increased the funding for the Ontario Arts Council by $50 million over the next few years and part of that money is targeted at racialized communities.

"I love the idea of the museum. I think it's a great idea. I'll be honest with you, I haven't seen a proposal. You say the coalition is coming together so if I'm back in this chair I absolutely would like to see what the proposal looks like. I think it's a great idea."

Horwath said the commitment to arts and culture needs to be started in schools and carried on throughout community.

"The other thing that we need to talk about is not just the Ontario Arts Council or the Ontario Media Development Corporation. What do those organizations look like? Who are on the boards of those organizations? Do they reflect the community? Is there a mandate for equity? Is there a commitment that every year of granting dollars there needs to be an equity lens put on those grants? These are the kind of systemic changes that we need to look at."

She said the museum is long past due.

It was a very engaged large audience at the debate organized by Operation Black Vote Canada (OBVC) and a coalition of black organizations.

These included the Jamaican Canadian Association, Black Health Alliance, Canadian Association of Urban Financial Professionals, Black Business and Professional Association, Ontario Black History Society, BAND, Coalition of Black Trade Unionists, First Fridays and Generation Chos3n.

The OBVC has plans to hold events in the future with black candidates running in the provincial and municipal elections.
Neil Armstrong is a Toronto based freelance journalist.