The launch event opened with an eclectic group performance from the 20 women selected out of hundreds of auditions. Ranging in age from 15 years old to 25 years old, the line up includes: Grace Marr, T.NA Smith, Hayley Verrall, Angela Nethersole, Aria Ohlsson, Divine Lightbody, Erez Zobary, Leigh Phillips, Denille Reeves, Sagèlee Archer, Riley Wheater, Aida, Jäjé, Kris Goslin, Rachel Cousins, Jess Leung, Nya, Melissa Kadas, Getchnah and the Launch's Saveria.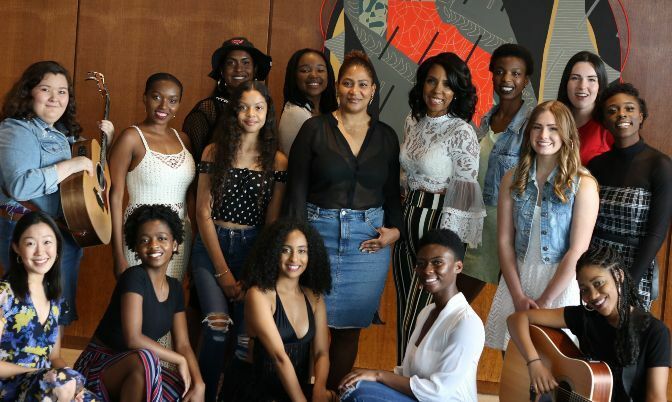 Ebonnie Rowe formed Honey Jam because she wanted to do something about the lack of exposure and promotion given to local female performers. Rowe says all 2019 Honey Jam artists will have the opportunity to attend a free music industry workshop at Harris Institute, and receive a one-on-one vocal and performance coaching from celebrity coach Elaine Overholt of Big Voice Studios. They will also have their original songs played on the radio, promotion on Honeyjam.com for one year and the opportunity to participate in a mentor café.
The Q&A session with Grammy award winning singer/songwriter Elle Varner certainly set the mentorship tone. With her girl next door vibe, Elle calmly and confidently dropped several gems.
A thirty-year-old singer from Brooklyn, New York, Elle signed with RCA Records along with Sony Music for a co-publishing agreement back in 2009. She released her debut album, Perfectly Imperfect in August 2012, and the album reached number four on the US Billboard Hot 200.
Elle shared tactics she uses to stay creative with her busy schedule. "You have to create a routine for writing and practicing. Push past the feelings of I'm not feeling like writing right now. Create a routine, whether it's one hour a day or three hours a day. Even if you just write in your journal, my Dad always says quantity leads to quality."
Elle has worked closely with both of her parents during her music career-- her father is her manager, and her mom connected her with her first mentor, who was the president of Fox music.
When asked what has kept her humble and driven she said, "You can't predict a hit record, be authentic and make good music…you only fail when you quit."
Elle shared that she only recently realized how valuable female friendships are. "I didn't have many female friends until two years ago, female friends will support you and have your back like no other."
Elle could hardly hide her excitement when talking about the new label she has started, and having the opportunity to work with and mentor younger artists. With fifteen years of experience in the music industry and the opportunity to learn the business side of music from her Dad; Elle has a lot to offer. She has begun working with her younger brother, who plays the guitar and her cousin, who is also an emerging artist.
Elle's last bit of advice is to know what you want and be clear about it. "People will support you… but you can't get what you don't clearly ask for."
The 2019 Honey Jam showcase takes place August 22 at the Mod Club in Toronto.
Kezia Royer Burkett is a creative freelance writer with a degree in communications and multimedia from McMaster University. When she is not writing she is finding inspiration living life, raising her son and spending time with friends and family.
Is there a Black Canadian story we should cover? Email us at info (at) byblacks.com.