It wasn't until Beazer started doing her own research that she realized there were Black farmers, which led to her decision to launch a market just for them.
"Many Black farmers have to steer away from the farmers' markets because of the challenges they face and are happy that at least one dedicated space has been created just for them," explains Beazer, the marketing manager for the Afro-Caribbean Farmers' Market.
Beazer started the first Afro-Caribbean Farmers' Market in 2017 at a parking lot in Jane St. and Wilson Avenue in Toronto. The goal was to provide a platform to Black farmers where they could share their food culture with the local community.
Fast-forward to July 2021, and the market has moved to a new space in Toronto's Little Jamaica. The new Afro-Caribbean Farmers' Market started in partnership with Toronto City Councilor Josh Matlow, the York-Eglinton Business Improvement Area (BIA), and Beazer. From July 4th to October 3rd, 2021, the market is expected to open every Sunday from 11 AM to 3 PM.
The Afro-Caribbean Farmers Market offers a wide range of locally grown and affordable organic fruits and vegetables, as well as some imported food from the Caribbean and Africa. In addition, lifestyle items made by local food artisans will also be featured at the market, including freshly baked bread, juices, desserts, and sauces/jams.
"This market will provide residents with fresh produce and delicious food that reflects our city's Caribbean communities and African Diaspora. It will also create a vibrant and animated "town square" every Sunday that brings people together to contribute to the economic and cultural development of Little Jamaica," said Councillor Josh Matlow in a news release.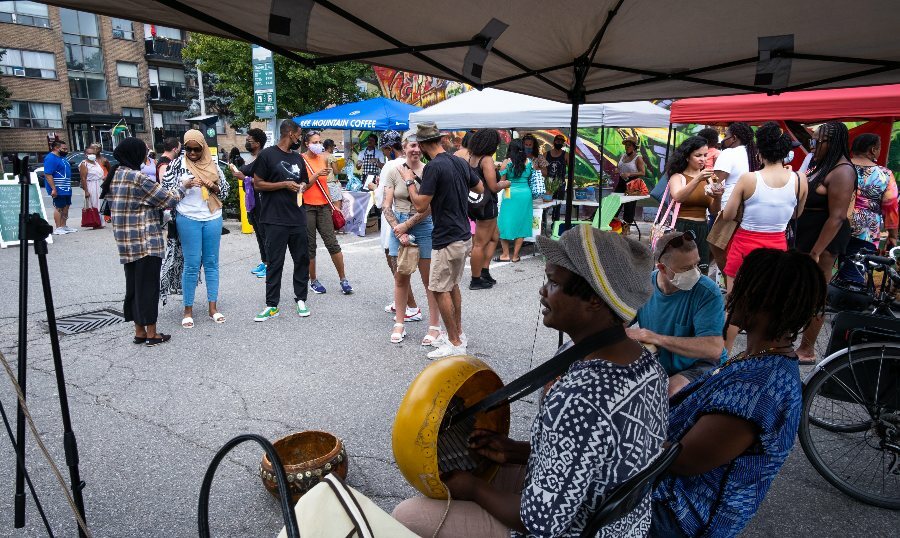 Nick Alampi, Chair of the York-Eglinton BIA, said, "The key to having thriving, successful and strong communities is to have inclusive food security. Visitors to the market will be supporting our local farmers and small businesses while also receiving the freshest, healthiest food possible."
Lori Beazer expressed her gratitude to Councillor Josh Matlow, Nick Alampi, and Ph.D. Jill Andrew, MPP for Toronto-St. Paul's for their continued support in this project.
Most farmers' markets have a reputation for being more expensive than traditional grocery goods. The new Afro-Caribbean Farmers Market solves this problem by offering affordable yet healthy food to shoppers. It also introduces a new 'currency' called "Callaloo Cash" that provides reimbursement to farmers, while simultaneously providing generous discounts to buyers from low-income backgrounds.
Aside from food security, the marketplace is also believed to help food producers in densely urbanized neighbourhoods and will protect and preserve the historically Black cultural heritage of Eglinton West; revitalizing the district that has been negatively impacted by the decade-long construction of Metrolinx's Crosstown LRT.
"I think it's time that Toronto has its own cultural district for the diaspora. Now is the time to reimagine what we want to see going forward with a new Black Renaissance," suggests Beazer, while explaining the value of bringing the market there. "Moving forward, we should open up our own pantry shelves."
Overwhelmingly Positive Results
Beazer says that the market started at 11 AM on July 4th and the farmers ran out of stock by 12:30 PM. For many Black farmers, this is an entirely new experience, since they've never experienced so much demand for their products before.
"One of our vendors says that they've never sold out in 10 years of their time. Our elders know the trick," says Beazer. "They showed up first and bought out all the fresh stuff."
Beazer emphasized that everything about the market is for the collective masses and expressed her strong interest to have more vendors from Africa.
However, the new farmers' market is unable to accommodate requests for more vendors due to a shortage of space and the pandemic. The social distancing rules require all vendors to be distanced properly, which meant that only 11 vendors could sell on the first day.
"I'm forced to turn away vendors because we have a small space to work with," says Beazer, who is currently advocating for more space. "We've continued to lose more space due to rapid development."
Beazer is also raising awareness with community organizations who want to subsidize locals' groceries at the market through the distribution of Callaloo Cash. The coupons are $3.00 and all proceeds derived from the Callaloo Cash will be used to reimburse the farmers.
"This food is organic and locally grown, which is important for the environment and people's health," says Beazer. "Come down. Try to come early if you want fresh food. You can also stay for longer if you're there just to socialize. We're open until three and it's a great party every Sunday."
Afro-Caribbean Farmers' Market (July to October)
Every Sunday (11 am - 3 pm)
Green P Carpark - located on 1531 Eglinton Avenue West & Oakwood
Photography by: Robin Pueyo