It may surprise you to know that, though similar, they both mean slightly different things. "Transit" is the act of passing over, across, or through something, while "transition" refers to the process of change from one state or condition to another. The first, a descriptor of physical movement, while the latter alluding to the potential transformation of something both tangible and intangible. Here Again, At The Crossroads, the latest public art installation at Union Station is a collaboration with Toronto Union and Nia Centre For The Arts, featuring the work of Black Canadian artists Jordan Sook, Jayda Marley, and African-American street photographer Andre Wagner, and speaks to the act of transit and transition in ways that are both disruptive and inspiring. Although the launch of the exhibition was intended for Black History Month, there's a sweet irony in the manmade time window for the celebration of Black people's histories being disrupted through the natural intervention of a pandemic; one that leads to an unintended shattering of that psychological window like a cosmic brick hurled by our ancestor's calloused hands. Hands, calloused perhaps, by the handling of White folks baggage on trains that passed through Union station a century before?
Mixed media artist Jordan Sook's installation "Thank You For Keeping Us On Track" is a 15 ft. sculptural monument to the Black rail porters who formed the first Black railway union in North America in 1917. The mountain of detailed, handcrafted train porter hats recognizes the past through an homage to these ancestors and is also representative of their unity and achievements in pushing for change in Labour. We transition from the past to the future with Afro-Indigenous poet, community worker and activist, Jayda Marley's "A Ticket To The Revolution", is featured on a series of panels that challenge the notion of what freedom for Black people really means by tackling both what a world free from the rules and restrictions of a modern-day capitalist world might look like, and what actually needs to happen in order to get there. The blown-up photos belonging to Brooklyn-based photographer, Andre Wagner, act as an intersection between the past and future, capturing the present-day, everyday essence of African-Americans in their cities neighbourhoods, and homes while providing a glimpse into the nuances and vulnerabilities of the Black human experience in North America.
When Alica Hall, (Executive Director of The Nia Centre and the curator of the exhibition), was contacted by Syma Shah (Executive Director of Programming for Union Station), to help create an exhibit around Black artistic traditions and stories in time for Black History Month 2021, she reflected on her own experience as a commuter travelling through the heart of Toronto's financial district. "I really wanted to disrupt people in that rush to get to work and have them reflect on the conversation we're having," says Hall of her plans for the exhibit. "We know that people are rushing into offices that are holding up that system that has long kept Black people out and down, so the backdrop of Union station presents a historic and dramatic space to excavate some of those stories and intersections with the black community." Union Station as a physical manifestation of a crossroad or intersection was also the perfect place to examine the historical intersections between Black folks in urban spaces and the crossroads we find ourselves at this moment in time. "In curating it, I was really thinking about the site itself and the history within that, because there's a beauty in being able to return to familiar sites that are a part of our everyday landscape like Union station, and look at them in a different way," Hall explains. "We're having a really critical conversation about racial injustice and Union station is an incredible space to be able to animate with the artistic expression of Black artists.
"I want people to take some knowledge from the historical reference and leave with more knowledge than they came with about the Black porters, but I also want them to leave with a sense of confidence about themselves," says Jordan Sook of his hopes for his grand monument to the Black Train porters. The history of the Black porters goes back into the late 1800s and runs into the late 1930s, and it is this history that Sook references for "Thank You For Keeping Us On Track," his ode to these Black men. "They were working on these train cars for very little pay, and it was one of the better-paying jobs provided for Black men after slavery, but the legacy was that they were able to form one of the first labour unions in Canada which laid the framework for other labour groups in Canada," explains Sook before adding, "their contributions as Black men and Canadians were crucial to the economic stability of the Canadian economy at the time." What does Sook hope commuters in transit get from the work? "As one goes about their day-to-day lives, I want it to give them a perspective of the opportunities they have and a sense of pride going forward," says Sook, pointing to the hats as a symbol of pride. "They were symbolic of the fact they were working in a society that didn't necessarily provide them with the opportunities presented to others, but they were still able to work with great pride in their work," says Sook.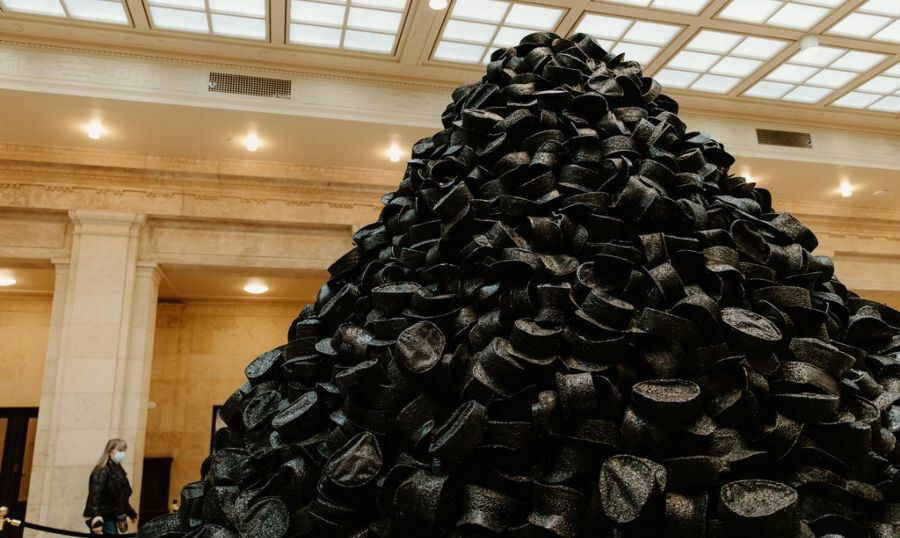 Jordan Sook -"Thank You For Keeping Us On Track" (Here Again, At The Crossroads 2021) Photo Courtesy: Spring Morris
Unfortunately, Andre Wagner wasn't able to attend the rescheduled launch of the exhibition, but Hall was able to give her insights into the large-scale photos. "I think telling the story of Union Station, is a story of everyday people going about their lives, and in research around the Black railway porters, what really stood out for me is how many Black Canadians, in just living their lives, were the first in their family, or first in their workplace, and how much effort that took," Hall states before pointing out the importance of honouring those people. "Sometimes we uphold those who are excellent and who are visibly celebrities in that way, but there are so many people within our communities and our families who don't have that sort of recognition because that story is maybe not as sexy; I wanted to honour the everyday folks who push through in their lives." Of Wagner's images, Hall was attracted to the strength of those everyday Black folk; a strength that, in my humble opinion, when referring to the act of both transit and transition, is seemingly captured in moments that allude to both the mundane and the powerful. Blackness as a tangible lived experience caught in the present, and Blackness as an intangible state of being through which different emotions are reflected through his subjects' gaze.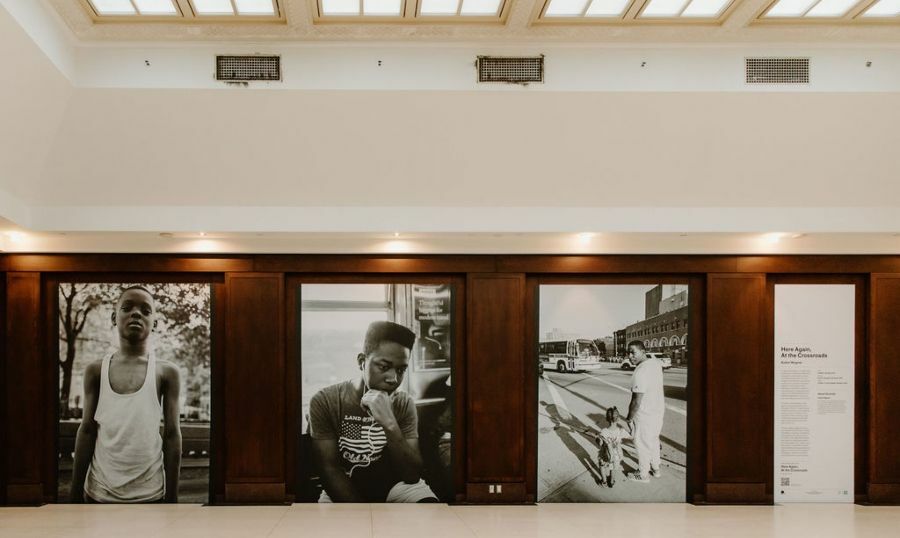 Andre Wagner (Here Again, At The Crossroads 2021) Photo Courtesy: Spring Morris
"When I wrote this poem, I had the youth I work with and myself in mind, and I also thought about the difference between my, and my dad's and granddad's generation," says Jayda Marley (aka The Poet MJ) of her written glimpse of the future "A Ticket To The Revolution." After a year of being inundated with media highlighting an unabated stream of abuses against Black people, Marely felt it more important than ever to think about what needs to happen to have real change. What questions does Marley hope her piece evokes in the viewer? "It's okay to bring light to these issues, but what are we doing to implement change, and is it okay for Black people to have a separate future apart from the one we already have?" These are fair questions that require more than just the act of moving through place and time, but rather, a transitional way of thinking that brings into reality a state of being. "I'm thinking about us, and the generations before us, and how we can separate the two but still respect what has happened in the past to make changes," says Marley of her work, "but what are we going to do now to make those things work?" Aside from the barrage of Black Lives Matter protests, and the oftentimes questionable mea culpa of old institutional guards and corporate heads blacking out social media squares amid promises to "do better", Marley says her greatest inspiration for the piece was both her personal and the outside lived experiences of Black people. "There are so many things, other than just being an artist, that Black people are involved in that are really shaping how the world needs to be," offers Marley, who built the poem from a single line of an older piece...
"I don't know where I really came from or where my people's first drop of blood flowed."
"That's all that was there," says Marley of her initial process. Her goal was to write something that made the past sound beautiful in a way that would make the future seem more hopeful. "I feel like a lot of the time we think about the past and we just feel hopeless, but you also have to look at the past and think about the things that can come from those experiences too," says Marley.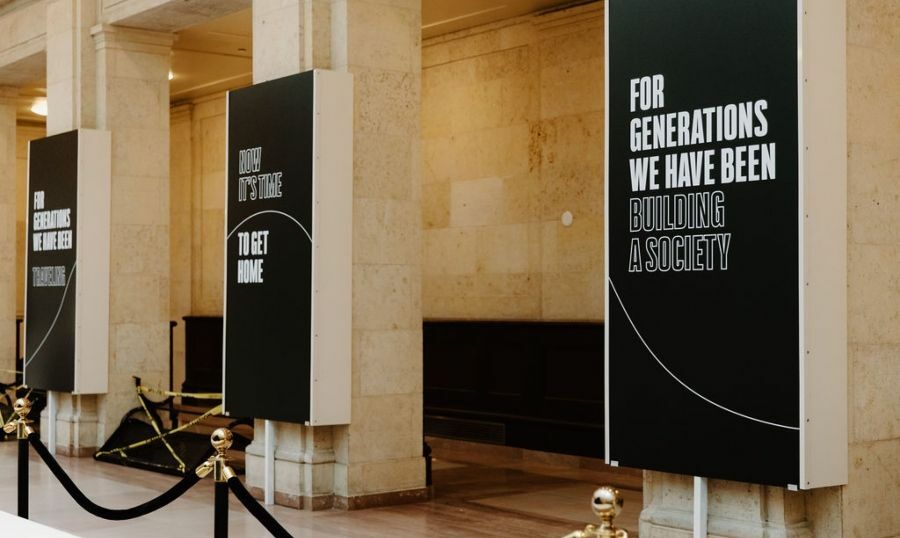 Jayda Marley - "A Ticket To The Revolution" (Here Again, At The Crossroads 2021) Photo Courtesy: Spring Morris
"I think we sometimes still forget that seeing Black folks in public spaces isn't common," Hall reminds me when I ask whether the mere existence of exhibition is in itself an example of progress. "We've all grown up not seeing Black people in magazines or books or commercial ads...these are all more recent changes, and even in the visual landscape of our city, it's not usual to see these powerful images that reference the Black experience." She makes no bones about pointing out that the obvious challenges still exist. "It's not a policy change or an investment, but it's disrupting people in their daily flow to think about what they're doing at this moment and how they're continuing the conversation," Hall states.
"I feel as though there's a spiritual connection to myself and the porters," adds Sook. "Living in the year 2021, it's very likely that 100 years ago, as a healthy young Black male, it's very likely I could've been one of those men working on the trains, so I drew on that energy to apply to a physical manifestation of that work." As for Marley, who to me represents the voice of the future, there is a sense of tempered optimism. "I do think just the existence of the installation is change," offers Marley. "The installations are huge and anyone walking by has no choice but to see them, and whether or not the installations eventually come down, it's still important for them to be there because we're still here."
Reflection and Progression. Transit and transition. "Here Again, At The Crossroads" intersects with these themes and does it in physical, psychological, and emotional space in a way that is impossible to ignore.
Here Again, At The Crossroads launches March 23, 2021, and will run in-station and online until May 31, 2021. Find more info at torontounion.ca/hereagaincrossroads