In a city where group painting parties are becoming the norm, Ehi has managed to conceive a business idea that sets her apart from her peers. Instead of inviting the public to the paint party, she brings the paint party to those who prefer the comforts of a private, relaxed and familiar setting. Many of her clients include parents hosting birthday parties for their kids; loved ones planning bridal or baby showers; corporations looking for a team building activity; or social butterflies wanting to host a Paint & Sip party.
Art supplies are provided and the PaintSpace team arrives early to set up and stays back to clean up. The convenience and ease of this arrangement is undeniable. Your art is, of course, yours to keep. Despite getting assistance from a team of artists, don't expect to be the next Picasso at the end of the session. PaintSpace Art Lounge is essentially a safe and inclusive environment where guests can "have fun, relax and express themselves creatively".
On Her Background
The 25 year old business owner from Nigeria double majored in Business Management and Sociology at Stony Brook University before pursuing her Masters in International Affairs at New York University. When her father passed away in October 2013, Ehi moved to Canada to be with her siblings, as her mother took care of the funeral arrangements in Nigeria. Having been on her own since 16 – living in the States for seven years — she admits she was terrified at the thought of leaving her friends and job. But in December of 2013, she eventually quit her job at an economic development catalyst firm in New Jersey and moved to Canada.
In an effort to deal with her loss and the stress of starting life in a new environment, she signed up for a painting class. But soon after getting a job, Ehi realized that she really missed painting. It had helped her through a hard time and she wanted to transfer its therapeutic benefits to others. Opening her own art studio was the solution. Four unsuccessful lease negotiations later, it seemed impossible. "I was just so tired, I got home and started to cry," she shares. But the tears didn't last long before an idea popped up. If she couldn't get a brick and mortar art studio, then she would create a mobile one.
"I woke up at 2 am and said, I'm going to be a mobile studio," she laughs. "If no one wants to give me a space, I'm going to bring it to people instead, because I wasn't ready to give up yet."
Repeating what countless successful predecessors have advised, the go-getter says, "Willpower is everything! I am probably one of the most tenacious people you will ever come across. I do not give up--ever. I know when to walk away when something is not working but I am not just someone who gives up. I keep trying different things. I keep trying different mediums. I am constantly seeing what people in the same industry or in my career are doing... I am not the first person in the world to do what I am doing right now--which is great because I learn from other people."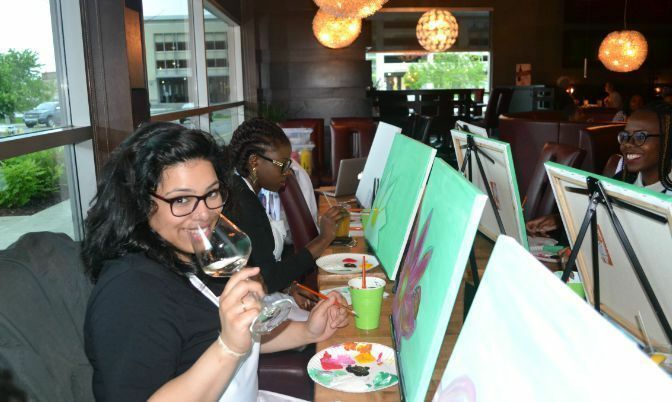 It is fair to say that the disappointment proved to be a "blessing in disguise". The mobile art studio, officially launched in June of this year, has been getting a lot of notice in the GTA. Recently PaintSpace held a free a painting session for kids at the "Love Brampton" event. Ehi marvels as she recalls how the PaintSpace team had to improvise with cardboard when over two hundred canvases disappeared at the hands of eager kids who showed up to paint.
Aside from giving back to the community and hosting private events, PaintSpace has also partnered with Moxies and Caffé Demetre to host Paint & Sip and Paint & Brunch parties at specified locations--something Ehi hopes to do monthly.
"I credit my amazing mom (and biggest investor), family, friends and the City of Brampton for support in what's been the most rewarding journey of my life so far," says Ehi.
On Marketing New Business
Sharing insights from her marketing background and start up experience, Ehi encourages entrepreneurs to always talk about their business. "Some people have said, I don't want to talk about my business because I'm afraid someone will steal my idea." She shakes off such concerns. "Some of my best marketing is just talking about my business. The first thing is, it lets people know about who I am. And the second thing is, people get interested and they give you ideas: Have you thought about this? Have you thought about a pop up shop? Have you thought about reaching out to these people? Oh yeah, I know somebody! The biggest tool is me talking about my business."
The business owner also warns against disappointment if the support doesn't come right away. "Not everyone who says they are interested is interested right now. They may be interested and it's good because now they have you in the back of their head. When they need you they will know to reach out to you. So, treat all your clients like your biggest clients."
When it comes to convincing others to support your new business, "You have to believe in it enough that other people believe in you." And as she learned while pitching her idea, "You have to work hard to convince people that what you have to offer is good, valuable, unique and beneficial."