It's 8 pm on a Monday evening, and we arrived ahead of our party of 6.
The restaurant is empty, only 3 other tables are filled. And it's actually open mic night run by entertainment persona Farley Flex.
Settling into our booth we start ordering rum, of course. They were half priced at $3 a shot! The Canadian Newfoundland screech and coke has a light flavour that reminds me of Appleton. The Hawaiian Sammy Beach Bar Rum had an odd medicinal flavour.
For appetizers, the generously sized crab cakes were enjoyable, the beans and corn with the cream sauce enhance the flavour of the slightly burnt crust.
The avocado mango salad is nearly perfect, with a mix of goat cheese, walnuts, red peppers, with a Coconut lime vinaigrette. I regret not ordering that for myself.
For our main courses, we ordered the Jerk Chicken Linguine and Lobster Mac and Cheese.
The Jerk Chicken was creamy, and spicy with healthy portions. The broccoli was a bit overcooked for my liking but still enjoyable. Light sweat beaded my forehead from the spices.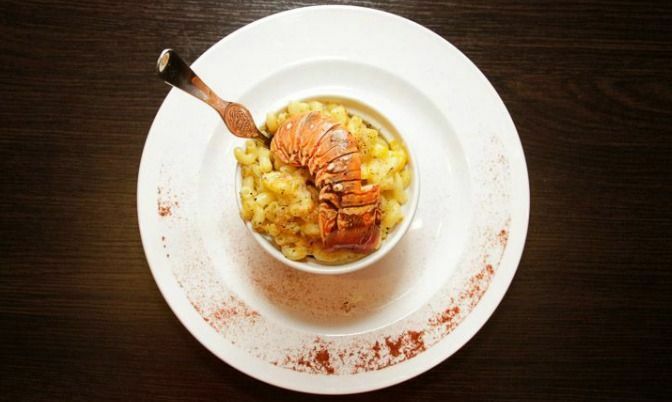 Lobster and Mac and Cheese are clearly a match made in foodie heaven. The dish came out with a generous lobster tail on top. And inside, the pasta was seasoned to perfection with small pieces of lobster baked right in. The portion size is deceiving, it looks small when served but it comes in a very deep dish that is surprisingly hard to finish. It made for great leftovers the next day!
I sampled a small piece of the Seafood Gumbo that a friend had ordered and wondered if I again made a wrong decision. The Thai curry flavour made my mouth water for more.
The popular dish among our friends was the Jerk Pork. The serving size was much smaller than the other dishes but the flavour was sweet and sticky and the meat was incredibly moist and tender.
For dessert, we ordered the Rum Brulee, which didn't offer as much rum infusion as one would hope for, but still a great choice for brulee lovers. The big hit at our table was the oversized mango cheesecake.
For a Monday night with only a few other customers in the restaurant service was a bit slow. But our waitress was friendly and knowledgeable, and made us feel at home. And our friends' plates were all empty at the end of the night, so we definitely recommend visiting. It's our new favourite spot on the east side.
Rum Diaries is located in Ajax, Ontario.