Marci: A new session of Parliament started recently and you weren't there. How are you feeling about that?
Celina: There is that immediate feeling of guilt. Representation matters. I had that opportunity to be there and made a choice not to be there and there is some responsibility that comes with that and some guilt that comes with that. What could I have done differently? Why am I on this side of the table? Why didn't I stay? Did I do the right thing? Then there is that feeling of you're darn right I did. At some point, we have to decide as individuals as communities as collectives and understand what we're willing to tolerate in our system and what we won't tolerate. I did leave the table but I know how the table is made. I've been there. I know what makes the table turn. I know what colour the table is. I know everything about the table. I can still operate and make changes at that table. I just need to do it in another way.
Marci: How did you come to the decision not to run in the last election?
Celina: What business leaders call the ethics test. Are you able to look at yourself in the mirror the next day and say you're ok with what you've done? Looking at my daughters (Candace and Desiray) and saying to them: I have told you your whole life to stand up for what you believe in and you know what, Mommy has to compromise on that a little bit. I couldn't tell them it was ok to compromise on what you believe in two percent of the time. You have to be committed to your beliefs 100 percent of the time and sometimes that means walking away. Sometimes that is a courageous decision.
Marci: How were you compromising your values?
Celina: By accepting behaviour that I knew I didn't deserve. I was tired of second-guessing myself around that table and saying are they really not valuing me or am I being too sensitive. I finally decided that enough was enough. I represent 130-thousand people and they're treating me as if I'm a single Celina. I went into the 42nd parliament thinking we were going to be bold, transformational, do government differently but throughout the entire four years, there were a number of different times I felt that I broke promises to my own constituents Promises that we made that didn't happen. I just thought with a majority government and this kind of climate where people need help we can't afford to break promises and let people down.
Marci: You were appointed Prime Minister Trudeau's Parliamentary Secretary, then you were the Parliamentary Secretary to the Minister of International Development. You left the Liberal caucus some time later and sat as an Independent. What's your relationship like with Prime Minister Trudeau now?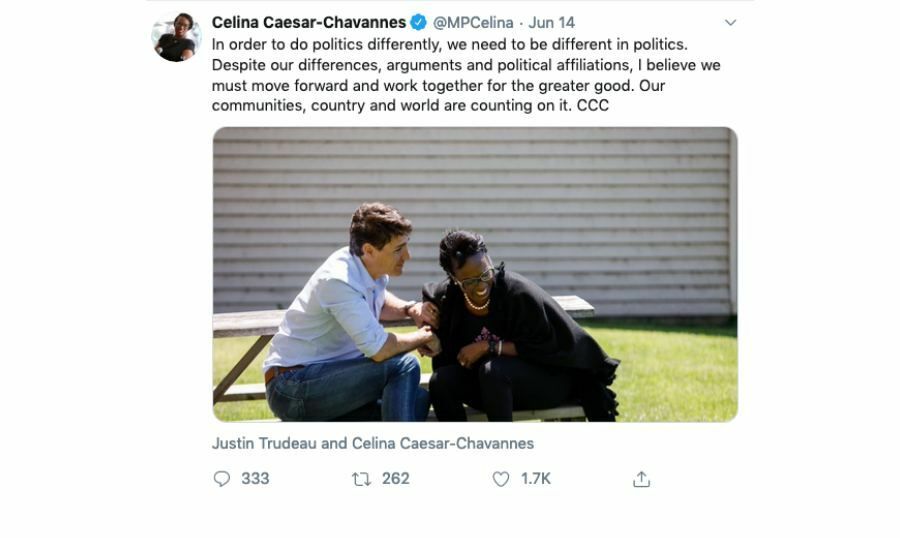 Celina: We're on good terms. We had a come-to-Jesus moment on a park bench in Oshawa. For me, that moment offered the opportunity for him to apologize to me and for me to apologize to him. At the end of the day, there has to be ownership on both levels and I owned what role I played in the breakdown of the relationship. The most salient point that I brought to him at that last meeting was you need to win the next election but you don't want to be the best of three evils. You need to demonstrate the leader that I know you are and that means keeping your promises, doing what you say and engaging people who you know are going to help you.
Marci: You definitely speak your mind. You have not shied away from sparking uncomfortable conversations. Race. Intersectionality. Anti-Black issues. You speak your truth. Is there a price to pay for doing that? Is it worth it?
Celina: I am still paying the price. (Celina chokes up...needs a moment) Oh my God. I wasn't expecting that. Sorry. (pauses) I'm emotional because when I see some of my other colleagues or when I hear about other colleagues getting consulting jobs or being proactively sought out for positions those proactive attempts to reach out to me have not happened at all. During this process I have thought in my head this isn't going to happen. Nobody wants an outspoken woman of colour and so I'm not expecting it to happen but when it actually doesn't happen it's a different kind of hurt. It's a humbling experience to be forty-five and unemployed and knowing that I have all this capital and sending resumes out and getting a ton of rejection letters. Like what is happening to my life?
Marci: What are you doing now?
Celina: I'm trying to figure out what to do next. It's a painful realization that I can't just do anything at this point. I want to do something that continues to drive my passion and purpose and that is to create a world that is equitable and inclusive. I do what a lot of women do. I've gone back to school. Maybe people will see me differently if I have a PhD. I'm doing my Ph.D. online with Northcentral University and I'm doing my doctorate on organizational leadership--looking at solving an industry problem of being women of colour particularly Black women in leadership positions in corporations. I'm tired of looking at pictures and getting mad.
Marci: Yeah. It's not about getting mad--it's about changing the conversation. Let's talk about you leaving the Liberal Caucus and sitting as an Independent. After that happened you posted on social media a newspaper article that was mailed to you. Someone had written the 'n-word ' all over it. You said something interesting after you did that. I never forgot it. You said that you wanted to make sure that there was a historical record as to what happened when you were an MP. Why was that important?
Celina: We get into conversations where things have happened to us as Black women and we say this happened to me and we don't have any receipts and we're told to prove it. Prove that you were discriminated against. Prove that racist comment was made. Prove that microaggression happened. Prove it! We don't have the tangible evidence to say this is what happened when I was there. I don't block people on social media because I want there to be a record. At some point, history will do right by me.
Marci: You have been so open when it comes to your mental health. It takes courage to do that. Why have you chosen to talk about your struggles?
Celina: Specifically for Black women when we're told we have to be twice as good, twice as smart, twice as everything that's not a sustainable model. Eventually, we are going to wear ourselves out. I'm not saying we need to stop being all these things--but what I'm saying is that if we're going to live by that practice we need to take care of ourselves. We need to share with each other. There are days we are tired. Say that. If we have to see a doctor--if we are depressed--we have to be willing to share that. If we're not doing that then we're doing a disservice to our sisters and our community. Selfishly, the more I talked about it the better I felt because I wasn't carrying the burden of needing to feel well when I wasn't.
Marci: I'm going to change subjects completely and get your take on some entertainment news. America's Got Talent judge Gabrielle Union was let go. The word is she was told her hairstyles were too Black and she was considered difficult when she complained about Simon Cowell's smoking (she's allergic to smoke) and what she deemed some racist comments on set.
Celina: One of the few shows that I watch because I don't have time to watch TV is America's Got Talent. I watched it because my daughter Candace loves it. She has hair like Gabby's. We loved to watch together. To have to say that Gabrielle got fired because her hair is like yours. That's tough. You can get fired over a hairstyle! The fact that she received these notes meant someone in that room had a conversation. Nobody in that room thought to challenge that? Nobody. How many different people have to agree to that? Then there is a man (Simon Cowell) who is allowed to smoke where it is illegal, but she is told she can't wear a certain hairstyle? It's a whole university course in Hell No-101!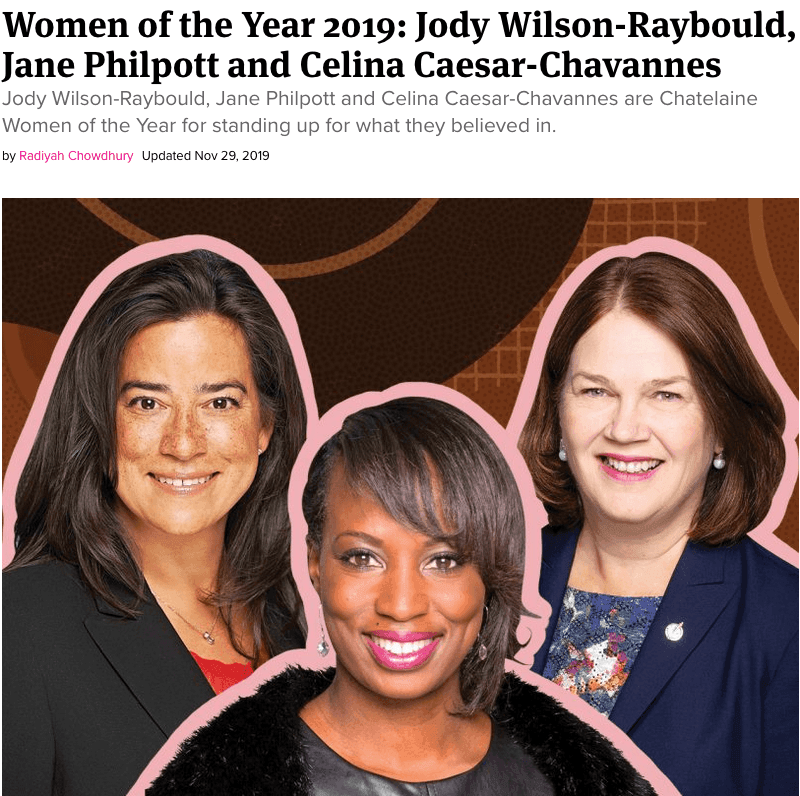 Marci: Congratulations on being named one of Chatelaine's Women of the Year! Such amazing news. Is there anything you'd like to add before I let you go?
Celina: Thanks so much! I actually sent the editor a note to thank her for seeing me. Seeing who I am. As tough as these four years have been I call it the most painfully beautiful experience I've ever had. People have been so kind. There is a greater kindness than the noise of dissent. It gives me a reason to smile when I think how generous people have been.
Know a Black Canadian story we should cover? Email us: info at byblacks.com.
Marci Ien is an award-winning journalist and Co-Host of CTV's The Social. She believes that Albert Einstein was right when he said: "The important thing is never to stop questioning."