Lewin is no stranger to the limelight or working with other big names, including Faizon Love.
He's sharpened his comedian teeth doing stand up on small and big stages, making people laugh, all over Canada and the United States. He tells the standard jokes about his friends and family as well as the comedic gold of being the only Black kid on the block. But there is something else about Lewin that makes his comedic story unbelievable. A part of his life that makes his rise to the spotlight unexpected.
Listen to the audio version of this article:
It almost stalled his comedy career - permanently.
Almost.
Aaron Lewin started doing comedy professionally in 2013 after gaining popularity through YouTube videos. Before the power of the Youtube star, he was your typical class clown, growing up with his mom and dad and three older brothers in the affluent neighborhood of Richmond Hill, Ontario as the only black kid in his class, and sometimes, in the whole school.
"My parents are old school Jamaican," says Lewin. "So they don't really talk about things. Like, at all. So I always used comedy as an icebreaker. I was always messing around at home. And I had a lot of friends that kept telling me to get into comedy."
Lewin's Jamaican parents weren't on board for that. They saw to it that he entered York University studying law. "But after six months I knew I wouldn't continue. So I decided I would throw a comedy show at York U and I spent the last two months of the term promoting my show during classes, before classes, in the hallways, everywhere."
He applied that same relentless promotion for his first big show in 2013 at the Metro Toronto Convention Centre, the mammoth of event venues. "I was on the streets every day, all day, handing out fliers. My dad is an immigration lawyer so he even helped me sell tickets to his friends and clients."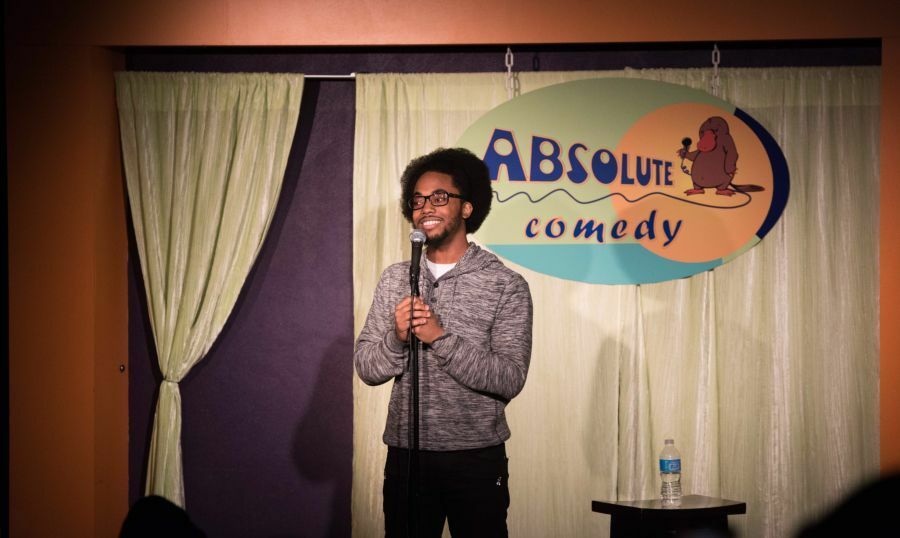 For a 19-year-old comedian, and for a show put together in 3 weeks, the "Aaron Lewin and Friends" show was a success. 600 people showed up. But that wasn't nearly enough to make a profit. "I lost thousands of dollars, the show itself cost over 20k to put on," Lewin says his father loaned him some money that night to cover his debt. He felt terrible about having to borrow money from his dad.
"I knew some guys from high school that were robbing jewelry stores and making a killing. I ended up randomly bumping into one of them in a plaza. Next thing you know we're talking about doing it. I never thought this was something I would do."
The robbery happened on Halloween night in 2013, at a Peoples Jewellers shop in the Pickering Town Centre. Lewin and two other men were arrested at gunpoint on the 401 Highway shortly after fleeing the scene. It was his first encounter with police.
"I was taken to a jail in Lindsay, Ontario. I didn't even know where Lindsay was, to be honest. I remember walking on to the range, and at this point, it didn't really kick in that I was actually in jail. Until I was in the cell."
Lewin was behind bars for two weeks before his parents bailed him out on a $50,000 bond. He would not be allowed to leave home without his mother or his older brother Yitzhak. "I'm sure that was a drag for him, because I was basically his tail, but he's been one of my biggest supporters," says Lewin.
That umbilical house arrest lasted for two and a half years until he was called for sentencing after entering a guilty plea. The judge handed him a 3-year sentence. He served about a year of that behind bars.
Lewin spent his first 90 days at Joyceville institution in Kingston, Ontario.
"That was definitely the most eventful time. I met a lot of people from Regent Park, Jamestown and Driftwood. I was talking to guys who were trying to kill each other. The first thing people ask, is where you are from. And I have no ties to anything or anyone. I didn't grow up in a housing project. So I was just honest about it and said I was from Richmond Hill - and they just left me alone. All I did was work out and crack jokes. I actually met a lot of good guys, but I also met a lot of child rapists and wife killers who I had to sit and eat with. There is no segregation in the federal system."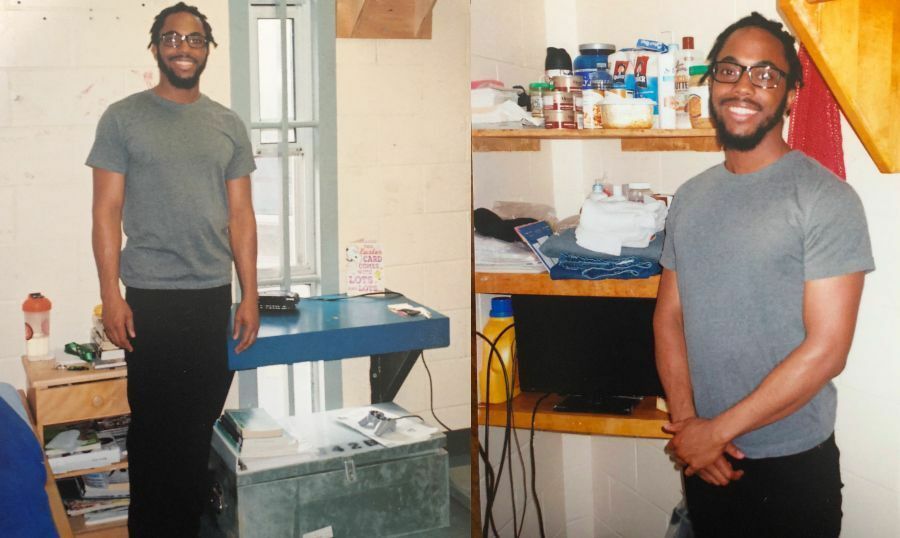 Aaron Lewin in his cell at Collins Bay. These photos were taken by another inmate who is hired as the prison photographer.
It was in Joyceville where Lewin became the "range rep," a liaison between the guards and the other 52 inmates in his unit. "Most of the other prisoners were on gang or kidnapping charges, so they weren't allowed the kind of free movement I had as the range rep. So I was able to gain a lot of respect because of the position I had."
Lewin was transferred to Collins Bay federal prison, a minimum security prison where he spent the next 7 months. "I had torn my knee just before being transferred, so now I was on crutches and had a brace down my whole leg for 2 months. I couldn't even defend myself if I wanted to. That brought me a lot closer to the black guys in there. They became my protectors."
Lewin says the prison community is arguably the most respectful in the world.
"Respect is everything. Everyone is living on the edge with nothing to lose. So it's a high priority to be nice and kind to everyone. People don't even walk in the same oncoming direction as someone else, to avoid even the perception of disrespect."
Lewin says there are definitely some peculiarities about prison life that take getting used to. "It's extremely homophobic in there. You have to call a banana - yellow fruit. Peanut butter is brown butter, strawberry jam is red spread and donuts are circle pastries. It took me 4 months to figure that out."
Lewin says the whole experience made him realize he has to be in charge of his life. "People think the prison system is useless and it doesn't help, but I disagree. Yes, there are people in there being ignored and not getting the help they need. But it's a good system in terms of what they offer you. In federal, if you don't have your high school diploma, they make you go to school every day. If you do have an education, they make you go to certificate programs to get qualified in a trade. There are lots of professors, therapy and drug programs. If you want to fix your life in there, you can. It showed me I could get a grip on my life."
To keep him going, Lewin relied on almost daily phone calls from his brother Yitzhak. "If it wasn't for him I would have been completely alone throughout this whole process. He was like the middle man to the outside world."
Lewin was also able to mend his relationship with his dad. "I wrote him a letter telling him I try so much to be like you, make it on my own like you did. I just told him how I felt, and that we are so similar and that's why we don't get along. He didn't respond at the time, but I knew he received it well, and we are cool now. My mom, she never judged me. She just said, let this be the last time. She's not big on words."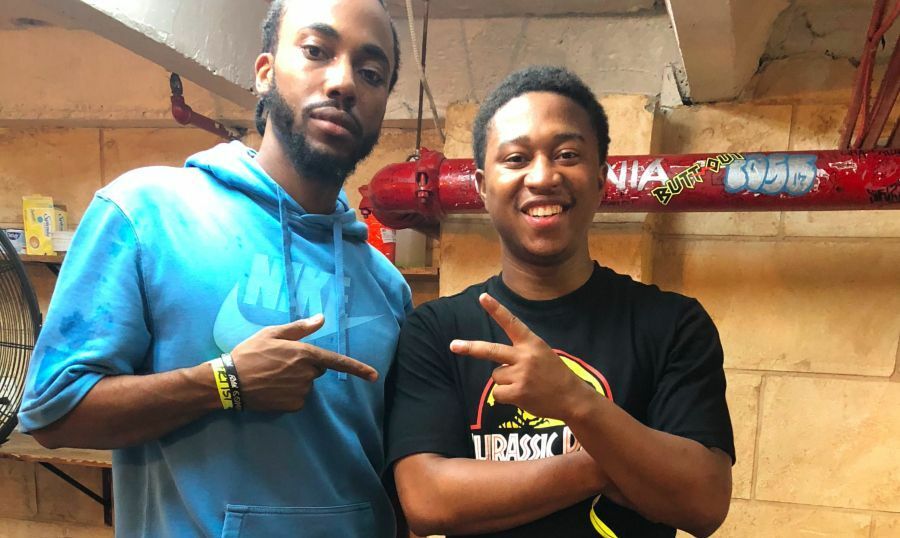 Aaron Lewin with fellow comedian Shiggy.
Lewin was released from prison on July 26, 2017. He's still on parole right now but hasn't let that stop him from getting right back into comedy. Six months after getting out, he did another "Aaron Lewin and Friends" show at Absolute Comedy with Spoken Reasons as the headliner, attracting over 200 people. Then came his most recent show featuring Shiggy and a sold out audience of 500 people at the Opera House. Lewin says his Instagram page now gets roughly 4 million views a week and he's been approached by Instagram to verify his account.
Within just a year of getting out of prison, Lewin already has a foot in the door of the grand ball of comedy - Toronto's "Just for Laughs". He was invited to be featured in a Much Music skit that will premiere at the festival on September 29.
And in October, Lewin will be headlining three shows on the same night, inside the Corner Comedy Club.
"The main goal for me is to open my own comedy club. There are only three clubs in Toronto, and none of them are black-owned."