A bowl, thicker than your average smoothie, that packs all kinds of fruity goodness and superfoods making it not only a creative start to the day since you can create what tickles your fancy but a nutritious start too! The best part is that it is fun, simple, something kids can do and don't require too much time. All you need is a blender. It's also something you can continually change and add to along the way. I'm still experimenting with smoothie-bowls at the moment, but these are two recipes I tried and loved.
Açaí Smoothie Bowl
2 cups organic frozen blueberries
1 banana (frozen) will give a thicker consistency. 1 cup of organic strawberries will also give a thick consistency.
1 handful of organic baby spinach leaves (optional)
1 tablespoon açaí powder and/or other superfoods like maca, camu-camu, spirulina or chlorella
1 tablespoon goji berries
1 tablespoon organic chia seeds
1 cup of nut milk, like almond milk, you can use soy if you prefer. Water or pure coconut water works too. Play around and see what works for you.
Put all of the above into a blender and blitz until smooth. Pour into a bowl and top with your favourite toppings. Use nuts, oats, goji berries, fresh berries, dried or fresh banana, pumpkin seeds, bee pollen, chia seeds or other fresh fruit, what about cacao nibs, those taste great, give you tons of energy and are another superfood too!
If you want to go with a more veggie-based smoothie in the morning
Green Smoothie Bowl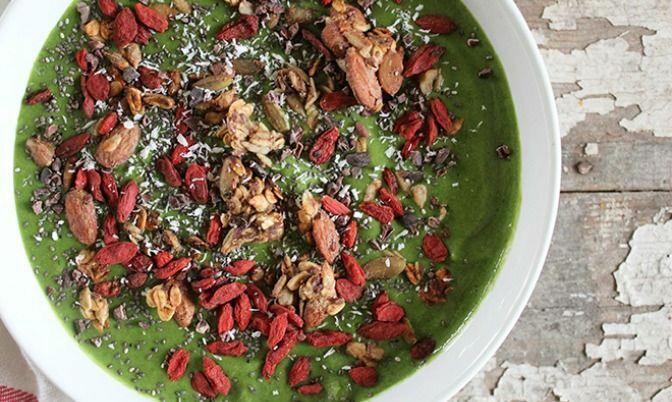 1 cup of organic black kale
1/2 cup of fresh organic dandelion leaves
1/2 cup of organic spinach
1 apple
1 frozen banana
1 thumb of ginger
1/2 a lemon
2-4 pitted organic Medjool dates
1 teaspoon of spirulina plus another teaspoon of your chosen superfood
10 almonds
1/8 cup of flax seeds
(if you do not have a powerful blender like a Blendtex or a Vitamix feel free to leave the almonds and the flax out of the smoothie and add them as a topping)
1 cup of water, pure coconut water or whatever liquid you prefer (nut milk also works too)
Put all of the above into a blender and blitz until smooth. Pour into a bowl and top with your favourite nuts, seeds, berries and fresh fruit. Don't forget to play around with the ingredients, both what goes in the smoothie and what goes on the smoothie. Look out for superfood ingredients that pack an amazing nutritional punch.
Superfoods are known to hold very high nutrients and they come in many forms. Chia seeds, for example, are considered a superfood because they are rich in antioxidants, vitamins, minerals and fibre. Chia seeds are also known to contain 500% more calcium, than milk and as much omega-3s as wild salmon. They also make for an excellent thickening agent and are known for creating vegan pudding. Bee pollen is another superfood that contains amino acids, vitamin c, minerals, antioxidants and essential fatty acids. One of my favourites is goji berries, also known as wolfberries, grown in the south of China. They are considered a superfood because of their antioxidant and nutrient density. Other superfoods include spirulina, chlorella, cinnamon, maca powder, camu-camu, coconut meat, avocados, chia seeds, matcha tea powder, cacao nibs, turmeric and coconut water.
Don't forget, when sweetening, experiment! Use dates, maple syrup, agave syrup, or other sweet fruits. A ripe banana is an awesome sweetener. There's so much more out there than sugar!