The best way to beat it without any sign of sickness is to increase your intake of immune boosting foods; foods high in antioxidants such as garlic, ginger and turmeric. All 3 are considered superfoods due to their medicinal properties. Garlic for example has been used for thousands of years for its anti inflammatory, antibacterial and anti fungal properties. Ginger is very much the same, it's definitely easier to go down and adds flavour to recipes but it too has been used over time since it is antibacterial and has anti inflammatory agents. It also kills cold viruses and works against nausea and digestive issues. Turmeric is a superhero in the food world. The medicinal compound is called Curcumin and is know to do an array of amazing things. It is a very strong antioxidant and is good to have regularly in your diet since it is also an anti inflammatory. Anti inflammatory properties have a ton of health benefits for many different ailments and are well worth looking into.
Here's a tea that I love and use if I have an upset stomach, it is also great for boosting your immune system. Not to mention that the raw honey in the recipe has a whole range of health benefits on its own.
Turmeric Tea:
1/3 cup of raw honey
2 1/2 teaspoons of powdered turmeric
lemon slices
pinches of freshly ground black pepper
Work the turmeric into the raw honey and store in a small mason jar or a jam jar so you have it on hand and ready to use. When you wish to have a cup of tea, use hot water but not boiling water (boiling water will kill the properties of the raw honey), add an ample teaspoon of the turmeric and honey, a slice of lemon and a pinch or two of black pepper. You may question the black pepper but it actually contains compounds that make it easier for our bodies to absorb the goodness of the turmeric. Stir and sip! This is a spicy yet sweet tea, one that will do wonders for your insides and definitely warm you up on a cold day! I love this recipe, there is something about it that reminds me of my travels around Southeast Asia. It's spicy and packs a punch and there are a few ingredients in there that will help you avoid sickness this flu season.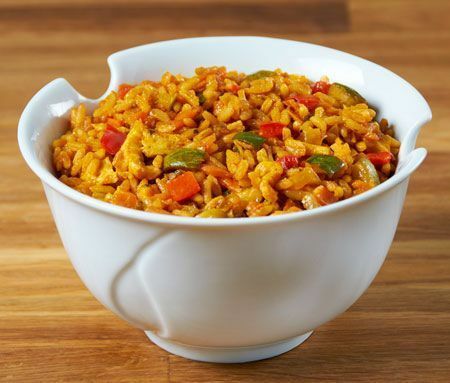 Spicy Nasi Goreng (GoodFood Magazine) Time: 35 Minutes. Serves 2
1 1/2 cups of long grain rice
washed 2 medium eggs
beaten 3 garlic cloves
2 red chillies
thinly sliced 2 onions
sliced 3 tbsp groundnut oil (peanut oil works with this recipe too)
1 yellow pepper, seeded and sliced
2 carrots, cut into matchsticks
2 tbsp of dark soy sauce or tamari
4 spring onions, shredded
4 tbsp chopped fresh cilantro
Place the rice in a wok and add 3 cups of water and bring to the boil. Cover and cook over a very low heat for 15 minutes, until all the liquid has been absorbed. Tip into a shallow dish and leave to cool.
Meanwhile heat the wok. Add the eggs and cook, stirring, until scrambled. Remove and set aside. In a blender, whizz the garlic, half the chilli and half the onion to a paste. Heat the oil in the wok and fry the paste for 1 minute. Add the rest of the onion and the chilli plus the vegetables and stir fry for 2 minute. Add the cold rice and stir fry for 3 minutes. Stir in the soy sauce, spring onions and eggs and fry until piping hot. Season and serve immediately.
Note: Of course you can add any tofu, seafood or meat that you wish, this recipe is amazing and goes with a lot. Experiment!
Along with the above suggestions, it would definitely help to lessen various habits that decrease your immune system such as smoking, consuming excessive alcohol or not getting enough sleep. Exercise is an important immune and all round health booster too! Incorporating even a thing or two from the above suggestions will give your body a helping hand in fighting off the bugs floating around us and if you do get the sniffles or the shivers then they will help you to recuperate quicker – a shot of ginger or garlic in your juice is amazing for that! It would be better to do the shot and then use the juice as a chaser. It will lessen the pain of the spice when it goes down, it's not so bad and it will boost your immune system in no time!
Good luck out there!!
Note: For those on blood thinning medications or for those who have clotting disorders, consult a medical professional before increasing your intake of ginger, garlic or turmeric as they may interfere with medications.
Scroll down to comment on this article via Facebook.