Monique Taylor Yee Shui
Monique is a thirty-something year old corporate career woman and lifestyle blogger. When she's not working, she keeps herself busy with community projects and all things pretty in fashion, photography and design. She's also an organic foodie with a weakness for desserts and Starbucks.
On her blog "A Long Walk", Monique embraces her quirky individuality as she journeys through her life. The blog is a place where she covers a wide range of topics from DIY projects to personal beauty and style to cuisine.
Keeping with her desire to be creative, Monique pursued a degree in Marketing and later a certificate in Public Relations has allowed her to work in a marketing capacity with a number of organizations including the Atlanta Hawks, Toronto Raptors and CIBC.
Monique loves to get involved with her community. She is the Executive Director of Black Pearls Community Services Inc, an organization that produces community service programs in the GTA. She is a member of Alpha Kappa Alpha Sorority Inc. and a charter member of the sorority's first Canadian chapter. Monique lives in the east side 'burbs of Toronto, ON with her husband and two girls.
Connect with Monique on:
Snapchat: meaux_alw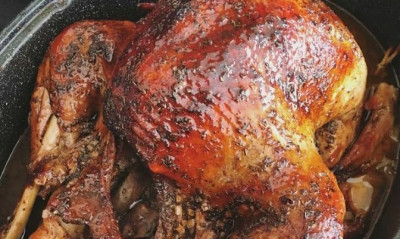 Sunday, 20 November 2016 18:20
Published in
Food
The last time we traveled to Jamaica, we needed a vacation after the vacation! Thanksgiving was coming around and although I was tired, the foodie in me (also the fact that I come from a family that always celebrates holidays with a special meal) couldn't let Thanksgiving go by without preparing something spectacular.