Whether it's a mansion, multiple luxury vehicles, private jets, and the list could go on. I've had a vision for years of waking up in an overwater bungalow, stepping out onto my front deck and diving right into the ocean. Luxury overwater bungalows used to be thought of as something that only the super rich could experience in far off places like the Maldives or Bora Bora. Well I've now realized that the dream is a lot closer to reality than I thought. Being in North America we no longer have to travel to the other side of the world for this luxury experience. We can fly anywhere from 4-6 hours and experience this in the Caribbean.
Sandals Royal Caribbean in Montego Bay Jamaica recently announced it will be offering the overwater experience with a new set of bungalow suites. The first of its kind in the English speaking Caribbean. Each of the suites will feature a private outdoor Jacuzzi tub and shower, a hammock for two hanging over the water, and steps leading from the sundeck straight into the ocean. The breathtaking interiors will boast 1,600 square feet of space, with a large walk in shower and indoor soaking tub. You can fully embrace the suite's 'over-the-water' setting with glass flooring that allows you to view the clear water and marine life below – which will even be lit for night viewing. The service of a professional butler will ensure you never have to lift a finger and can instead embrace the beautiful scenery around you. This is definitely a compliment to the offshore island which is accessible by boat from Sandals Royal Caribbean.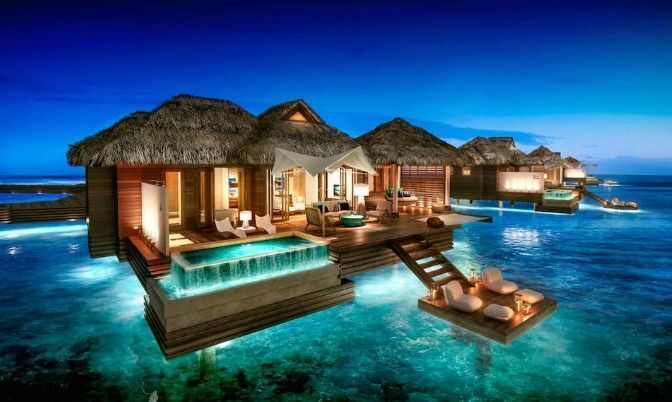 Sandals Royal Caribbean Montego Bay, Jamaica
Now if you can't make it to Jamaica you can take a trip to Panama where you have a few options for overwater bliss. The Coral Lodge is a 6 villa boutique resort in a secluded part of the San Blas Islands in Panama that takes a bare-bones and eco-friendly approach. That means there is no TV or internet here, so a distraction-free vacation is nearly guaranteed.The resort also offers "romance packages" and several other extras. The Coral Lodge also is great value, with perhaps the cheapest overwater bungalows in the world. There's great diving and snorkeling, as well as horseback riding nearby, so even though it's bare bones, this can definitely provide the right vacation for the right people. Low season from US$345 per night and high season from US$398 per night.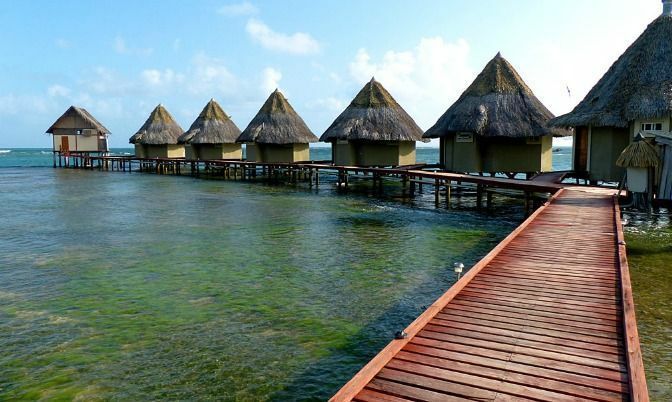 The Coral Lodge in Panama
Another eco-hotel, the Punta Caracol Acqua-Lodge consists only of 9 overwater bungalows stretching out from an island near Panama. The bungalows are fairly large, and are powered by solar panels only, so there is no television or entertainment system. Breakfast and dinner is included in the room rate as well, so this is an affordable all-inclusive-style resort. Here you'll find excellent snorkeling, boat trips, including visits to Indian communities nearby. Low season from US$350 per night to high season from US$427 per night.
Slated on a private island 9 miles from Dangriga in Belize, the Thatch Caye Resort is probably the closest thing to a Maldives-style complex anywhere in the Western Hemisphere. The all-inclusive resort has 5 overwater cabanas which are perched just over the water's edge, plus one huge Family Suite comprised of 2 bedroom cabanas and 1 living room/kitchenette cabana.The resort has only 10 rooms in total so the entire island never has more than 24 guests at any given time. The service is excellent and the food gets high marks as well being all-inclusive. Low season from US$297 per night to high season from US$446 per night.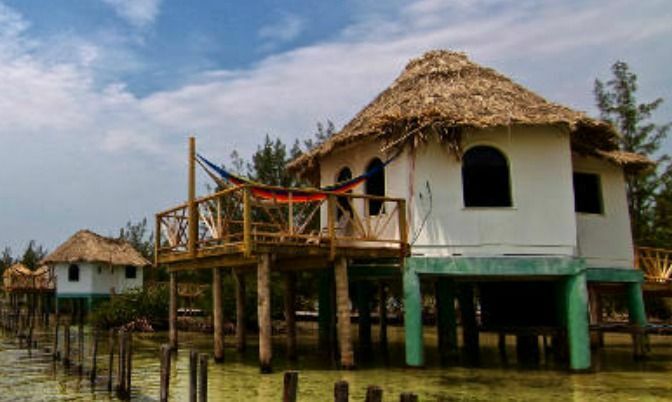 Thatch Caye Resort in Belize
Just a short boat ride from Belize City itself, St. George's Caye Resort is located on a mostly private island featuring 12 bungalows located on a semi-circular pier. This resort works on a mostly all-inclusive basis, with all food and even rum punch (one per day, per guest) included in the room rate, making it quite a good value when those are factored in.The location is just off the enormous Belize Reef, so the diving and snorkeling are excellent. Low season from US$437 per night (including all meals for two guests) to high season from US$437 per night (including all meals for two guests).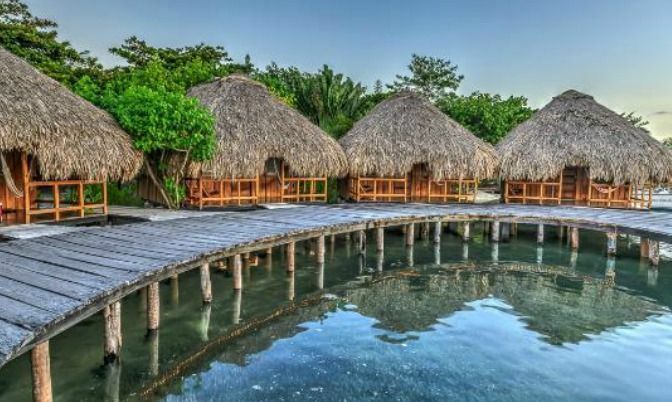 St. George's Caye Resort near Belize
When considering your overwater adventure we know that cost will always be a factor. Think about the cheapest months to travel to your desired destination:
Maldives cheapest months: June and July
Bora Bora, Tahiti and Moorea cheapest months: March and April
Caribbean cheapest months: May through November
Dreams are always made to come true. No matter your budget or current lifestyle, believe that you can have that experience, take baby steps and make it happen. You were meant to live a fantastic life.
Get in touch with me at This email address is being protected from spambots. You need JavaScript enabled to view it. to book your overwater dream vacatation today!