We now average over 42K monthly unique visitors, with over 470K pageviews.
Articles on interesting Black Canadian owned businesses, restaurants, and non-profit organizations
Articles on Artists and history making Black Canadian personalities.
Articles on Black Canadian professionals, film, and book reviews
Largest business directory of Black-owned Canadian businesses, Artists, Books, Films and Politicians
We offer your business unique insight into the interests, skills and values of the Black Canadian community.
There are over 1.2 million people of Black, African or Caribbean descent living in Canada, and the Black Canadian population growth is outpacing that of Canada as a whole, due primarily to immigration from the Caribbean and Africa. That means your audience is growing exponentially each day.
A closer look at Black Canada
The Black Community represents the 4th largest or (3rd largest Visible Minority) ethnic population in Canada.
That's more than 1.2 million people and growing with continuous immigration
Black Business Owners are young. (15% of Visible Minority Small & Medium Enterprise Owners are under the age of 30.)
CIBC, TD Canada and the Government of Canada all agree that Visible Minorities Businesses are a major driver of the Canadian economy.
We bring the audience to the advertiser by satisfying all their information needs.
Our 2014 Reader Survey points to a reader base of Black influencers, that are high functioning (education level), accomplished, high disposable income, age diverse (across the major age groups) and stable (employed).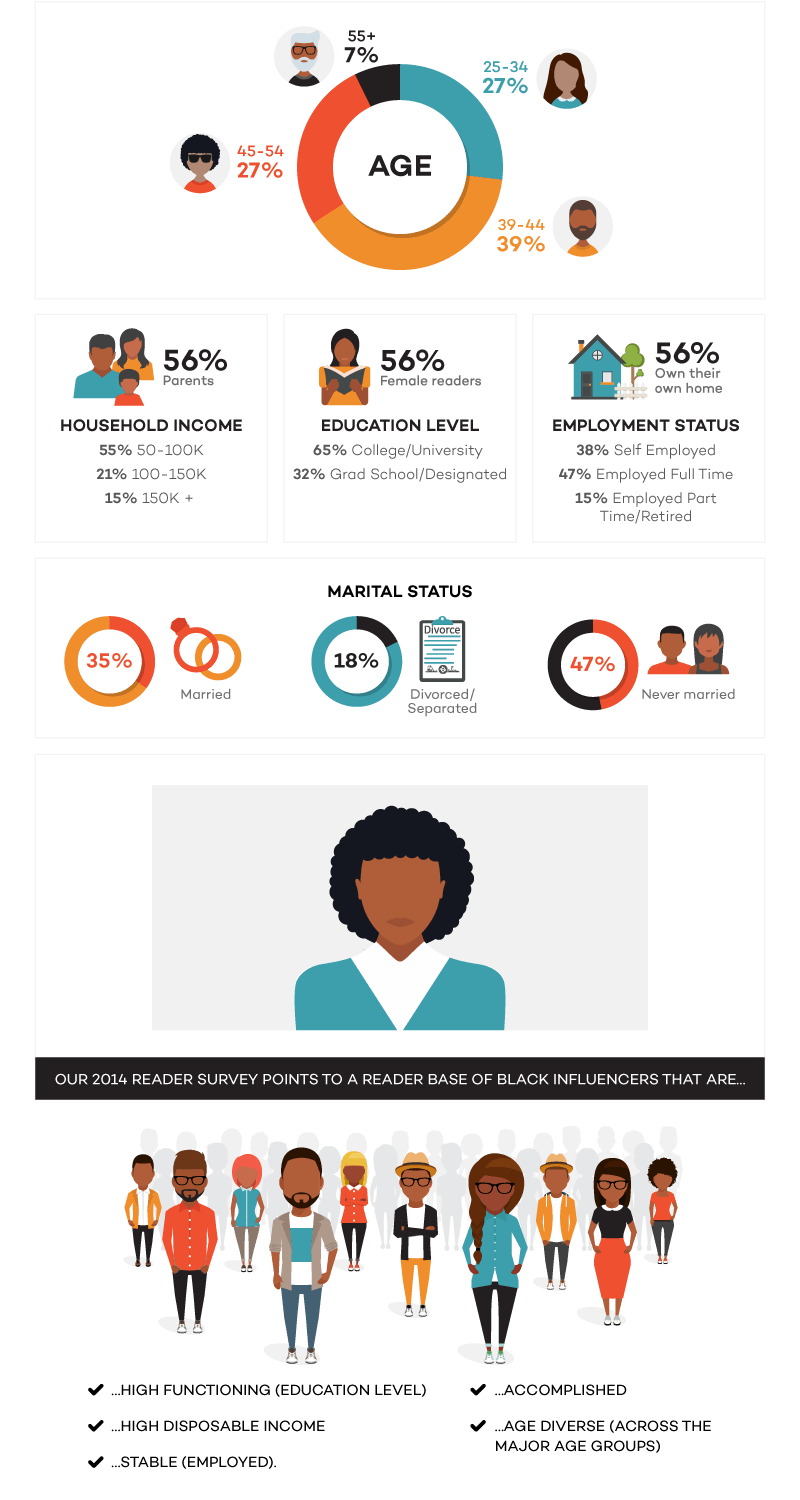 WE OFFER CREATIVE WAYS TO ADVERTISE YOUR BRAND.
WE OFFER STATIC AND CPM BANNER ADS.
We've already done the market research, gathered the audience and given you access, all
that's left is ordering promotional services from ByBlacks.com.
Soulpepper Theatre Company
Advertisers have access to a powerful interface that allows them to submit ads, campaigns, select packages and more.
We offer flexible banner advertising options on ByBlacks.com, above the fold, and across the site within the main content areas.
ByBlacks.com offers custom ad packages, email and social media promotional services, and native advertising featuring sponsored articles, job posting packages and featured directory/event listings.











Digital Advertising
We offer a customizable mix of targeted advertising opportunities across different areas of the site. We offer high-impact branding solutions as well as conversion-focused products. Our advertising menu is highly flexible and can be tailored to your business, budget, and marketing goals. Choose from our highly visible primary ad placements. All prices quoted below are plus HST.
Leaderboard Banner
Appears above the fold to the right of our logo
Ad dimensions 728px wide by 90px high
File size should not exceed 100kb
Multiple ads rotate in this position
Static $350 weekly | CPM $15
Text Banner
Appears below the fold on the right hand side
Info required:

Ad title - maximum 100 characters
Image - maximum 100px wide; file size should not exceed 100kb
Text description - maximum 200 characters
Call To Action - maximum

Multiple ads rotate in this position
Static only; $400 monthly plus HST
Right Side Top
Appears above the fold on the top right-hand side
Ad dimensions 300px wide by 250px high
File size should not exceed 100kb
Multiple ads rotate in this position
Static $200 weekly | CPM $10
VOLUME DISCOUNT RATES
10% - Monthly, calculated as 52 weeks divided by 12
20% - Quarterly, represents 12 weeks to 25 weeks
40% - Semi-annual, represents 26 to 51 weeks
50% - Annual, represents 52 weeks or more
Right Side Bottom
Appears below the fold on the bottom right-hand side
Ad dimensions 300px wide by 500px high
File size should not exceed 100kb
Multiple ads rotate in this position
Static $150 weekly | CPM $7
Client provides info for posting; image, job description text, and URL/email address where to apply.
Package cost $350 plus HST (effective January 1, 2022)
From business profiles to product reviews, our team can craft original and inspiring content that conveys your message and distribute that message to our educated, informed and engaged readers.
Your article is written by one of our experienced writers
One social media post promoting article across six of our platforms
Dedicated e-blast promoting article
Total Investment Per Article: $5,000. N.B. The article is posted for a period of one year.
Featured Directory Listing
Get your business listing to stand out! Have your listing featured in your respective business category for just $99 per month plus HST.
Your business is one of the first directory listings people see in your category.
Your business is highlighted on the right sidebar as a featured business.
Get an additional 50% discount with a one-year commitment! Pay a one time fee of $594 plus HST