Two families received the news from the school's principal that their 5-year-old sons had been duct taped to the desk and placed in a dark room as discipline because the children had moved their desks. According to media outlets, one boy had his wrists tied together while the other had masking tape tied on his arms and legs and placed across his mouth beneath his mask. The teacher then turned off the lights and told the boys to get out of the tape themselves. Yet according to the children, this behaviour is not new.
"She taped me three times. The first time she taped me on my legs. The second time she tapped me on my arms. And the last time she taped me on my mouth. Under my mask," said one of the boys.
"It made me feel sad and I didn't want to go to school."
The father says the school and the Waterloo District School Board need to take greater action to protect students, including assessing hiring practices. The mother of one of the boy's whose identity is also being protected, has confirmed with media reports that both of her children will be transferring to online learning.
A lack of protection for Black, Indigenous and students of colour alongside racially-motivated incidents involving educators within the province is not a new phenomenon.
Just last month the Toronto District School Board placed a teacher at Parkdale Collegiate Institute on home assignment after wearing blackface for Halloween. Another educator at the same school is also under investigation for using the N-word in conversation with a group of students when referencing a song.
A report by the school board's Human Rights Office previously outlined an alarming increase in anti-Black racism exceeding all other hate incidents in reports documented between 2018 and 2020.
In Simcoe, allegations of a rape threat and racial slur sent in two notes to a Black elementary school student sparked an investigation at the Simcoe County District School Board (SCDSB) last month as well. A photo of both notes was shared in a Facebook post by Toronto advocacy group, Parents of Black Children, demanding her protection.
"We have seen instances of Black children expelled, sent to behavioural schools, police called for less. Yet at this elementary school in Simcoe there are no consequences for threatening a little girl with rape, calling her the n word, telling her to kill herself and drawing a noose or offensive images," the post reads.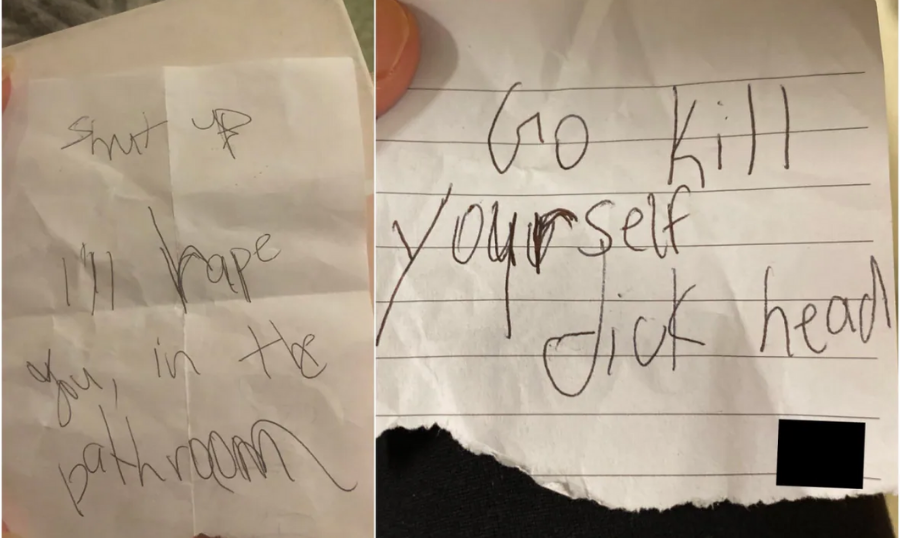 Two notes sent to a young Black student at Simcoe County District School Board, threatening rape and calling for her to take her own life. The racial slur has been redated. ( Parents of Black Children/ Facebook )
The group calls out a lack of humanity by administrators and the teacher at the school, who stood in front of the class expressing that the boys should be forgiven for the incident while the little girl was present in the room. In support of the calls to action, Parents Against Racism - Simcoe County have created a demand for action form that will be sent to the Minister of Education, Stephen Lecce, all School Board Trustees and Director of Education with SCDSB.
The young girl's mother has also filed a civil lawsuit against the school board in the Ontario Superior Court of Justice, for failure to protect her daughter after undergoing ongoing anti-Black racism even after a change of schools. She is seeking $200,000 in damages, in addition to legal fees.
With recent incidents further emphasizing the racism woven into Ontario's education system and aggression perpetrated on racialized students, has also come an increase in pushback calling on actionable measures that secure Black, Indigenous, and students of colour within learning environments.
Kitchener Centre MPP Laura Mae Lindo has called on the Ford government to impose stronger legislation to combat racism across Ontario schools in response. This includes an equity audit on experiences of racism, funding to combat this, and the collection of race-based data for both students and staff.
In a news conference last week, Lindo said although work is being done to address systemic racism in schools, "there seems to be a gap in the legislative methods that are being attempted and the reality of what we're hearing today."
She was joined by Marcia Smellie and Maedith Radlein, who both sit on the Waterloo Region District School Board's equity and inclusion advisory committee.
"The very fact that these kinds of situations can arise, it clearly tells you that the movement is not fast enough," said Semillie.
Lindo is also set to table a private member's bill at Queen's Park to define racism and anti-racism, as well as what racial equity looks like in legislation that manages education.
GroundUp WR and the African, Caribbean and Black Network of Waterloo Region have also collaborated on a legislative petition to address anti-Black racism in schools alongside the private member's bill.