When I became pregnant at the age of 18, I was ready to deal with the changes around my body and the responsibilities entrusted to me by life. What I did not expect was how society would now view me. Being a single mom comes with a lot of burden and shame. You're judged for not having a partner, for the way people assume your family was created and for the hard choices you make to ensure the stability of your family.
These expectations and burdens fueled my passion for politics and my determination to work in a field where I would be able to advocate for women like myself.
Women who are not always given a chance to succeed, women who need a break, or simply for their government to see them and offer them the adequate support they need to thrive.
And that is why the federal government's announcement with the province of Ontario was so important to me. This historic agreement will support an average of $10-a-day licensed childcare in Ontario and will significantly reduce the price of childcare for families. And it doesn't stop in Ontario; with this announcement, we have now signed agreements with all provinces and territories. This means more families across Canada will have access to high-quality, affordable, flexible, and inclusive learning and childcare, no matter where they live.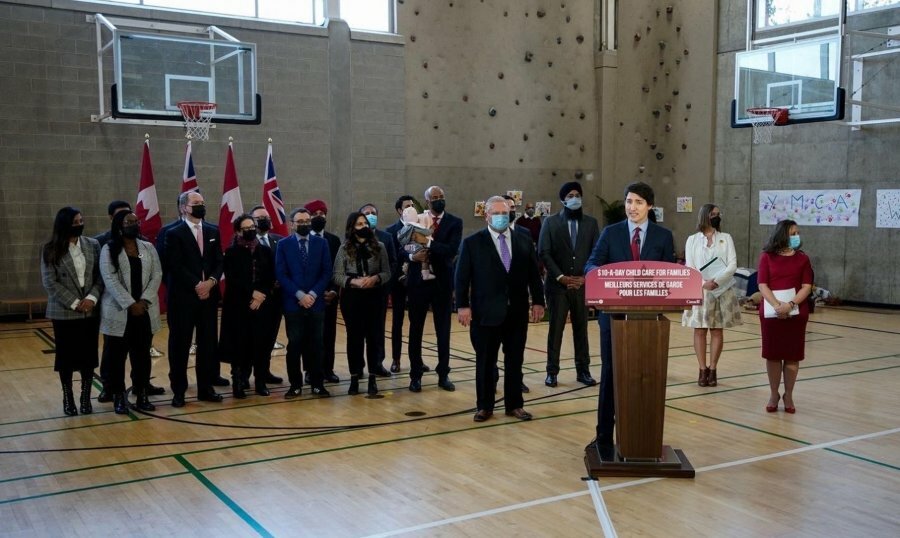 Prime Minister Justin Trudeau and Premier Doug Ford announced the childcare deal on Monday, March 28.
It means that women like me will not have to choose between growing into their careers and providing safe, adequate, and sometimes culturally competent childcare for their children.
Childcare should not be a burden. Raising the next generation is paramount to the betterment of our society. It is also important that our children interact with each other and learn from each other.
And yes, I am no longer the 18-year-old who was afraid of the path that lay ahead when she realized she was pregnant. But that 18-year-old is never too far from me. So, I keep her with me as a reminder that I might have "made it," but there are countless others who should be here with me.
That 18-year-old is with me when I remember the many times I had to bring my son everywhere with me, often encountering frustrated comments from people who didn't often see children in classrooms or workplaces. She's also there with me when I go to Ottawa and advocate for accessible housing, internet access or even a fair chance at an adequate life for families in London West.
This investment will allow women to take their place in society without having to make personal sacrifices on whether to have a child or not. It will enable them to take a seat at whatever table they choose, in board rooms or even in Ottawa, to advocate for more inclusive policies that promote and facilitate the full participation of women in Canada's workforce, society and most importantly in our economy.
If that is your choice, I hope to see you in those places. I hope to see you in Ottawa because we have now crossed a milestone for moms, particularly for millennial moms who quite frankly could use a break. But, I know, and you know, that much work remains to be done!