After years of running their own professional catering business, Spiked Punch, these three Black women SheEOs continue to raise the bar in Toronto's Black Foodie scene with their Caribbean and Cajun-infused restaurant SugarKane. Reflecting the changing face of one of the most diverse cities in North America, SugarKane has raised its flag on the Danforth, a part of the city known more for gyros and spanakopita than the Creole Jambalaya and Jerk Pulled Pork celebrated on their menu. However, that hasn't stopped the restaurant from packing its reservation list (and their Instagram) with locals and low-key celebrities like Jemeni (Radio & TV personality), Tracy Moore (Cityline) and members of The Raptors. ByBlacks had the opportunity to get the scoop on how the restaurant has built its reputation, the food on order, and their live music nights every Saturday, SugarKane Nights. When you're done reading the Q&A, make sure to reserve your seat to sample the ByBlacks Prix Fixe menu at SugarKane.
Danforth is an area of the city known more for Greek food than Cajun Caribbean. What do you think SugarKane can add to the neighbourhood and what vibe are you trying to bring to the city as a whole?
Of course, we add a little SPICE to the neighbourhood! We offer options (other than Greek food) to people looking for good food on the Danforth. When you come to SugarKane, you instantly get the feeling that you're miles away on a Caribbean island in some secret lively hideaway.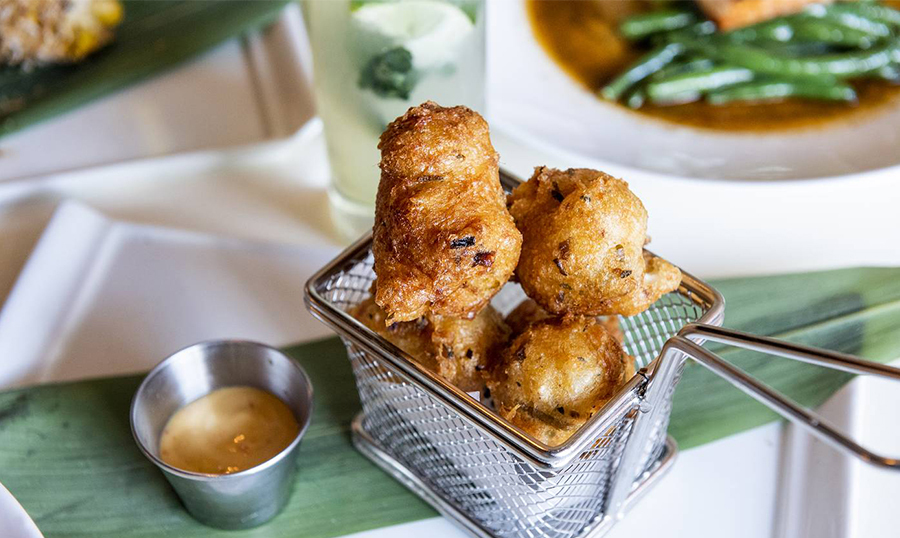 Fish Cakes (Courtesy Hector Vasquez)
SugarKane was spun out of your original catering service "Spiked Punch." How different is running a successful catering service from running a successful restaurant and how has the experience helped you grow as business owners?
Catering at Spiked Punch was physically the hardest we've ever worked! Prepping, organizing and lugging multiple heavy boxes of decor, cooking equipment & food to large and small venues all over the city and then topping it all off by decorating, cooking, serving and cleaning up was extremely tedious! However, Spiked Punch was extremely gratifying and was a great way for us to introduce some of our dishes and get feedback which helped us to create the menu that we have at SugarKane. Practicing how to prep, plan, organize & deal with customers really helped us when we opened SugarKane, and we have only one venue to work out of so that in itself is a lot easier.
The last few years since "Me Too" has shone a spotlight on toxic behaviours (racism/sexism/homophobia) in the restaurant industry. As Black women restaurateurs, how has the industry challenged and/or embraced you? How do you ensure your restaurant is a safe space for both patrons and the people who serve them?
My sisters and I have experienced racism & sexism several times while working at Spiked Punch & SugarKane, and with that, we've developed what they call "tough skin." Unfortunately, you need to have that when dealing with customers day-in and day-out. We have all kinds of people with their own views that come in to dine at the SugarKane, and though we'd like to think that their view and/or actions don't involve being racist, sexist, homophobic or transphobic, our staff is trained to deal with people who verbally or physically act on it. That is never tolerated at SugarKane. We have a wide array of customers, and we just want everyone to come in to feel safe, and have a great time.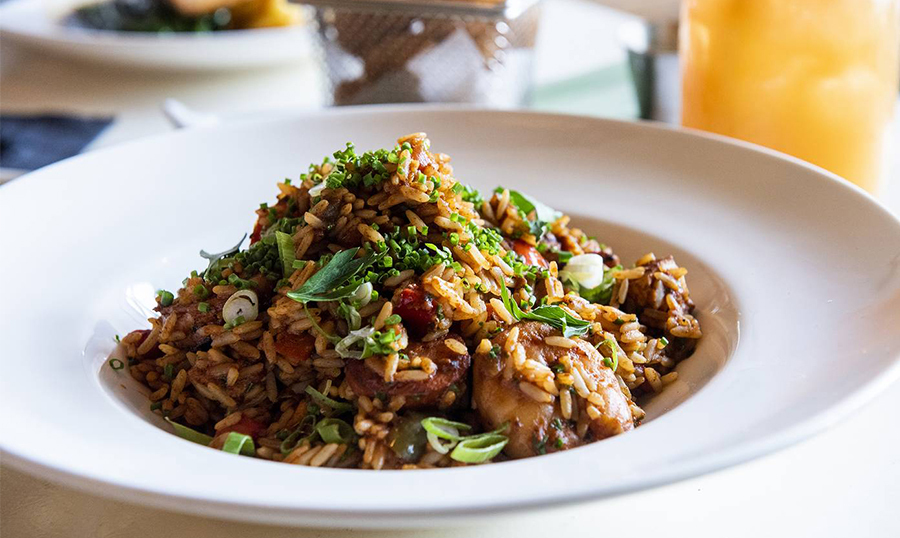 Creole Jambalaya (Courtesy of Hector Vasquez)
SugarKane is also a venue that serves live music as well as delicious food. How important was it for you to provide that element for the restaurant and why?
Providing live music was extremely important! We are huge advocates of local talent. We had a weekly show in Toronto, called Roc Da Mic, which featured and highlighted local talent. We love our city and the music and artistry that comes out of it. So we will always support local talent. Besides, there's nothing better than the combination of Good Food & Good Music.
Finally, from the food to the atmosphere, what can someone who's never been to SugarKane expect?
What you will experience at SugarKane, is the feeling of being on a tropical island at the cool local hotspot. Tasty Caribbean & Cajun food with a twist for everyone including vegan and vegetarian options. Bold spices, fun tropical cocktails, rum bottle lanterns, live music, and the friendly smiling faces of our staff. Definitely, an experience you will be talking about for days!
Head over to ByBlacks Restaurant Week (Nov 15-21 2021) for a full look at all the participating restaurants.