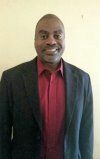 Rad Dockery
Radcliffe Dockery is the Managing Director of HigherEye Training & Consulting - a consultancy that helps both public and private sector organizations increase revenues and marketshare.  
A Business Graduate from York University, he has spent the majority of his 17 year career in the Information Technology sector working for organizations such as IBM, TELUS, SoftChoice and MTS Allstream.   In addition, Radcliffe has Business Development and Training experience with firms based in Malaysia, Thailand, Botswana, China and Indonesia. During his career, he has helped companies utilize technology as an enabler for improved productivity and operations.    
Radcliffe is also an advocate for Youth Economic Empowerment.   He sits on the Board of Directors for the Canada Southern Africa Chamber of Business. 
Click below to follow Rad on: