I am a huge fan of Chimamanda Ngozi Adichie. She wrote Purple Hibiscus and Half of A Yellow Sun, two incredible books by the Nigerian-born author that our book club has had the pleasure of reading. Both novels take you on a unique, exhilarating journey of life for young Nigerians as they figure out their way into their own ever-changing worlds. The same is true for her book, Americanah.
It is set in contemporary Nigeria and tells the story of Ifemelu, a young, headstrong woman, and her more mild-mannered beau Obinze, who is the son of a university professor. Ifemelu and Obinze are among many young Nigerians who are coming of age during a time of military rule, forcing many to leave their homeland for the West.
When Ifemelu departs for the United States to attend university, her relationship with Obinze falls apart. Obinze, who had hoped to eventually join Ifemelu in the United States, is refused a visa after 9/11 causes the country to tighten its immigration rules. Obinze leaves for London, entering the country illegally, and moves underground, emerging into a dangerous, undocumented life.
Years later, Ifemelu completes her studies and remains in the United States, eventually finding work. She has also gained success as a writer, as her blog "Raceteenth or Various Observations About American Blacks (Those Formerly Known as Negroes) by a Non-American Black" takes a critical yet hilarious look at race in America, and gains her a huge fan base. Obinze eventually returns to Nigeria and becomes wealthy as a property developer in the newly democratic country.
Once Ifemelu returns to Nigeria after the two have been separated for many years, they are forced to make some tough decisions about their changing relationship.
Woven throughout the book is a powerful story about race, as both Obinze and Ifemelu struggle to define themselves in their new worlds. Ifemelu struggles with her own experiences of racism in American culture. Readers are taken through often-familiar struggles with race and identity in North America through Ifemelu's experiences, and we see how she navigates her new world while managing to maintain her African heritage.
I thoroughly enjoyed this book, and it was the perfect companion on the train during my commute to and from work. I found myself making more time to read this book, anxious to know what would happen next on both Ifemelu's and Obinze's journeys. It gave a very unique look at the challenges that many new immigrants – especially people from the African/Caribbean Diaspora -- face when they come to North America. As a Canadian of Jamaican parentage, I found myself laughing out loud and relating to many of the hilarious observations that Ifemelu noted in her blog about race relations, particularly about how African Americans and white Americans relate.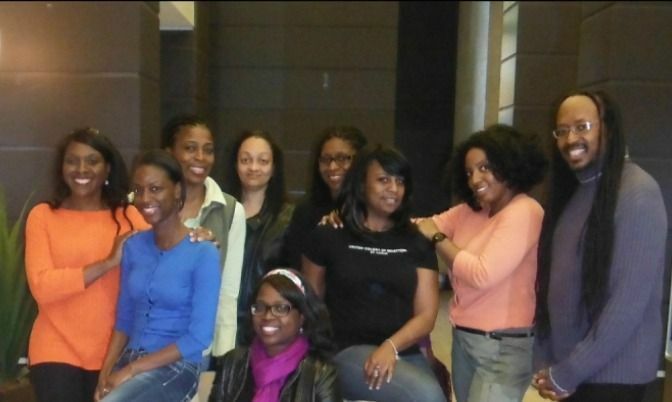 The book was a hit among the Blackstarline Readers, who enjoyed this page-turner. It certainly seemed to rank by many as being among the favourites read by the group over the years.
As one book club member put it: "Reading Americanah left me 'book drunk' -- I literally couldn't stop turning the pages for two straight days. Multi-layered, contemporary, and full of multiple contexts, it opened my eyes to many of the issues people of colour would have gone through when migrating to North America. I would absolutely recommend this book to anyone ready to learn, in a real and raw way, what some Africans trying to move up in life, can really go through."
Akilah Dressekie lives in Toronto is an avid reader, and has been a member of the Blackstarline Readers Book Club since 2010.
Americanah by Chimamanda Ngozi Adichie is published by Alfred A. Knopf, and was selected as one of the 10 Best Books of 2013 by the editors of the New York Times Book Review. It is the winner of the 2013 National Book Critics Circle Award for fiction, and was shortlisted for the 2014 Baileys Women's Prize for Fiction.