The sentiment has seeped across the border and Canadians have now started looking within, and questioning our own symbols of history and which side of it we'd like to stand on. But last week in Montreal, in the face of division and anti black racism, something powerful emerged; the bronze bust of Haitian revolutionary Toussaint Louverture. It's a symbolic gift given to Montreal on behalf of the Haitian community to celebrate Montreal's 375th anniversary. The artist is Haitian native Dominique Dennery, she gave ByBlacks some insight into how this all came about.
1. How did you get involved in this process?

I had sculpted the bust of another Haitian Hero, Jean-Jacques Dessalines for the Haitian Community of Ottawa-Gatineau in 2015, which is now part of the Haitian embassy's public art collection and displayed in the Hall of Nations at City Hall. One of the City Councillours in Montreal saw the sculpture on the web and was intrigued. There was an on-going passionate debate about what the Haitian community could give to Montreal for the 375th anniversary. What would be a fitting legacy? Commissioning a bronze bust of Toussaint Louverture for the Park of the same name in the City seemed a propos.

The request came through official channels in November 2016 and I submitted a technical and financial proposal. Shortly after I was informed that mine was the winning submission and that I would need to deliver the bronze by early August. The organizers wanted to ensure it was in place for August 23rd, the UNESCO date for marking the abolition of slavery around the world. Given that Toussaint led men and women towards their freedom from slavery, the date and subject couldn't be more fitting.

The Haitian Community had been looking for a symbol that could help restore pride in who we are -- in a city where many struggle with poverty and exclusion. There are countless success stories of Haitians, including a Governor General, and so many doctors, politicians, artists, writers etc, but daily life for the factory workers, taxi drivers and many other daily laborers is not easy. The Toussaint Louverture park is in the East end of Montreal and has become a "hang out" spot for many disadvantaged youths. My hope is that seeing a hero who looks like them and who dared to dream the impossible, two centuries ago, will give them hope that they have a big bold future ahead of them.

2. What were the main challenges to getting this completed?

The main challenge was the choice of the face to give our hero.

For someone born in the 20th or 21st century, it's hard to imagine there would be so many faces for the same person. With technology, we know what a celebrity or leader looks like in intimate details. In the late 18th century, there were only paintings and sketches and no two were the same. So which face is the real face of Toussaint? There is actually a documentary being made on the True Face of Toussaint Louverture by a talented cinematographer Pierre Lucson de Bellegarde. He actually came to the studio to film my clay bust.

The community reps at the Bureau de la Communauté Haïtienne de Montréal and a well-knows Historian Frantz Voltaire provided images from archives. Again, very different features. We settled on one that seemed more realistic since many showed Louverture as being mixed race. But we know that Toussaint was pure West African. In those days, being Black did not equate with being beautiful, so painters took liberties to make their real life model look more appealing to the masses, which in the time of slavery meant the hero needed to look more White. A sad reflection of the power of racism and internalized racism in the aftermath of slavery. I am sure there will still be Haitians today who will be uncomfortable with the fact that I represented Toussaint as a proud man of African origin.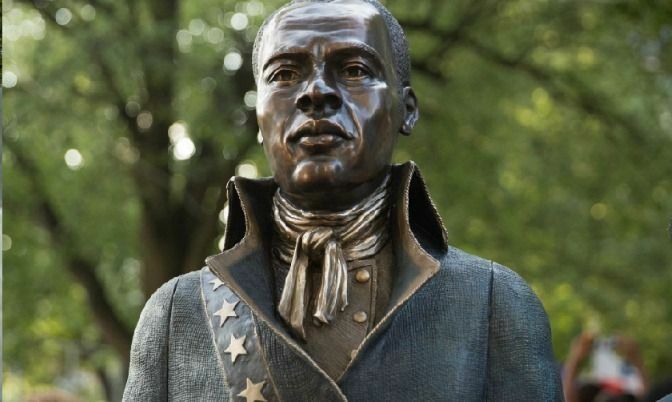 The newly unveiled bronze bust of Toussaint Louverture in Montreal (Photo by Studio Kay)
The second challenge were recent unforeseen developments. There are thousands of asylum seekers, most of them Haitian who have crossed the border into Canada these last months. Many arrive in Montreal and there are issues with housing and other basic necessities. There are heated debates about what this means for Haitians going through official immigration/refugee channels, the moral importance of welcoming people in need and then the backlash from some factions about the arrival of "foreigners" on Québec soil. It was a very challenging political context that was made more difficult by the racist marches and toppling of confederate statues south of the border in the last month. And here we were planning for the unveiling of a statue that is a tribute to the emancipation of Blacks, the universalization of human rights and of Haiti, the first Black Republic in the world. As a result, this statue and its unveiling acquired a profile and significance it may not have had nine months ago, when the project was conceived.

Finally, the dates were tight. It may not seem that way if a person is not familiar with the process of creating a bronze sculpture. The organizers were to give their approval of the final clay figure in April before I started on the mould, but the Gatineau and Montreal region experienced severe flooding which restricted travel and even my crossing the bridge from Ottawa where I live to Gatineau where I have a studio. I remember crossing the last bridge to stay open one morning and wondering if it would still be passable when I came back! The Committee was not able to travel, so I submitted dozens of photos from all angles so that they could give the go ahead.

The bronze process from the wax figure to the pouring of the molten metal, polishing, patina etc can take up to 12 weeks. We didn't have 12 weeks. Summer holidays in Quebec meant we lost 2 weeks at the Foundry (La Founderie d'Art d'Inverness), and the City also needed the statue a few weeks in advance to install the granite base, engrave and secure the sculpture.

3. What has the reaction been from the community?

Overwhelmingly positive! The few sour notes about him being 'too African looking' are a drop in the bucket. 
The vast majority are very proud and have sent compliments about how strong and determined he looks. Full of dignity, nobility, a thinker, a visionary. Those who were able to come to the unveiling Wednesday in Montreal had tears in their eyes when they first laid eyes on him.
The Haitian diaspora is very spread out. There were hundreds of shares online reaching thousands of Haitians in the USA, Haiti and other countries. It is wonderful to see the pride that comes with every post, article or comment! Many mention the Artist, but for most this is irrelevant and rightly so. The sculpture is now theirs and will live in this park as a reminder that Haitians Matter!

4. Do you have a personal connection to the story of Toussaint Louverture?

That's a good question, because I didn't think I did until I started sculpting him. His full name is François Dominique Toussaint Louverture. So we share a first name. Cute, but upon digging further I found out that he was born on a plantation that is near the town of Ennery… Ennery was the site of a decisive battle during the war of independence in Haiti. When the documentary film maker found out that a sculptor named Dominique Dennery was sculpting Toussaint he asked if it was a joke! He insisted on coming to the studio to film.

The other connection of course if the fact that Toussaint envisioned the freedom of his people and started the various wars against the Spaniards, the English and the French, but was not able to finish his work. He was captured by Napoleon's army in 1803. His lieutenant Dessalines led the Haitian army to victory at Vertières in November 1803 and declared independence on January 1st 1804. Toussaint died before he could see his vision come true. I sculpted both men and felt a very different energy in the studio while working with their bust. One was a diplomat and a thinker (Toussaint), the other a warrior (Dessalines). Sculpting Toussaint was more "zen" if I can put it that way. A coincidence? I don't know.

5. What did you enjoy most about this process?

I was honoured and thrilled to work on a sculpture that holds such meaning for the Haitian community and people of African descent in general. The Haitian revolution inspired so many in the Caribbean, South America and Africa. Haitians led or participated in a number of movements for independence in the 18th and 19th centuries. There are more statues honouring Toussaint around the world than any other Black hero. He was called the Black Spartacus because he led a slave uprising or rather revolution and was captured and died in prison. But Toussaint's legacy lived on. One of his most famous quotes, now engraved on the pedestal says (translation): You may have cut down the tree trunk, but the roots of freedom are deep and will live on!

This sculpture enabled me to come full circle. My parents came to Canada in 1960 fleeing Duvalier (Papa Doc). They fled a country they could no longer recognize to create a better future for their children. They chose Canada rather than the segregated USA. They spent some years in Montreal before settling in Ottawa. This process has taken me back to the beginning of my Canadian journey as a toddler in my parents' arms as they fled oppression. My parents' immigration journey is far from unique in this country. Immigrants, refugees, and children of immigrants and refugees bring such vitality and prosperity to this country even when we start with so little.

Finally, my other work is in the field of human development and potential. I continue to enjoy working with groups and individuals to help them shape their future. Sculpting carries a similar energy and purpose. I shape in clay symbols of freedom and legends and stories that recognize our beauty and strength as descendants of Africa. I never expected my sculpting to bring me commissions and recognition. Life is full of surprises. I am blessed to be able to live my life as a humanist and an artist who has the opportunity to contribute to a better world.