And 17-year-old William Leathers of Toronto was one of three trumpeters this year given that opportunity.
William auditioned and was accepted to the school's elite undergraduate music program — something that gives him a chance to learn from some of the best in the world.
"I just want to be the best musician I can be," William told CBC Toronto's Dwight Drummond on Monday. "I want to do well in every genre."
But his acceptance came at a cost — a $364,000 cost over four years to be exact.

As an international student, William and his family would need to fork out $91,000 a year for four years to cover his tuition and housing. That's more money than they can afford.
"There's been some scholarship offered from Juilliard but not all, and Juilliard's very expensive," William said.
This highly competitive school is known for its prestigious and competitive arts programs in dance, acting and music. At any given time, there are only about 800 students from 42 countries enrolled.
'It's quite shocking'
William had his start in music at the age of four when he started learning to play piano.
"I wanted to play … I begged my mom for six months, it wasn't her forcing me," he told CBC Toronto.
A couple years later he wanted to learn to play the trumpet, taking after his father, Howard Leathers, who he heard practising every day growing up.
"Hearing the sound all the time, I wanted to be able to make that sound myself," William said.

William was given his first trumpet when he was seven. At the age of 12, he became the youngest trumpeter accepted to the Toronto Symphony Youth Orchestra as well as the Halton Mississauga Youth Orchestra.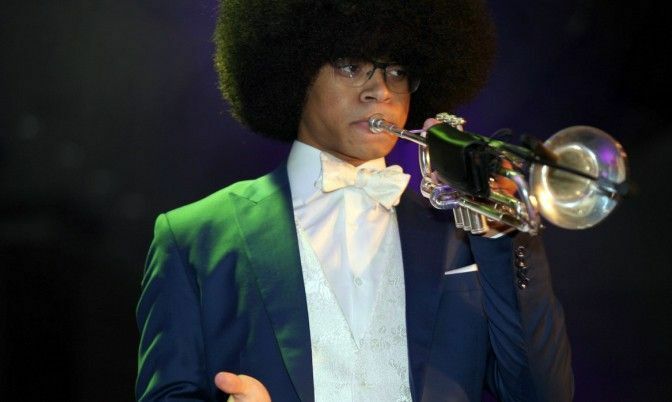 In the same year, he met the internationally acclaimed jazz musician Wynton Marsalis, who's also a member of Juilliard's jazz faculty. After hearing William play, Marsalis told his teacher, "this kid belongs at Juilliard."
Over the years, William received countless notable awards and scholarships and performed at venues such as the Glenn Gould Studio. And at 14 he was invited to perform in Jamaica by the former prime minister, P. J. Patterson.
He also graduated high school two years early with a 92-per-cent average.
"My job as a parent is to raise him, do all the right things, get him to the place where he should be able to move on to the next level. And the next level for him is Juilliard," his mother, Donna Leathers, told CBC Toronto.

When it came time to apply to the school, William wanted to audition as both a classical pianist and classical trumpeter, but he had to choose.
"You have people from all over the world auditioning so it's quite shocking when he got in," his mother said.

'We're not rich people'
William's family have pooled together $25,500, leaving them $65,000 short to pay for just the first year of school.
"It is a hard process," his mother said. "We're not rich people."
Although he received some scholarship money from Juilliard, William wasn't eligible for a majority of Canadian scholarships because he's going to a school outside the country.
His friend Andray Domise heard that he had been accepted, and immediately contacted his mother to ask how he could help raise money.
"He didn't want to see finances get in the way," William said of Domise.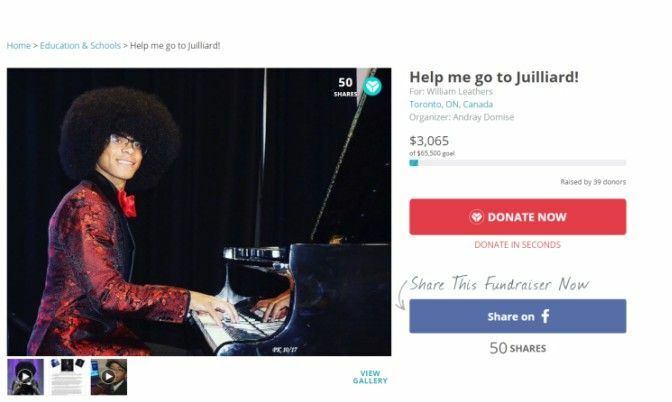 They decided to create a campaign through the online fundraising website YouCaring, where people can donate publicly or anonymously to the cause.

The fundraiser officially started Saturday and has already raised more than $21,500. People are sharing the campaign through social media and donating more each hour.
"William Leathers is a very talented young musician who deserves all the help we can offer. Wishing him great success in his future endeavor!" one donator wrote on the campaign page.
"I find it incredible," William said. "People that don't even know me, all these people in Canada are trying to help me out."
This article originally appeared on cbc.ca