Designed to help Black women-led businesses navigate the current climate and find solutions to the challenges they face, The Rise Up Pitch Competition empowers entrepreneurs to create, launch, and grow their businesses.
Twenty-four Canadian Black female entrepreneurs presented their pitches in the following categories: Business Services, Consumer Goods and Services, Creative Arts and Culture, Hospitality and Food, Innovation/Best Pivot during COVID-19, Startup, Tech and Manufacturing, and Young Entrepreneur.
"The Rise Up Competition is one of our most exciting programs. We are always impressed by the pitches presented by our participants and enjoy celebrating with our winners," says Nadine Spencer, CEO of the BBPA.
Being Here, Human Is Helping Marginalized Communities Cope With Grief
This year's winner Michelle Williams, the co-founder and managing director of Being Here, Human, a social enterprise that focuses on grief literacy awareness and education, applauded the Rise Up Competition for shedding light on Black women businesses/entrepreneurs.
"It raises the profile of what's possible for Black women and what Black women are capable of and how innovative we can be, how creative we can be and how we can be successful business owners," says Williams.
Williams founded Being Here, Human in 2018 with her business partner Rachelle Bensoussan. Both Williams and Bensoussan come from marginalized communities. Williams comes from the Caribbean community, and her business partner Benoussan comes from the LGBTQ2+ community, and both women have experienced different types of losses and grief in their lives.
In 2010, Williams lost her mother to a rare form of cancer and witnessed the support she received as a BIPOC family was much different from the other stories and narratives she heard from other people.
"What occurred to me at a certain point or was interesting was that all the people I'd spoken to about grief support and bereavement support after their loved one died were all part of a dominant white culture, and we weren't," says Williams.
The $10,000 prize came in great timing, according to Williams. Some of the funding will be allocated to a book deal that will discuss grief literacy from Williams and her partner's perspective and orientation.
"Some of the funding will help with promotional activities to continue to get the word out there about what we do and help us promote to other companies and organizations," says Williams.
Ooh! Foods, Brittany Charlton, Is Making Snacking More Available For Allergen-Free Snacks
Brittany Charlton, Founder and CEO of Ohh! Foods found out she had a severe nut allergy when she was 18.
"I was having a movie night with my family that we had every week. But this week was different, my throat closed up, and I ended up in the hospital. That's when we found out I had a peanut and tree nut allergy," says Charlton.
After the unfortunate incident, Charlton started to make her own snacks. Her mother encouraged her to launch her own product because people have similar allergies. In 2017, she started a test run and enrolled in an accelerator that allowed her to learn about starting a business.
In 2018, Charlton launched her bites into the market and conducted test runs in yoga studios and smaller business accounts. Then in February 2019, Ohh! Food's received their first big account with Metro.
Charlton's Ohh! Foods cater not only to those with nut allergies but to those who enjoy snacking. Her products are nut, lactose-free, and vegan. "Even if you don't have food allergies, you might want to choose this (product) to make sure that everyone around feels safe," says Charlton.
Her pitch won her the $10,000 award in the Hospitality and Food category. Charlton plans to use the money to help spread more awareness about inclusive snacking, purchasing ingredients, and packaging at higher volumes to lower costs. She also plans on giving back to her team by using some of the funding towards team wellness days to ensure everyone working around her feels great. Lastly, Charlton hopes to onboard a business development manager to help grow her brand in Canada and the United States.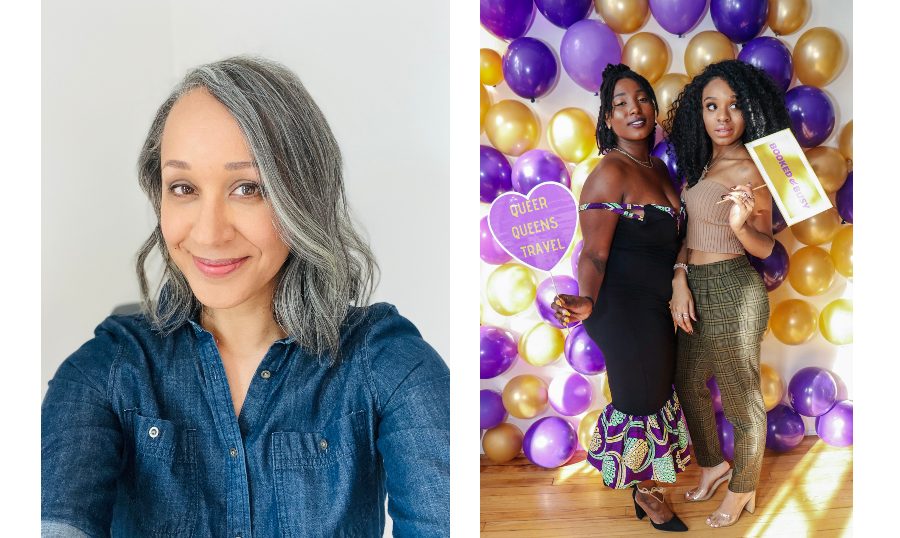 L-R: Michelle Williams, Being Here Human, Sheneice Brown and Shanoira Lewis, Queer Queens Travel
Queer Queen Travels Are Making A Safe Space for Queer Women to Travel Aboard
Sheneice Brown and Shanoira Lewis are building a community for Queer Black women that love to travel. Both Brown and Lewis have travelled to various places around the world, and they both realized that travelling while being Black and Queer was much different than others.
"I discovered a lot of women didn't feel they had the community; they didn't feel comfortable travelling because they're queer," says Brown.
Queer Queens Travel (QQT) started in 2019, knowing there needed to be a business created for Queer Women of Colour (QWC) that want to enjoy travelling. However, the idea behind QQT is to ensure that QWC feels safe aboard.
QQT puts together various trips worldwide that allow QWC to experience different parts of the country that you will not see on a resort per se. For example, their recent trip to Jamaica included excursions, community building, events and accommodations for patrons in a private villa.
"We're not resort goers. We want people to have an experience that isn't just a package at a resort," says Lewis.
Lewis and Brown won the $10,000 grant under the Innovation/Best Pivot during the COVID-19 category. During this time, Brown and Lewis focused on researching and creating an online community within the GTA and overseas.
Both Brown and Lewis agree they will use their money towards giving back to the volunteers who've helped them and money towards marketing and social media.
"We are growing, and when people find our Instagram page, they really want to be a part of this. What we want to do is make sure that people know we are here," says Lewis.
Rise Up Competition Winners Were Awarded in Various Categories
The Rise Up Competition awarded Kadaesha Lindsay, founder of Untainted Bath and Body Care, for creating safe and healthy bath products.
Chelsea Nyomi, the founder of Vagus Creatives, won the Creative Arts and Culture category. Her business provides a platform that allows creative entrepreneurs and artists from all disciplines to showcase their work and connect with one another.
Tamara Whilby's business, Women & Children Precious Shelter, won the Startup category. Her business provides shelter and a safe haven for women and child abuse survivors.
Micheline Khan, CEO of Althea Therapy business, helps people across the country receive access to culturally-responsive mental health and wellness professionals.
In addition, Sabryna Parkin, Haus of Injexs Injectables, was the winner of the youth entrepreneur category.