Every year, I find myself searching for a connection, a community, an opportunity to feel in sync and at ease with my black roots. Born of an African-American father and a first-generation Canadian mother, of German heritage, I have brown skin. I guess that makes me "black" in some ways, although growing up in an all-white household, I couldn't have felt less black. In university, I was in between worlds, definitely not white, but not black either depending on who you asked. Even today, some people describe me as "passing". It was an interesting, and at times, a challenging conundrum for a young ambitious woman.

Thinking back on my life, I don't know when I became interested in black history. I believe it was after I married a black man and had my daughter. It became important to identify with our black culture, as like so many mixed-race people I grew up without being immersed in it. I wanted my girl to understand that being black wasn't always easy and there was a history to know about. I wanted her to know that as a minority it still may not be easy going forward; she should never ever feel limited by her colour; and to always hold on to hope. I'm glad that there are more and more women of colour in the mainstream media and in our world who can be role models for her, including me. I love that she isn't an "only" in her daily life.

I was an "only". I grew up with the best woman role model you could ever have, my mum - who is passionate, educated, a community leader, independent, highly capable, philanthropic and very loving. I was raised in a home where we were all equal and colour didn't matter. A girl can grow up to become anything she chooses when surrounded by such a supportive and close family.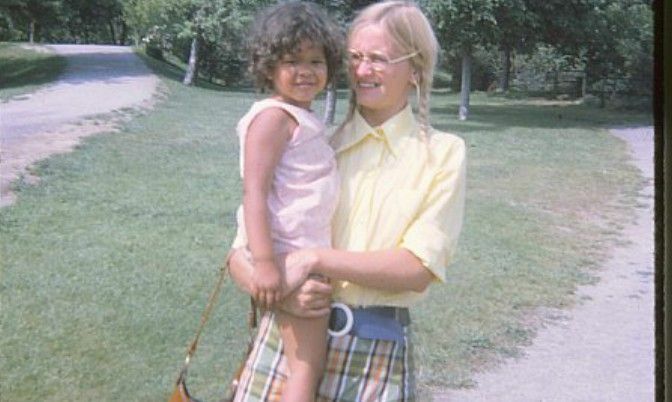 My mother and I circa 1968
There were no black role models in my world, but in some ways, it didn't matter. I didn't even know I was a different colour than my family until I was five years old, when I was rudely informed of it by my new classmates in England, where we moved that year. My parents told me it was a rough year, for me and for them. I had realized that I was different, that "one of these things is not like the others", and understandably I had trouble processing it.
I was always the only black girl around in my community and at school. That's when it mattered.

It shapes you. For me, I often felt I didn't fit in with anyone or any group, so I learned to be independent and confident. Or at least to appear so. They say that when you practice something you become it, so confidence is something I have always known. Having said that though, I sometimes wonder if during my first five years—before being singled out as different—my independent mindedness and confidence had already been completely formed.

Despite my outward-facing confidence, I missed relating to a figure that looked like me or others who looked like me in my community. I don't know what, if anything, about me it may have changed. I still would have pursued higher education and followed my passions. I'm still often the "only", frequently the "first", and I often find myself looking for validation. This year I chose to celebrate and validate life experiences by taking a personal journey exploring my relationship to black history and its importance to me. I sought out and interviewed eight black Canadian women from varied backgrounds and experiences. Connecting over coffee and emails, I learned about their life experiences, perspectives and views.

These amazing and inspirational women had different ideas and opinions about what black history means to them and its importance. They shared heartfelt advice for young girls and women looking to the future. Their moving reflections on growing up black in Canada and of role models who influenced them, resonated deeply with me. I captured their photos and their essence and blogged about it through Our Mosaic Lives.

My own experiences were and are similar to these black women in some key ways: feeling alone and different, looking for approval and acceptance, being confident in the face of adversity, seeking insight into how I fit in, and wanting a more accepting and welcoming future for us all and for our children.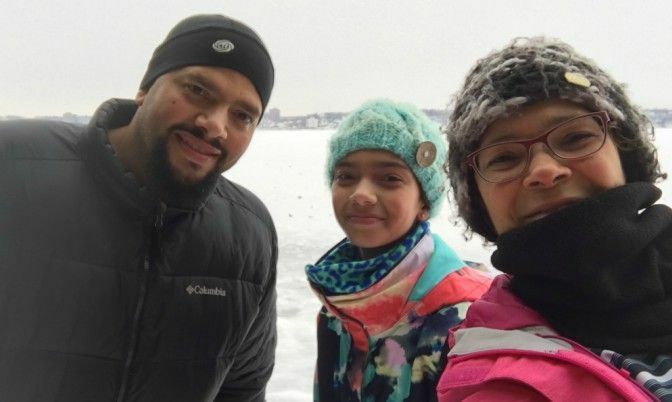 My husband and daughter.
The black Canadian women I interviewed wished that we didn't "need" to have a month and felt that history—not just black history—was important to our mosaic lives. We agreed that together, we must shift the world's focus to more acceptance, encouragement, positivity, hope, and self-love. We reassured each other that "we.are.enough". We worried about "what's next" in raising awareness year-round of black history, of black Canadians' contributions and experiences? We decided to continue to use Black History Month and find or create other ongoing opportunities to try and better understand each other with compassion and tolerance for diversity.

As I continue my journey of self-exploration, embracing the benefits and challenges of "fitting out", I'm living my life with a renewed sense of self. I'm going to sing the praises of and support black women whenever I can. I'm going to be the best role model I can for my daughter and for other young girls and women I have the privilege to know. I'm a firm believer in things happening for a reason and especially, that we meet people for a reason. While I don't have the importance and relevance of black history in my life all figured out yet, I feel deeply enriched by my encounters with these inspiring black women and their insights. I hope that our conversations advanced these women's perspectives on black history, how we move through the "now what" stage of our movement for recognition and acknowledgement, and have in some way, impacted their lives. I know they've changed mine. There is only one world and we're all part of it—we're better together.


Michèle Newton is a mother, spouse, amateur photographer, pianist, poet, and freelance writer located in Barrie, Ontario. Creator of Our Mosaic Lives Celebrating Black Canadian Women, Michele shares her "better together" outlook on life through articles and reflections on community events, experiences and projects. A budding social entrepreneur, her community-minded approaches bring for-profit and not-for-profits together to impact change through her public relations firm PMJ Inc.