Needless to say, Twitter is in an uproar.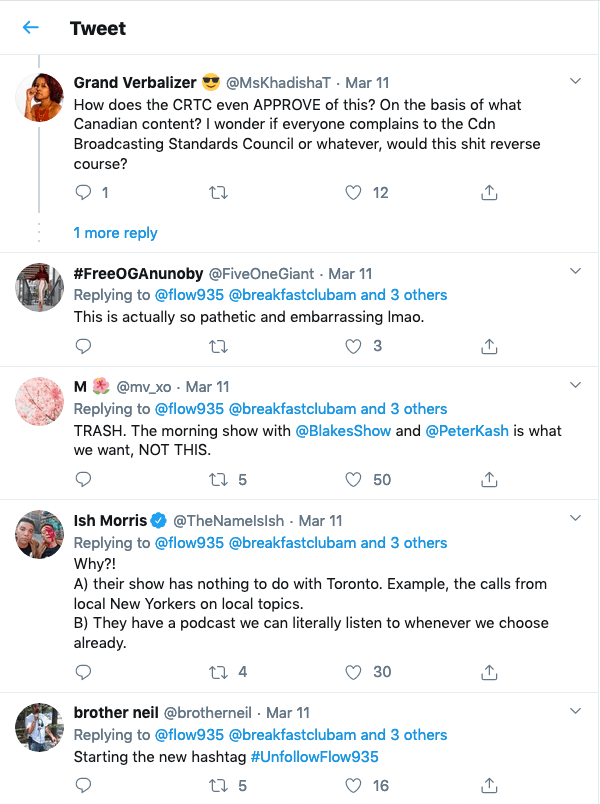 Now, this isn't a new thing. Radio stations across Canada are increasingly laying off staff and syndicating programming from the United States as radio stations lose listeners to streaming services and podcasts. It's probably cheaper and could attract more advertising dollars, and these companies care first and foremost about their bottom line. What the uproar shows is that they're probably out of touch with what listeners want. Many listeners took Twitter to question why they would offer a show on live radio that's already available on YouTube and all major podcast platforms. But the Stingray general manager, Steve Parsons isn't concerned. He recently dismissed negative social media comments as "irrelevant". In an interview with NOW Magazine, he said, "You can't look at online comments and arrive at an interpretation of what Toronto makes of this decision," he says. "I can't think of a time where the comments on social media have been more irrelevant. I think you're going to find that the adoption of this show is going to be massive."
While this lean towards syndication has been happening for years, especially at night time and on weekends, radio stations would at least maintain a local daily morning show adding a personal touch to our morning commute. What we are seeing now is radio stations laying off their morning hosts and bringing in programming from south of the border.
This change at Flow is problematic for a few reasons.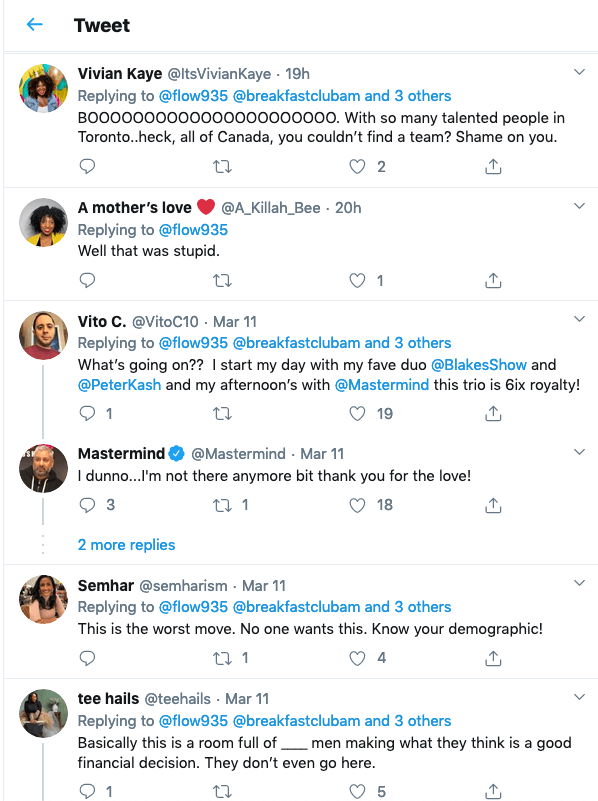 First, Canada is at an all-time high when it comes to pop culture (with Toronto leading the charge). The Raptors are the defending NBA champions. Some of the top artists in music, from Drake to the Weeknd, as well as actors and personalities like Stephan James, Shamier Anderson and Lilly Singh are dominating. Everyone wants a piece of Canada right now, especially Toronto. At what point are we going to stop being mesmerized by all things American? That's so 1990's. We're still acting like Canada is a suburb of the United States instead of one of the countries driving pop culture globally. We're forever the little brother who aspires to one day be like his older brother. Well, guess what? Canada is grown and poppin'. We should start acting like it.
Second, Canada has always done a poor job of developing its own talent and creating an environment where they can stay right here at home and thrive; especially among people of colour. White acts like Jann Arden, the Tragically Hip, Marianas Trench and the Strumbellas have been able to build solid careers here in Canada, but you're hard-pressed to find top tier talent from a racialized community who didn't have to leave Canada to make it―see Drake, Russell Peters, Tory Lanez. We should be looking for ways to create more opportunities for talent in Canada, especially people of colour, not taking them away. As a talent in Australia or Britain, whether in music or acting, you can stay at home for your whole career, make a good living and become a household name. In Canada, you almost always have to leave and look for opportunities somewhere else, especially if your skin isn't white.
Third, the Black experience in the United States is very different from the Black experience in Canada. Not all Black is made equal. In the United States, you can't even tell if someone is of Caribbean or African descent; everyone gets lumped into this big "African American" basket, whereas here in Canada we wear it with pride and it's an intrinsic part of our culture, especially in the Toronto-Montreal-Ottawa corridor. We also have different ideas about what we find entertaining, especially first thing in the morning. I love Charlamagne, but do you really want to hear conversations about sucking farts out of people's butts as you head to work?
Also, what value do conversations about American culture and politics have for someone in Toronto as they're starting their day? Local media should be providing a window into the local experience and raising valuable discussions about life over here.
Fourth, it raises questions about ownership. Flow 93.5FM is owned by a corporation in Montreal and the station management appears to be white. There's both a geographical and ethnic disparity at play. Corporations and white folks shouldn't be making decisions about what Black folks want, especially when they aren't a part of the community they are trying to serve.
And lastly, this is problematic because over time it feels like Toronto has lost some of its soul. I grew up in a time when it felt like Toronto had its own identity. MuchMusic, with shows like Electric Circus, Da Mix, and Rap City, felt like Toronto. Speakers Corner felt like Toronto. But slowly the talent we grew up seeing on our TV screens and the distinctly Toronto content they created went out the window. We've been left with dramas and generic reality TV shows from the U.S. and unfortunately, now it's radio's turn.
Will the real Toronto please stand up?
Kevin Bourne is the Co-founder and Editor of SHIFTER Magazine. Born and raised in Toronto, Kevin currently resides in Ottawa with his wife Koliah and their two children. He's a big fan of pop culture, urbanism and creative industry and spends most of his time keeping up with the Kardashians.