In 2013, she launched a business of the same name, 'My Boss is Me', which provided personal business and development coaching geared towards women of colour.
Kike died suddenly on March 30th 2020. She had two daughters, one who is in her 20s and the other just 12 years old. Kike also leaves behind her mother, stepfather, and four siblings.
The first time I met Kike in person at an event, I was hesitant to approach her because of the stern expression on her face. We joked about it later and she said, "Nah girl that's just my face." Behind her power stare, was one of the most supportive and selfless women I have ever met. Our interactions were brief but meaningful and there are hundreds if not thousands of women who she impacted both online and in person.
The hurt for those who knew Kike is extra hard to process since it is not possible to attend a funeral service at this time due to COVID-19.
I put a call out for women to send in their tributes... asking them to imagine what they would say if they could... at her memorial. The response was overwhelming.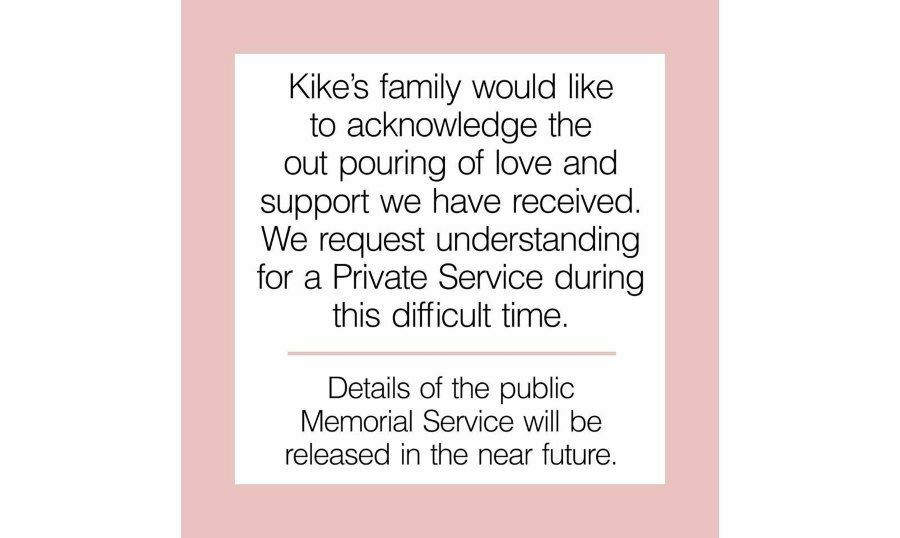 Emily Mills:
For those who never had a chance to experience Kike, let me tell you what I remember about this bright light. She had a megawatt smile. Generous, playful and always unforgettable. She had presence and stature. You'd NEVER miss her in a room even if she didn't say a word. Sis had style. She knew how to slay without a runway. Hair always fresh, nails on fleek, flawless brows. She was about her business. I admired the way she would always value her brand, her products and services by naming her price – without hesitation.
She encouraged me and so many others to do the same. Her career transformation story and life journey inspired many of us to reflect deeply and get comfy in our own imperfect skin. She once wrote: "Know this: God makes no mistakes. There's a reason you are the way you are. You can leverage your uniqueness to build your empire."
And that's exactly what she did. Kike was a BOSS before her time. Long before empowering women entrepreneurs became the hot ticket in Canada, Kike spent years building a name for herself as a business coach for women like us. After exiting the corporate world, she founded WE Network (Women Entrepreneurs Network) and My Boss Is Me.. Check her receipts through the social media timelines of so many women – especially women of colour – who left their 9-5 jobs, too, and found their entrepreneurial wings with Kike's guidance. She was a commanding and charming speaker – who knew how to deliver no-nonsense wisdom and memorable stories with a message.
She was also a literary trailblazer – who chose to show, not tell – other boss women that we could and should tell our own stories by becoming authors. Glad I have a copy of her work on my bookshelf. Kike supported me and other women without request. She would repost and promote other peoples' work just because she believed in lifting others up. She'd send notes of kudos out of the blue. And she was PRESENT. Kike knew that an RT and a DM wasn't enough – she would go out of her way to be your cheerleader and champion IN THE ROOM. We didn't have to be besties - she just knew her presence mattered and for that, I was always grateful.
She had a giving spirit. I'll never forget when we announced #howshehustles Mother's Day tribute in 2016, she wrote instantly to ask if she could sponsor a ticket for a mother who didn't have the funds. She then decided to sponsor more. She was a woman of faith. Our DMs and phone calls were always filled with conversations about prayer and belief. She loved God. She was a proud mama of 2 daughters and always gave me extra reasons to beam about my own kids. 'Auntie Kike' often sent a warm Yoruba greeting to my sons, who rep Nigeria through my husband's blood. I'll always remember her fondly as part of the early #howshehustles fam, a consistent cheerleader and peer mentor when I was just trying to find my way. I'll hold her up as yet another angel who will help guide my steps going forward. I know many of us feel the same way.
I know for so many, Kike's passing feels like an unbearable weight. Knock-you-over news because she felt like the strongest tree in the forest that could never fall. The news, especially now, is enough to topple many of us over. Trust me, I know. But even in the midst of it all, I'd like to leave you with Kike's words of encouragement from her book. Let them sit with you – and I pray they encourage you. Kike wrote: "I know that our darkest moments prepare us for our brightest days." Hmmm. Re-read that. Spoken like a true boss. 
Such a fitting message for a time like this. May her light forever shine through all of us. Let's honour her memory by finding our own ways to pursue our dreams, build our businesses, and support other women, because I don't think she'd want it any other way. Kike-Lola, my sister, rest well until we meet again.
XO
Trey Anthony:
Kike-Lola Odusanya was a force. A dear sista friend who brought people together. She was the type of woman who would send you a message to just check in on you. She supported other women. We bonded as two Canadians living in Atlanta and trying to go for our dream. She was a guest on several of my shows in Atlanta and Toronto. We shared resources, gave each other pep talks. She loved life and was always creating new ways to empower women in business. I loved her book, my boss is me and we spoke for hours about business, life, and living our dreams. My friend and sister I can't believe you're gone.... Life is too short. Give people their flowers while they are here. I'm glad I checked in on you just recently..... I love you girl. RIP.
Pauleanna Reid:
Kike, the news took me by surprise and there was no time to say good-bye but it puts my mind and heart at ease to know you are at peace. I am thankful to have so many beautiful memories with you. From Facebook messenger to late-night texts, sharing the stage with you on panels to lovely dinner dates. Despite busy schedules, we always made time when it was needed. Thank you for being such a light in my life. Please know that your daughters will forever be wrapped up in love. Til' we meet again, my friend. Lord, give those who miss Kike, strength.
Makini Smith:
Kike was an ambitious business-minded boss lady. The kind of woman that made other women want to step their game up. We first met via social media and quickly became close friends. I remember thinking "how do we have over 400 mutual friends on Facebook yet I've never met this BOSS before?" When we finally met in person, her energy was infectious. Her smile lit up a room and her hugs warmed my heart. She made the effort to connect and pushed me to be my best self. Kike had a way of making me feel seen, heard and understood the way she communicated with me without judgment. Her realness was so needed. Our conversations were always so transparent and she made me feel safe to share my truths. She would always say "Keep pushing Lady. I see you." Kike called me "The Bounce Back Queen." I will celebrate her life and keep pushing to honour the impact she has made on me and so many others.
Roushelle Reign:
Our connection was second to none. One that happened by chance but blossomed in purpose. It took a few days to utter the indescribable void that opened upon your passing. A few moments before I got the call, I unknowingly spoke your name and referred to your brilliance. You saw what no one else did, you placed my soul on paper, flipped it and returned it... something we both did for each other. Beyond our mentor and mentee relationship, Kike you were a second mama and a forever laughing confidant. You offered so much to so many, and still continue to reign among the lives you have touched. Kike-Lola, you came, you LIVED and you made a tremendous impact on this world. An irreplaceable mark that will forever be etched in our hearts. Keep Struttin' In Power, My OGA.
Charlene Theodore:
Kike was an incomparable entrepreneur, generous mentor, and devoted mother who motivated and guided countless women in their pursuit of improved circumstances and professional achievement. Among the beneficiaries of her insightful coaching is an extraordinary network of women lawyers and clients who are now leading change and carving out rewarding careers across North America. Where her impact has been most keenly felt is in her coaching as support of Black female lawyers on an entrepreneurial journey, helping them create legal practices that were truly a reflection of their unique selves. Kike's reach and reputation spanned communities and continents, from North America to Nigeria, where she has been an influential force in connecting women entrepreneurs, launching women-owned businesses, and inspiring young Black women, in particular, to dream big. Her dedication to lifting up others through shared knowledge and support is the legacy she has left us all to carry forward. A beautiful spirit who touched so many lives, you did not need to know Kike long before she became a most trusted advisor and cherished friend.
Andrea Henry:
Kike-Lola was the first person to open my mind to the possibilities of running a virtual firm, to niche marketing, to passive income and to the power of social media. She was my first coach and so much of my success today is due to those early conversations. Our very first conversation came because I gave her a consultation and she wanted to sow back into my business by sharing some of her knowledge. That was the generous person she was and that conversation changed my life. I hope her family takes comfort in the fact that she touched so many lives and raised up so many other women in business. My children and I have a better, more abundant life because of her and I know of countless other women who can say the same thing. Words cannot express how grateful I am to you Kike. May you rest in peace and arise in glory.
Monique Prince:
Kike I am so thankful that we honoured you, acknowledging the driven and unapologetic lady boss that you were. Any woman who had the privilege to work with you grew. I can hear your chuckle and your words of encouragement as I write this. I want to thank you for being there for me in a season of my life a few years ago when the light seemed dim. We spoke, you poked at deep roots and you were that no-nonsense and tough sister with an ear that I needed. Your words of reassurance I could trust because you gave credit where it was due. Behind your Boss shell you had such a big heart. I thank you for our season, may you rest now.
Sandra Gabriel:
Because of Kike I met one of my closest friends and business colleagues. She was also responsible for connecting me with my lawyer and my purpose coach, all women who have made a significant difference in my life. Kike herself has given me guidance to improve as a PR professional and entrepreneur. She was an assertive businesswoman and I know she helped so many just like me. We are saddened but our memories will keep her alive in our hearts. May she rest in everlasting and eternal peace.
Shontelle DuBois:
The first time I learned of Kike was through a direct message she sent me on IG. It read "Shon Shon; you need to write a book you're sitting on millions, you need to post yourself way more on FB and IG, open a LinkedIn account, you need to get rid of your shyness and go out way more to events. By the way, what are your rates because I need you in my life." I was like whaaaaaaaaaaaat?!!! WHO IS THIS GIRL? She called me Shon Shon like we were long time friends while putting me on blast, just to get my pricing info. You know what though..that's exactly what a good friend does. Big you up while showing you where you lack...problem is I never knew her yet! She joined my program that same week. She walked in and I greeted her "Hey, you must be Kike" (I pronounced it "LIKE" but with a K) She responded, "ummmm okay no....its Kiki but with an E." I was like "eh eh" then she smudged up her lips and ran her hand down her head like "yeuuup, get it right!!" I felt like I knew her for years in that moment. The jokes with her were endless as she frequently bussed out in patois having me rolling in laughter especially at the fact that I had her walking around with a huge jug of water filled with vegetables and fruit looking like "a mawd ow'man" she would say. She had a way of making anyone feel comfortable talking to her. After every class I'd go to my desk to input notes on client's progress and there would be Kike speaking about business ventures as my clients gathered around her taking notes. She loved clapping for others when they win, she was uplifting and helpful. She was immensely passionate about entrepreneurship and never let any clients come into my gym without asking what business they're into. I often had to break up conversations because I'm over here trying to train and everyone over there listening to Kike say "so wa, you cyaan work and mek money on tha side too?" It was an absolute pleasure training her. I value and treasure all the late-night convos of her reaching out to me "Shonny I need you" then giving me an earful only to tell me she feels much better even though I never said anything. That was followed by jokes and an I love you Shon Shon. I don't think there was ever a conversation where she didn't end with an I love you. It is a gentle reminder to me, as I reflect about Kike, to not forget to tell your loved ones how much they mean to you, don't neglect to let people know they are appreciated and don't wait until it's too late to tell someone you love them.
Dear Kike: I'll always laugh at the amount of time you corrected my incorrect spelling of your name "Shonny, its K-I-K-E" (clapping between each letter). Thank you for encouraging me to open my LinkedIn account that I still never use! Thank you for all the times you gassed me up because you felt I should be VIP everywhere I go including the airport, "tell dem say yuh name precious cargo..ohh!!" Thank you for opening up to me, being transparent and allowing yourself to be vulnerable in my program. The last Instagram message I got from Kike was "I'm everywhere with you in spirit, I am a huge fan, love you Shon Shon" because she was unable to attend my birthday party on March 3rd 2020. I hold that message and many others close to my heart and it gives me comfort to know you're with all of us in spirit. Kike, may you rest in eternal peace.
Love you forever, Shon Shon
A tribute from just a handful of us from her early years at W.A. Porter C.I
Kike is the energy of the room, her presence is demanding and her smile is comforting. The good old days at W.A. Porter would not be completed without my dear friend. - Sample King
Kike is a thousand winds that blow, she is the sunlight after a dark storm and she is the soft stars that shine at night, do not stand at my grave and weep for I am not there. - Remah Rankin
Dear Kike, This is still a shock for me... that you're no longer here. I still remember your big personality, outspoken about what you think and great conversations. I can truly say you have left your MARK, you have touched so many lives. And that gives hope to many. You were here, undeniably HERE. You will not be forgotten. - Tamara Liking
Kike is a Phenomenal Woman of Valor. - Marcia Sheppard
Kike was a visionary. She strived on executing goals, a determined go-getter. I admired her strength and unflinching determination. I miss her energy, which always left me feeling uplifted and comforted. A true definition of a queen. - Ibukun Olorun Natasha & Nkem Mornex
Kike is a strong woman and came into my life at the perfect time as I was feeling alone. I started just babysitting for her and then we developed a friendship and we shared some awesome times together. May she rest easy and send prayers to her family. - Jeannine Bowen
Kike is an inspiring woman who can always put a smile on your face! - Mary Kotsopoulos
Kike who was always so full of life, real, and present is an irremovable force who has surely left us a legacy of inspiration, persistence, and self-determination. - Noni Ayeola Haynes
Camille Dundas is the co-founder and editor in chief of Canada's leading Black Canadian online magazine, ByBlacks.com. She has won two national ethnic media press awards and a commendation from Prime Minister Justin Trudeau. Prior to that, Camille spent 10 years as a TV news reporter and producer, working on national shows for both CTV and CBC.