Each morning for the past 6 years, my Facebook notification would go off, it was a hello or good morning from Amani. We had met some years earlier at the Africanadian Playwrite's Conference and since then, we would see each other in passing when navigating the networking circuits or local arts events in Toronto.
Online, we would share war stories of being an entrepreneur, and navigating through each gig. When I learned that Amani would be working on The Journey, a local play about the revitalization and historical account of the Regent Park community, it piqued my curiosity. It sounded like a huge undertaking. After seeing the first show two years ago, it has taken me this long to organize what I want to know of this kind, shy artist and entrepreneurial powerhouse.
How did you get involved with The Journey?
My introduction to Mitchell Cohen, Henry Heillig and The Journey started in the year 2012. I was hired to work with a young rapper in the show; to help him to emote and express himself more in his performance. That two hour gig lead to me being hired to sing back up in the studio on a few songs with Jackie Richardson (one of Canada's leading lady legends a mentor and a friend). After those sessions I was asked to audition to sing the song Under One Roof for the 2012 fundraising concert. Under One Roof was a song with an African High Life feel to it. I had never sung anything like this before, but decided to just go for it. I auditioned the song and got the gig and it was an awesome experience
In June of 2013 I received a call from Henry Heillig the Musical Director that I met the previous year. He told me that they wanted to do a new version of the fundraiser and that they wanted to make it more theatrical. I was hired as Production Coordinator and Creative Director of The Journey the Living History of The Regent Park Revitalization. Mitchell Cohen wrote narratives to accompany the songs he had written from the previous year. He also wrote more songs. His idea was to tell the history of Regent Park so that we always remember the original community as we watch it evolve and get revitalized. That first year I was also hired to go through the script edit and adapt it as well as work out how to include film clips and stills. I also trained the three lead youth actors (Trevlyn, Steve and Britta) and directed the production.
In 2014 Mitchell contacted me again. This time he wanted the show to have more of the semblance of a play, and we decided to do away with the multi-media aspect of the show. I met with Heela Omarkhail a key Project Manager for Daniels Corporation and one of the Co-producers of The Journey. Heela was my right hand both years and I could not do this project without her.
I was hired in August of 2014 as Production Coordinator and Creative Director and I also wrote the script adaptation.
The process was very different this year. I met with Mitchell and he told me about his idea for a prison scene with a father and son. It was then my task to take his ideas, the script from last year and the songs and to figure out a new way to tell this story. I wrote my first draft of the script in November/December and many subsequent drafts almost up to the time of the show.
The show included youth dancers, a chorus and actors, professional actors and a professional live 7 piece band. The teen acting element was new this year.
Photo Credit: Ryan Singh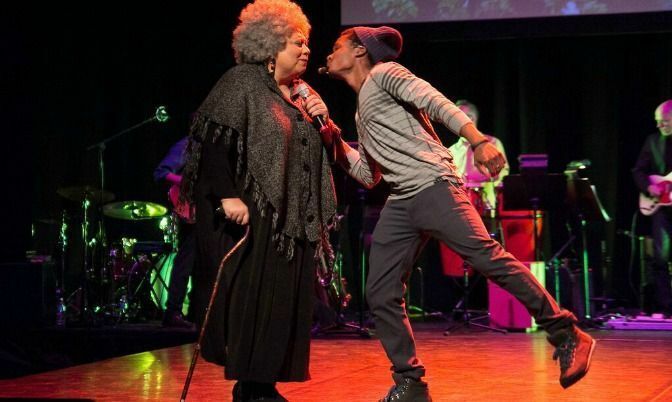 Had you ever been involved in this type of coordination? If so, how did your past experience prepare you for this challenge?
I say that working on The Journey is a culmination of every skill that I possess and have learned from the age of 18 until now. I started out working in recreation and I started my own drama camp called Active Youth at George Dixon Community Centre (in Halifax, Nova Scotia). It was here that I wrote, produced and directed Cindy's Shoe a musical starring youth from Uniacke Square (a community very much like Regent Park).
I earned my theatre degree from Dalhousie University– so that prepared me for a life in the arts and as part of our training, we also had learned about the technical aspects of theatre through props, lighting and sound. My first full-time job when I graduated from theatre school was to run a not-for-profit organization for 2½ years. It was there that I really honed in my administrative, organizational and project management skills. As the Coordinator of the Cultural Awareness Youth Group of Nova Scotia, I organized a Career Conference, choreographed and produced a huge fashion show called Fling into Spring.
I also arranged youth conferences, planned and was the lead on youth exchange trips, wrote proposals, set up the budget for several outreach programs, hired staff and the list goes on and on. Those are the skills that I use now when producing a show or working on a project. I also ran my own young company for Black women between the ages of 16-25 called The Imani Women's Artistic Project. I have curated several showcases for Harbourfront Centre (in Toronto), been hired as a consultant, director and writer on many projects and have done work for countless organizations, schools and corporations. I have also taught Senior Theatre at Young Peoples Theatre for seven years and served as a Resident Artist Educator there in 2011.
The final piece of the creative work puzzle was taking the Self Employment Business program through HRDC at Centennial College. When it comes to business I believe you should be on time, reliable and efficient. This is why I have had recurring clients. I believe in excellence and as you can see I have been preparing a lifetime for the contracts and opportunities that are presenting themselves to me.
Photo Credit: Ryan Singh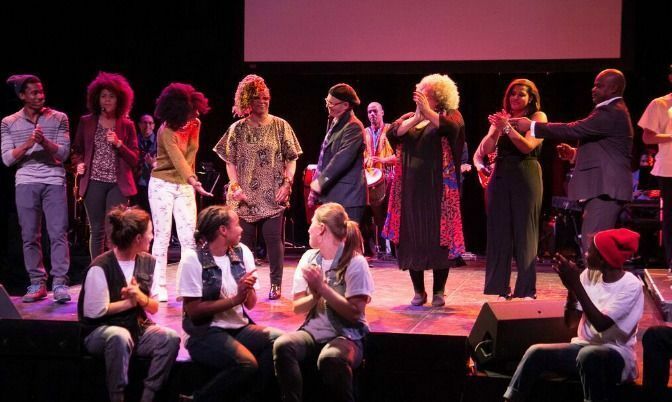 What new things did you learn about yourself?
I learned that:
A. You can't be a leader or a manager of any sort if you are not confident and don't have high self-esteem.
B. I also learned that you have to stand firm behind your beliefs and you can't be afraid to take control of any situation that arises. You can't worry about if people like you or not. The main focus has to be on making the best show possible because it's not only your name that's on the line – but your client's name is on the line also.
C. I also learned that I can do so much more than I ever thought I was capable of (Set design, and thinking through lighting sequences).
D. I learned that you have to have many different styles of communication with each person you have to deal with: from emails to phone calls to clarify, from texting the teens and youth to the face-to-face meetings.
E. you are only as good as the people and team that you have around you
F. I also learned that though it's great doing work and developing ideas for someone else… doing these shows for Mitchell Cohen has given me more incentive to continue to develop and produce my own projects.
What personal projects do you have and how can we learn about you and your projects?
Ironically or Divinely… while in the middle of working on The Journey I got a call from Quincy Armourer the Artistic Director of Black Theatre Workshop in Montreal. He called to tell me that my new play She Said/He Said was going to be produced and have its World Premiere as part of their 45th Season. I had no idea this was going to happen for me. So while working on The Journey I had to stop for a bit to work out the details for my own play. This is my first contract with an Equity Theatre.
The fact that Quincy will be directing She Said/He Said is an honour and I am looking forward to sitting in the audience next Spring and seeing someone else's interpretation of my work. It is my hope that after its Montreal premiere that it can be picked up by a theatre in Toronto. I am in the process now of strategizing and fundraising to self-produce a 4 day run of my play in Toronto at AKI Studio next Fall. And I am also starting the leg work of submitting my script to local theatres.
I launched my new Spoken Word CD Poetree Huggin in the Fall of last year and am hoping to book some gigs in the near future. I have also been putting energy into more fun and professional development by going to Monday Night Improv Events at Second City. I took part in the DARE Storytelling event, and I hope to be doing more stand-up and storytelling in the next year also.
Presently I am in the process of rewriting my other play True Confessions of a Single Woman While Waiting for her Big Break The off off off off off off off off off Broadway Musical for a late September reading at Playwrights Workshop Montreal. I am looking for new contracts and projects, and my future plans include finishing my first poetry manuscript, creating a children's cultural book series, facilitating more business of the arts seminars, and getting another one of my plays on the professional stage.
You can learn all about Anne-Marie Woods by going to www.imaniartsbiz.com
Or have a listen http://www.reverbnation.com/amanicontemporarybluespoet
Or have a look at YouTube https://www.youtube.com/user/AmaniLive