But Boukan has become one of the most talked-about restaurants in the city and rightfully so! One of the first restaurants dedicated to Haitian street food, Boukan is the brainchild of Marc-Elise Lissade, an award-winning chef who was considered among the top 20 Black Chefs in North America and won Taste of the Caribbean in 2016.
Chef Lissade found his love for cooking as a young child cooking with his grandmother where she schooled him in the kitchen and taught him how to cook beloved Haitian recipes.
Before Boukan, Chef Lissade spent the last decade building his career as a chef, even creating his own events company, Black Apron Events Tour, a dining experience tour collaboration with other Black Apron Chefs showcasing their talent while promoting their business. The tour has stopped in places like Miami, Toronto, and various other cities.
But Chef Lissade came to a place where he wanted to make a change in his career." As a chef, I wanted to do something different," he says, "But I never wanted to run a restaurant."
But he had a strong desire to take Haitian Creole cuisine to next level and bring it to non-Haitian people. So he quit his job in August 2019, created a business plan in two days, and started looking for the perfect location. 452 Kingston Road was the first and only location Chef Lissade viewed.
While debating on buying the location, he had an encounter with a stranger that affirmed he was headed in the right direction. "As I was sitting in my car, a man came up to me and said "You're going to be big," Lissade remembers, "I started crying. I knew then that it was time."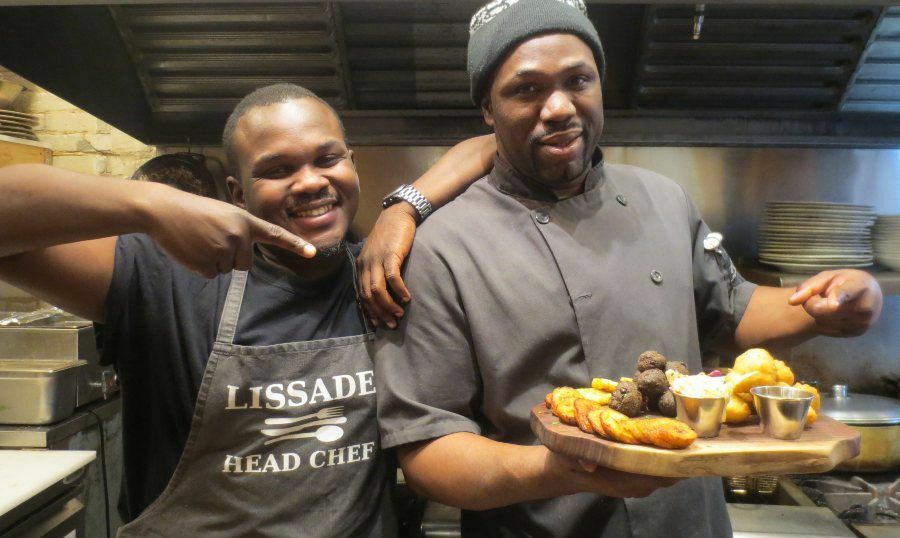 By September, Chef Lissade purchased the location at 452 Kingston Road and Boukan officially opened on December 3, 2019, welcoming people from all over. Lissade brought along two business partners Amir and Ricardo, and together they've been running Boukan for the last eleven months. "It's been fun," Lissade says, "I love it. It's not work for me, it's passion."
When I first met Chef Lissade back in February 2020, he walked me through the entire menu at Boukan including the St. Michel, the most popular side dish made of Saltfish, Avocado on a fried plantain or the Karl Lambert Burger ("A joke back home"). There's also the Djon Djon Rice which is mushroom flavoured rice using a mushroom found only in Haiti.
I opted for the St. Michel and the Tasso (Beef) Fritay Box, which includes sweet plantain, fried plantain, fried dumplings with a choice of meat or vegan option and Marinad.
Boukan is Creole for campfire and has deep roots in Haitian culture. "As Haitians, voodoo is part of our culture," Chef Lissade explains, "Boukan was used to cook, for light, to celebrate, to pray. We are the first Black country to own our independence, which is reflected in the food such as St.Michel and Ennery Burger."
While Chef Lissade had some concerns about starting a restaurant, he felt that Haitian Creole cuisine wasn't done justice in the restaurant world. "My goal is to showcase Creole cuisine on a different level," he says, "There's a lot of misconceptions about Creole cuisine, it's about the flavour or seasoning you use. Creole cuisine uses a lot of fresh herbs such as parsley, garlic, and green onion. And Haitian fast food has colour and flavour."
Even throughout the pandemic, Boukan has been able to provide comfort food to the community. They even delivered fresh meals to health care workers at Kew Beach Retirement Residence in the early days of the lockdown. They've also made sure to continue experimenting with their menu including Haitian-style Poutine in celebration of Canada Day and weekend specials such as scrumptious macaroni pies.
Even in the midst of what's going on in the world, Chef Lissade sees the positivity and possibility of life. "Life is beautiful. I enjoy every second of it."
Boukan celebrated its one-year anniversary on December 3.
Boukan is open for take-out and delivery through Uber Eats from Wednesdays - Saturdays 2-10 PM and Sundays 2-8 PM. To place an order, call 416-686-1880.
Stay in the loop with what's happening at Boukan by following them on Facebook @BoukanToronto and Instagram @boukan.to.