His ancestors date back to the early 1800s and were of African descent and settled in Elm Hill, Queens County. His paternal great-great-great-grandfather and maternal great-grandmother were Irish. His parents and grandparents were of working-class background -- labourers, farmers, homemakers, housekeepers and midwives. It is not known where his Black forbearers originated; however, they were likely United Empire Loyalists or refugees from the War of 1812.
I first saw Manny play hockey when I was 12 years old with the Moncton Hawks and Saint John Beavers. He was big, fast and tough; he could skate like the wind and he was Black. I was born with a moderate hearing loss, felt different and was attracted to differences. I loved sports and Manny became a hero to me. I met him as an adult, we became friends and it was a great honour to deliver the eulogy at his funeral.
Highly regarded as an accomplished young athlete, he moved to the senior ranks in both hockey and baseball at age 18 and 19 respectively. Manny played both sports in New Brunswick, Nova Scotia, Quebec and Ontario. He also played baseball with the New York Cubans of the American Negro League and hockey in France with the Racing Club de Paris.
Manny was a pioneer in both sports. As a Black athlete, he was the only Canadian on his various baseball teams except for Fred Thomas in Drummondville (1948) and Charlie Pyle in Fredericton (1949). In hockey, other than Herb and Ossie Carnegie, there was no other Black player besides John Eatman in a local commercial league (1937-38). Manny was a journeyman who made his living playing sports uncommon during his era. His baseball career spanned 15 years from 1937 to 1952, and hockey 23 years from 1933 to 1955.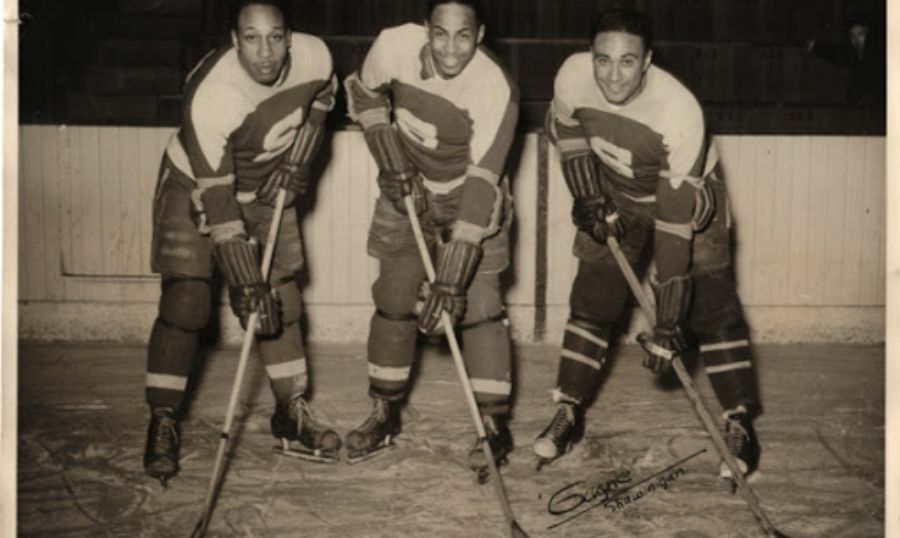 (From L to R) Shawnigan Cataractes players, brothers Herb & Ossie Carnegie posing with Manny McIntyre (Courtesy of Bernice Carnegie)
Manny McIntyre grew up in a society that did not provide Black people, including athletes, the same rights and opportunities as others of his era. Racism and discrimination were all too common. To illustrate, Viola Desmond was arrested, jailed and fined for refusing to move to the balcony of a New Glasgow, Nova Scotia movie theatre in 1946. Since her exoneration, her image now appears on the Canadian ten-dollar bill.
In 1946, the colour barrier in the Modern Era of professional baseball was broken by Jackie Robinson followed by four other Americans and Canadian Manny McIntyre. Manny signed a contract with the Sherbrooke Canadians of the Class C Border League on May 30th. However, his tenure in Sherbrooke was short. While batting .310, he resigned after only 30 games due to errors caused by a hockey injury to his throwing arm, the rigorous schedule, lengthy bus rides, and isolation off the field by white American teammates, and racism experienced south of the border.
Manny's finest seasons were with the Halifax Shipyards in the Halifax and District Senior League in 1943 and 1944. He was a first-team All-Star, MVP, and batted a seasonal .385 and playoff .488. He was also voted the League's Most Popular Player one year. This was a remarkable accomplishment considering that he was playing in a city well known for its racism and discrimination against Black people. It is a testament not only to his athletic abilities but also to his character as a man. Maritime baseball legend Skit Ferguson who played with Manny in Drummondville in 1947 indicated that Manny had the skills to play in the Major Leagues.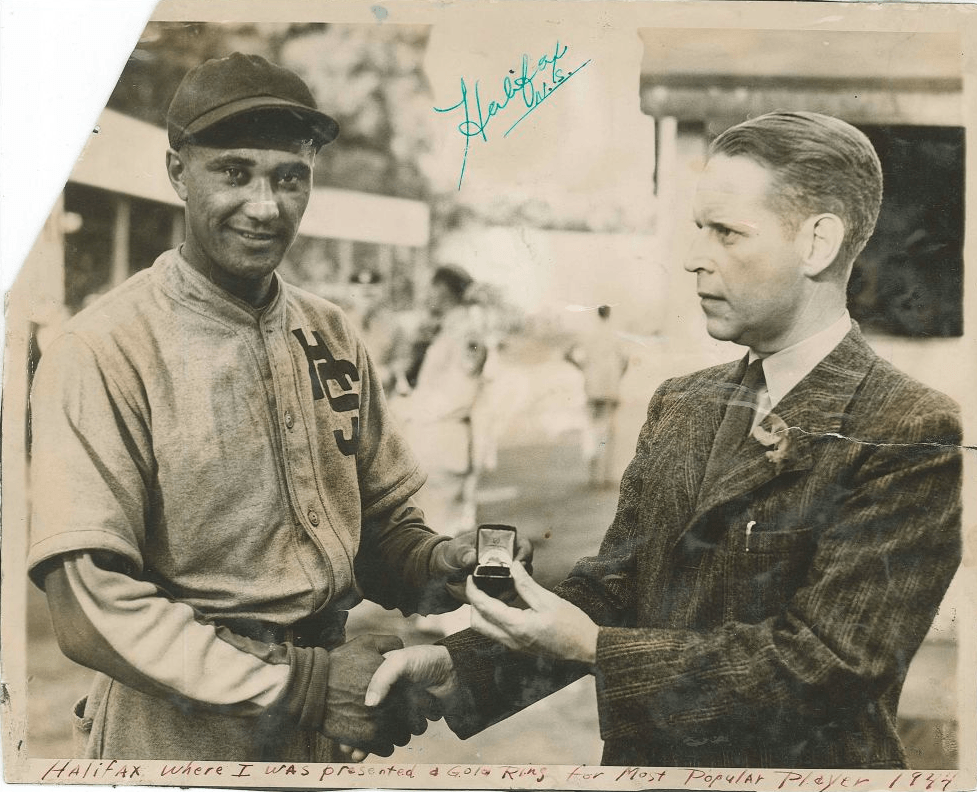 Manny is best known as a hockey player and member of the famous "Coloured Line" with Herb and Ossie Carnegie. He heard about the Carnegie's through his friend Mush Morehouse and joined the team in September 1941, the first and only all-coloured line in the history of semi-pro hockey. They played together in Timmins, Shawinigan Falls, and Sherbrooke. The line became an instant hit and regularly led the leagues in scoring. The Right Honourable Jean Chrétien, former Canadian Prime Minister, is from Shawinigan and saw the line play when he was 10 or 11 years old. He said, "The line was very good, they were very good players."
Manny was considered good enough to play in the NHL and Major League baseball. He was a gifted man, a natural who worked hard and became one of the country's great athletes, his story is unique in Canadian sports history. Sports historian Dr. Colin Howell in his book Northern Sandlots wrote, "Of all the Black players in the Maritimes during the thirties, none was any better than Vincent "Manny" McIntyre. He was clearly one of Canada's greatest athletes, and not just in his era." Scotty Bowman, a respected NHL coach said, "I did see Manny play for Sherbrooke with the Carnegie brothers. They were NHL calibre players in the Quebec Senior League. A great man who should have played in the NHL."
His quiet sense of confidence helped him become a role model as an athlete and as a man. Manny's leadership was demonstrated when he played hockey with the Port Albert Élans, Quebec. Almost all the players were French yet he was chosen team captain. He was also assistant captain of other teams, quite an accomplishment considering the times. Perhaps his greatest contribution to others was his sense of self, as illustrated by his comment about not having had the opportunity to play in the NHL. "I am not bitter about not making the NHL, I know that I was good enough and that is good enough for me."
Manny was a patriot. He left his sports career in his prime and joined the Canadian Army after the 1942 hockey season. He passed the initial physical examination and played on regimental baseball and hockey teams. The following spring, he required medical attention when a mining injury to his left hand was noticed and he was granted an honourable discharge.
Manny has been inducted in several Sports Halls of Fame in New Brunswick, Nova Scotia, Ontario, nationally and has been approved for induction in the Maritime and Afro Sports Halls. He has also been nominated to the Canada Baseball and Nova Scotia Sports Halls of Fame. Also, Manny was honoured posthumously in 2013 with a banquet attended by 250 people in Saint John, New Brunswick.
Manny McIntyre was a remarkable, accomplished athlete and an outstanding man. All who knew him, in sports and life, respected him. He was a promoter and negotiator before the advent of player agents; he was a role model for younger players regardless of their background; he was devoted to his family; he was a proud man and stood his ground; he was proud of his roots and respected his elders, and he was a God-fearing man and treated others fairly and generously. He was equally proud of his post-sports jobs as Canadian National Railroad and Dorval Airport Porter, and McGill University Parking Lot Manager as he was of his athletic careers. Manny was an elite athlete, a pioneer who has yet to be fully acknowledged as a Canadian sports icon. As he is accorded further recognition, he will take his rightful place among Canada's great athletes.