Maybe you've seen the street in Scarborough which was named after him, or perhaps you recognize him as one of the recent appointees to The Order of Canada, the only Black appointee in 2020. The Order of Canada is one of this country's highest civilian honours, and its motto is "desiderantes meliorem patriam", or "they desire a better country." The phrase is a beautiful sentiment and an apt description of Jolly and the work he's done throughout his life. He was appointed because of his leadership and contributions to the promotion of equity and opportunity within the Greater Toronto Area's Black community.
He founded the Black Business and Professional Association (BBPA) in 1983. The BBPA is a non-profit, charitable organization that addresses equity and opportunity for the Black community in business, employment, education and economic development. Jolly was also involved with community groups like the Black Action Defence Committee, which sought to end police violence against Black men.
In addition to the aforementioned accolades, Jolly is a former teacher, publisher, philanthropist, real estate mogul, and human rights activist. And even though the 85-year-old is retired he continues to advocate for human rights, he insists that more work needs to be done to combat injustice. Jolly's been vocal about Canada's mistreatment of Indigenous People and when I asked him if he could briefly tell me about some of his experiences with racism, he responded, "That's a whole book on its own," without missing a beat.
Jolly is known for being a no-nonsense, straightforward man but he also describes himself as a sensitive and compassionate person. He was born in Green Island, Jamaica, and came to Canada as a 19-year-old to study at McGill University. Despite his academic success, he was essentially told to "go home" upon graduating. Jolly returned to Jamaica but came back to Canada in 1962. When we spoke in February, he told me about that story, his thoughts on the state of justice in Canada, how to support Black-owned businesses, and much more.
What does it mean to you to be appointed to the Order of Canada?
It's an honour and I'm quite humbled to be recognized. I'm amazed that my efforts in the community are being recognized.
The motto of the order of Canada is "they desire a better country", what are some changes you'd suggest to make Canada a better country? For example, I know in the past you've talked a lot about racism and about the fact that Canada is a wealthy nation but some Indigenous communities are living in poor conditions.
More justice and equality for all. There's a Latin phrase, esse quam videri, and it means to be and not to seem. It means you've got to walk the talk, and Canada has not walked the talk. We would like to give the image of being the benevolent godfather yet that's not the fact. As a businessman, I'm accustomed to delegating and administrating, and I can't understand why we can't have clean water for Indigenous people. Canada is supposed to be the land with the most plentiful fresh water in the world, so, therefore, it must be the will that's lacking. To deny a basic right like food, clothing, shelter or water, is in my opinion, unconscionable.
I was also taken aback by a recent article in the Toronto Star about former Chief Justice of the Supreme Court of Canada, Beverly McLaughlin, who pointed out that Canada is ranked 52nd in the world in terms of 'justice on the ground.' If anyone is going to know about that, it's the Chief Justice of the Supreme Court. I thought that we weren't doing too bad in terms of justice but there are a lot of things that are wrong with the judicial system.
If you look at the jail, they're full of innocent people of colour. Just now, I came across the news that the gentleman who tried to break into the prime minister's residence, who was as one reporter put it, "armed to the teeth", one of the things he was charged with was mischief. Do you see a person of colour breaking into the residence of the prime minister and being charged with mischief?
You initially came to Canada to study at McGill, and even after getting really good grades, you were essentially told to go home. What do you make of the way Canada treats its immigrant population?
Well, it's deplorable, although it has improved somewhat. But the time that I was asked to leave, it was not long after the Second World War. And yet, when I was asked to leave, the people that they invited with open arms were people from the 'other side'. They wanted the ones that were shooting at Canadians - the Italians and the Germans. God bless them, I've got nothing against them, but it just shows the inequity.
Why did you decide to found the Black Business and Professional Association?
As I said in my first letter inviting people to the inaugural meeting, we as Black people were being marginalized. We were not being given credit for our work and accomplishments. We had doctors that were heads of departments at hospitals or professors, yet the general opinion was that we were all welfare recipients.
Two nights ago, my partner came into the room and said to me, 'You've got to watch this video.' It was a girl from Jamaica who was studying biomedical physics at Ryerson who was doing research. She won Canada's Hero Award for starting an organization that addressed menstrual poverty. She had several sisters growing up and the family was so poor the mother had to improvise when her daughters got their periods. So, when Yanique Brandford came to Canada, she took it to heart and decided to address it by supplying free tampons and other feminine hygiene products to poor people and even the homeless.
She was applauded for winning the award. They talked about why she did all of this, what her circumstances growing up was like, and then the program ended. My partner had to tell me about her academic accomplishments because there was not a word about her educational prowess, accomplishments, or aspirations, and I was waiting for it to come up in the show. My partner only found out by Googling her. That's a form of institutionalized racism because it's a crime of omission. The audience is left with an image of this poor Jamaican girl but they don't hear about how she's progressed or what she's accomplished.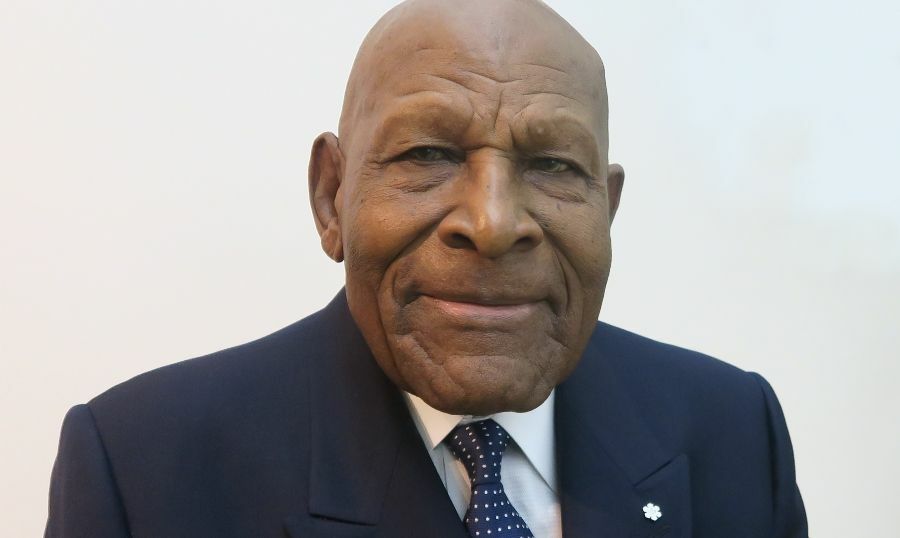 Photo: Denham Jolly
Last year the federal government introduced the Black Entrepreneurship Fund which will provide 229 million dollars in funding to Black-business owners and entrepreneurs over the next four years. Some critics say that, while it's good to have this money and it's well-intentioned, it won't address the issue of systemic racism. What's your opinion on that criticism?
It's a good start but if you're doing business, don't forget you need consumers. You need all kinds of support systems that may or may not be in your community. For example, if you have a young man or a young woman who's a clothier, is The Bay going to buy from them and distribute their stuff? Are they going to get the support that they need? If that is also provided, it's a good thing, but I don't know enough about the environment to see how it would be in reality. There are still a lot of roadblocks.
In Toronto's Little Jamaica neighbourhood, the business owners have been severely impacted, not only by COVID-19 but because there's also the ongoing Eglinton LRT project. What can be done to help support these businesses who are struggling right now?
Well, lower-interest loans and a reduction of taxes. I'm glad you mentioned the LRT because that there is a travesty. It's as though someone came along and nailed up your business but still expects you to pay rent and all the other taxes; they expect you to survive with no compensation. It's tantamount to that kind of disruption. The LRT people have come and essentially closed down people's businesses for 10 years and there's been no compensation; none, zero, zilch. Every once in a while the people at City Hall make some patronizing comments about it, but the fact of the matter is a lot of these businesses have gone out of business with no aspect of compensation because they've lost their livelihoods.
Speaking of businesses, you owned and operated Tyndall nursing and retirement home for many years, and we've seen the way that COVID-19 has ravaged long-term care facilities across this country. When you see the way the pandemic is playing out in these homes, what are your thoughts on the situation in LTC homes during the pandemic?
I feel nothing but sympathy for them. Some have been negligent and irresponsible. Some people have tried their best but it has been such an insidious virus that it's hard to control. I'm not sure that the government has done everything it can to help people fight this malady. For example, there are a lot of casual workers who could do with paid sick days, no matter your profession, and it's a no-brainer. Why would you go to be tested if you can still walk around and your family would be in jeopardy if you couldn't get paid? You certainly would take a chance and go out and work to put food on the table. Whereas if you're guaranteed a sick day by the government, it would help society at large to get you out of circulation.
We are in the middle of Black History Month, and we're coming out of the year when many people were talking about racism and anti-Black racism. So, as a former teacher, what do you think people should focus on when they're thinking about Black History Month?
They should certainly celebrate and accentuate the accomplishments and contributions that Black people have accomplished and contributed to their communities and the world at large. But there should also be a commitment and focus on how we can improve the racial situation as a society. What can we do to further the advancement of racialized communities in our society? Not just focusing on the past but let's also focus on how we can improve the future.
You were the publisher of the newspaper Contrast and you founded FLOW 93.5. Why did you think it was important to have outlets for Black people to create and publish media?
You need to tell your own story. You can't depend on other people to tell your story for two reasons. They're not aware of the stories that are germane to your situation. Well, they may be, but they're not as aware as someone who's living it. Secondly, we have to have Black people in all aspects of our lives. We can't leave a task as important as telling your life story to other people. We have to have control over how our stories are told.
You've said that racism exists, not because the system is broken, but because the system is racist by design. How can we go about rebuilding those systems to be more inclusive?
By identifying it, calling it out, and working to change it. Changing it is not an easy task because even after you have changed it there are people still working to restore the old system. Like white privilege for example. That is not something that's overcome overnight because there are a lot of people who enjoy it. Why wouldn't they want it to exist? Once you've changed it, it's your task to maintain it. My friend used to say, 'the minute you're not looking, they change it back.'
You've held a lot of different roles in your life, from human rights activist to teacher, to author, and more. What are some of the lessons you've learned that have stuck with you?
I'd say the most important lesson is the tenacity of purpose, or as I like to sometimes call it, stick-to-it-ness. You can't give up. You have to have the mentality of a long-distance runner, sometimes you're going to have to keep going and wait for your second wind when you're tired. You might even have to wait for your third wind. It took us twelve years to get the radio license, but I said to the regulators, in my mind and my deeds, you can't outlast me. I'm going to finish this and I know that you're not going to be there forever. There has to be a purpose.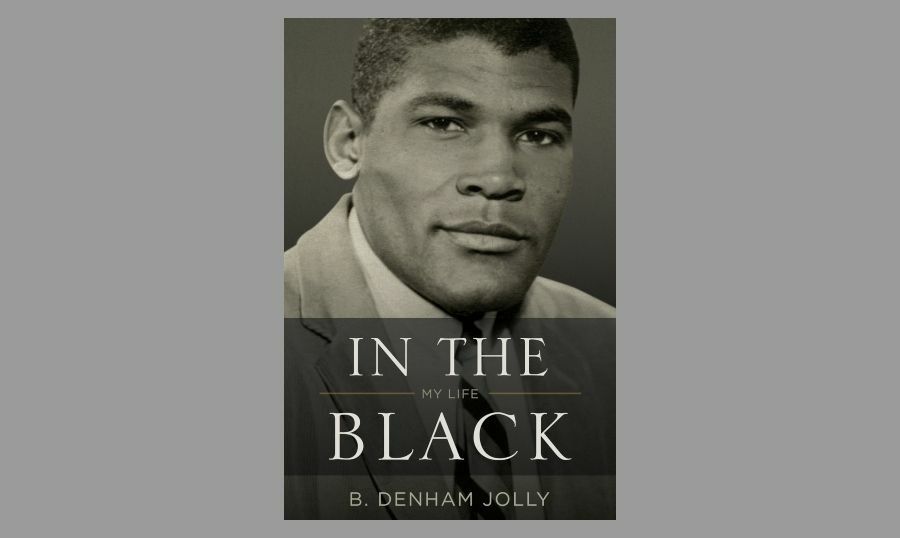 Photo: Denham Jolly's memoir "In The Black" (2017)
That's a great answer. When people look back at your life and accomplishments, what kind of legacy do you hope to have left behind?
What I would like for them to say is that I was firm but fair, and wanted equal justice for all. Not just Black people, but all humanity.
I think that this is a great place to end the conversation. Thank you so much for taking the time to speak with me and for the insights that you gave.
Listen, Marcus, I feel as though we hardly scratched the surface but we did our best.
I agree, I think that there's more that could be said. Especially when looking at systemic racism and its effects. I like the point that you made about staying vigilant when it comes to oppression because there will be people who try to undo the progress.
Absolutely. If there's a privilege you can have, then why wouldn't you want to always have it? And if there's any chance or opportunity you've got to get it back because it's been taken away, you want to restore it.
I'm sure you've seen it manifest in so many different ways from being an educator to the resistance you met with Flow, to your experiences at McGill.
Speaking of McGill, I'll tell you a little story that has stuck with me to this day. It's about how cruel and racist some people can be and how willful they can be when it comes to keeping you down. When I went to McGill, all these institutions had scholarships and loans for students and had a bursar named Mr. Pugsley. He was a nice man. I borrowed $200 one year, and he told me, 'If you pay back your loan early and don't wait until you graduate, they'll loan the money back to you next year.' So, the first time I borrowed, I paid $200 back, but then the next year when I went to borrow again, Mr. Pugsley had been downsized and wasn't there. I had to go to the dean now to get the money.
I made an appointment with the dean, which is important because I didn't just knock on the door and go in. I go in there, in this huge office, after I guess his secretary let me in. I made an appointment and I had an application with me, so he knew why I was there. But when I finally sat in front of him, he said, 'So, why are you here?' Of course, I'm nervous. I'm just a kid sitting in front of the head honcho. I said, 'I borrowed $200 last year sir, and Mr. Pugsley said if I paid it off, I'd get to borrow it again.' Do you know what he said to me? 'Alright, so go to Mr. Pugsley.' He was the dean and he knew full well that Mr. Pugsley wasn't working there anymore. I was just telling him my loan history. To him, it was an excuse to give me a hard time and humiliate me.
I think that is a very interesting point; the humiliation aspect. I know that I've experienced that in school or other places I've worked, and I know I've seen it happen to other people.
You've also probably seen how they treat the other side. How they welcome and encourage them. Give them a pass. You know, I'm a sensitive person and I'm also very proud, so I just got up and walked out and tore up the application. Here's a guy who is an educator, who's supposed to be providing education but not for Black students, I suppose. He was saying go to Mr. Pugsley in his garden where he has no power. It was his way of saying 'get the fuck out of my office.' To me, that was very profound and insulting. As the head of a college, you're supposed to encourage education and encourage your students and help them out. But that was his attitude. That was racism to me but he probably didn't think so.
But the way I see it, Canada at the time was profiting off of my country too. Canadian companies were digging up bauxite very cheaply, adding value to it and sending it back as aluminum foil. Meanwhile, we can't even buy enough of it to wrap a fried fish in it. The Bank of Nova Scotia (Scotiabank) was down in Jamaica from the 1800s making money off of the Jamaican people. There was one down there before there was even one in Toronto. They needed a mercantile bank to do trading between Newfoundland, Halifax, and Jamaica. And banks don't set up benevolently, they do it to make money. So, I didn't have to bow down or thank him. They were making money off of us too, it was even-stevens. So why shouldn't I come here and profit too?
That's a really good point, I did not know the history of Scotiabank.
You've probably heard of Downton Abbey; all the mansions and whatnot in Britain were built by sugar money. The islands where the sugar came from were more important to Britain than even Australia at the time. Sugar was king. A lot of those universities were built by slaves. James McGill was a slave owner himself.
As we were talking about the change in emphasis of Black History Month, it's something like that which I think is important to know. That these institutions that are responsible for creating the academic elites and producing thought leaders were able to get to that level of prestige and wealth literally on the backs of slaves. I think that would be interesting to look at all of the companies or schools that have money tied to slavery because I'm sure that there would be a shocking number of them. But then it's also shocking to see the lack of action these institutions are taking to kind of make amends for exploiting a community for hundreds of years.
What's shocking is that they've managed to keep it a secret for so long. Just think about it. Slavery was supposed to have ended in the Commonwealth in the 1830s, so that's almost 200 years that it's been kept a secret. That's shocking.
*Disclosure: My father worked at FLOW 93.5 in the early '2000s.