The event provides highly esteemed event industry professionals the opportunity to host and entertain newly engaged couples in an intimate and personalized atmosphere. The MunaSerenade is an extension of MunaLuchi Bride - an international multicultural magazine. MunaLuchi Bride is one of the first of its kind to specifically highlight and feature couples of color and the elite vendors of color whose talents and skills produce amazing weddings and events.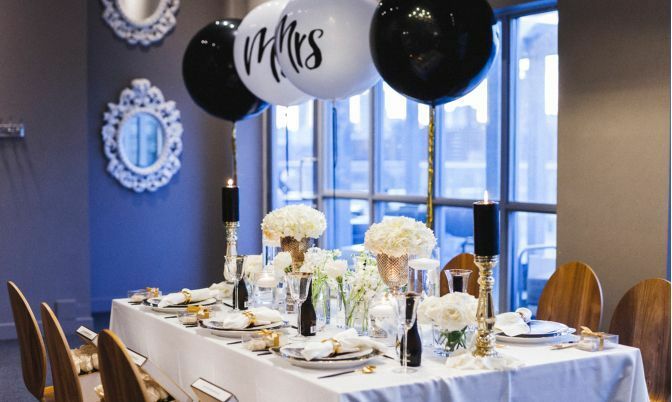 A team of talented and highly sought after industry professionals in the GTA collaborated to plan and produce the first MunaSerenade in Toronto on March 21st 2018. Many couples around Toronto showed keen interest in the Toronto MunaSerenade and applied for consideration. The team thoroughly reviewed each application and finally narrowed it down to three newly engaged couples - Nakita & Nigel, Cara & Jamile, and Jasmine & Shane.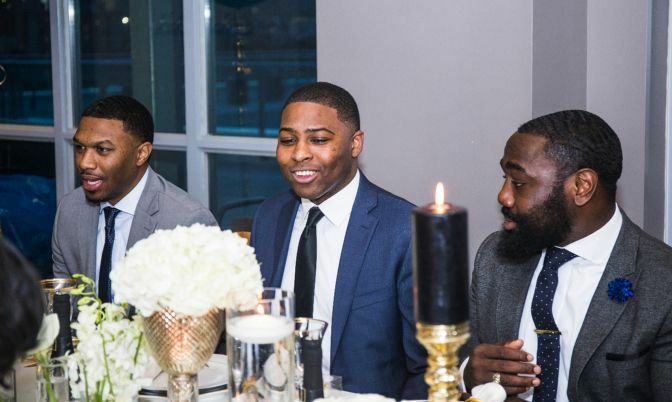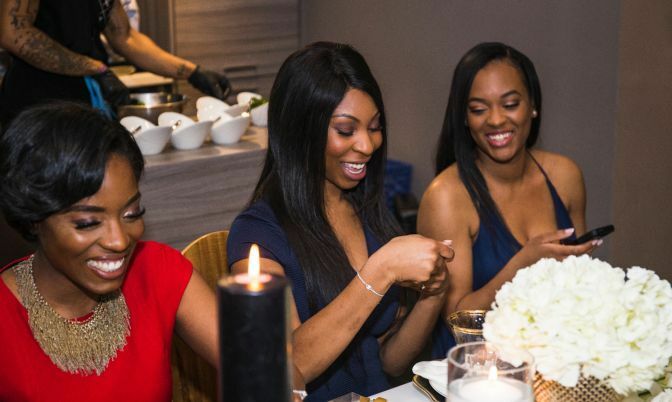 The event was hosted in a sophisticated and modern/contemporary venue which was exclusive and intimate, with a picturesque backdrop of the Toronto city skyline. The brides-to-be were treated to a mini-glam by Cassandra Campbell Beauty and Doll Faced Dredie.
To start off the event talented DJ Isaac of Sway Entertainment Group set the mood with the best love songs. The couples were greeted to a black, white and gold tablescape of candles, florals, charger plates, personalized wine tumblers, individualized wine bottles, personalized menu cards and place cards. A gorgeously adorned sweets table with a variety of decadent desserts also awaited the couples. The couples' dining experience was enhanced by live chef extraordinaire Chef Kaizen who prepared the meals on site and meticulously plated the 3 course menu. After dinner, the couples were interviewed on camera to share insight on their love stories and proposals. The night ended with a mini couple's photo shoot. Each bride-to-be was gifted with a luxurious floral gift box.
The Toronto Munaserenade provided an enhanced guest experience. It was an amazing event planned an executed by a fantastic group of professionals:
* Photo & cinematography - Felicity Moments - Tristan Barrocks @felcitymoments
* Event Design/Planning: In My Elyment - Sholla Lampkin @inmyelyment
* Event Florals: A Chery Events - Awa Chery @aheryevents
* Makeup: Cassandra Campbell Beauty - Cassandra Campbell @cassandracampbellbeauty
* Makeup: Doll Faced Dredie - Omega Mighty @dollfacedrediemua
* Stationery Artist: Castlefield Design - Sophie Taylor @castlefielddesign
* Sweets Table: Fruitilicious Cakes - Sandra Boadi @fruitilicious_cakes
* Balloon Decor: WeBalloonz - Alex @weballoonz
* DJ: Sway Entertainment Group - Isaac Mejia @swayentertainmentgroup
* Catering: The Kaizen Chef - Theadore Dwayne Jackson @thekaizenchef
* Luxury Floral Favor Boxes - Les Fleurs Royales @lesfleursroyales_
* Tabletop Rentals (charger plates, flatware): Plate Occasions @plateoccasions
* Planning & Creative Lead: Grace Arhin Events - Grace Arhin @gracearhinevents