Short stories are as the name implies, short however, the length can vary from less than a 100 words to 7500 words in length. Each story is a standalone entry with setting, character and plot.
The Blackstarline Readers (BSR's) met for brunch on an unseasonably warm April day amidst the condo towers of downtown Toronto to discuss Before You Suffocate Your Own Fool Self by Danielle Evans. Danielle Evans is new to the literary scene and delivers a collection that is both diverse in its subject matter as in its characterizations. The stories in the collection reflect the experience of being a young African-American or biracial person in America today.
The themes are varied and include love, depression and regret. Before You Suffocate Your Own Fool Self places a magnifying lens on the unexpected challenges of life and the complexities of human relationships. Although the characters are primarily female, there are two stories centred on male characters. As the title implies the characters are trying to come to grips with and resolve issues in their lives before they are suffocated by them.
When the BSR's met to discuss the book, it became clear we shared strong opinions on stories that we either liked, disliked and there were those that evoked a strong emotional response. One emotional entry was the story Snakes which featured a young biracial girl and her experiences with her racist grandmother in the Deep South. The surprising twist at the end made this story one of the stand outs in the collection. It left room for much discussion and readers wondered if the main character was as innocent a victim as she portrayed.
Another standout story that elicited a strong response was Someone Ought to Tell Her There is Nowhere to Go. This selection told the realistic story of an army vet dishonourably discharged returning to a world he no longer could function in. Dealing with post traumatic stress disorder, he struggles to reconnect with those he knew and to make new connections while wrestling with the demons of his condition.
A consensus was reached that the Danielle Evans collection was a good read and was diverse enough in its content to keep readers engaged. Although stories like Robert E. Lee is Dead fell short, the collection was a strong one. Remember a short story collection is like a box of chocolates, some stories you savour like a creamy caramel and wish they lasted longer, while others are like that strange mystery flavor that leaves you asking what were they thinking? Before You Suffocate Your Own Fool Self is just the same, each story offers a new flavor for you to sample, short and sometimes sweet.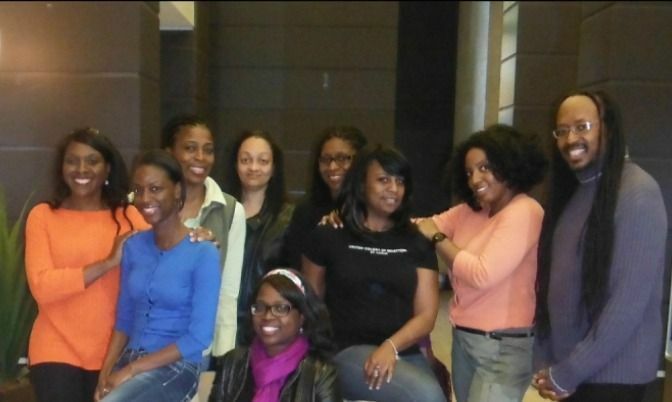 The Blackstarline readers have been meeting as a book club to read, break bread and discuss books since 1997. The premise of the book club is to foster reading and provide a platform for discussion while discovering and supporting authors from the diaspora. In doing so, the book club has supported Black owned or operated book stores in Toronto since its inception. We have also welcomed guest authors such as Austin Clarke, Rachel Manley and Nalo Hopkinson to read and discuss their work with us. Blackstarline members have also provided donations to reading circles for children and pencil drives for children in Africa. In September 2006, the Blackstarline readers were featured in Essence Magazine as book club of the month. We are happy to provide feedback on books that we've read and discussed in this new platform and we hope that our reviews will encourage you to read and introduce you to Black authors you may not have heard of before.