The premise of the book club is to foster reading and provide a platform for discussion while discovering and supporting authors from the diaspora. In doing so, the book club has supported Black-owned or operated book stores in Toronto since its inception. We have also welcomed guest authors such as Austin Clarke, Rachel Manley and Nalo Hopkinson to read and discuss their work with us. Blackstarline members have also provided donations to reading circles for children and pencil drives for children in Africa. In September 2006, the Blackstarline readers were featured in Essence Magazine as book club of the month. We are happy to provide feedback on books that we've read and discussed in this new platform and we hope that our reviews will encourage you to read and introduce you to Black authors you may not have heard of before.
When I first learned that author Zadie Smith had a new book called 'NW', I knew I had to read it. So of course I was thrilled when it was listed as part of our book offerings for a club meeting this spring. Written in 2012 by one of the UK's most celebrated authors, NW explores the changing and challenging lives of some of the people who make up a community in North-West London (NW). I first learned of Zadie Smith when she received high praise on the literacy scene with her debut novel, 'White Teeth.' Like NW, White Teeth put a spotlight on London as it's experienced by people of the African and Caribbean diaspora.
As a child of West Indian parents who made the decision back in the 1960s to turn away from the then popular destination of England to instead immigrate to Canada, I have always been fascinated by what life could have been like had I been raised on that side of the pond. So once Smith came up with her next novel, I was happy to dig in to it with great interest.
As I got into the book, I encountered Smith's four key main characters: Best friends Leah and Natalie, their childhood friend Nathan, and a young man named Felix. Their similarities are that they grew up in a council estate in Caldwell – an area with the kind of flavour that could perhaps be likened to some of our more 'colourful' public housing areas in Toronto. But once childhood fades into adulthood, the instinct for these characters to cling to what was familiar, collide with the tension of wanting and needing to move on… and away from their neighbourhood.
NW is filled with vivid descriptions illustrating the energy of an urban London and how lives invariably intersect with one another – whether we like it or not. This became really apparent during the scenes set around Notting Hill Carnival –one of England's biggest annual summer fêtes celebrating Caribbean culture. Since the novel's characters appear to be at a similar life age and stage as myself, when I was reading NW I felt like I was getting a picture of what life in London could have been, and could still be, for me.
The book isn't an easy read though – Smith uses a variety of literary styles including stream-of-consciousness and dialogue that read like it was on a stage and not a page. While I was enthusiastic about those techniques, other book club members were not. So I felt a bit on my own with my delight. Although I wasn't the lone voice of praise during the club's often lively debate, NW wasn't a unanimous favourite.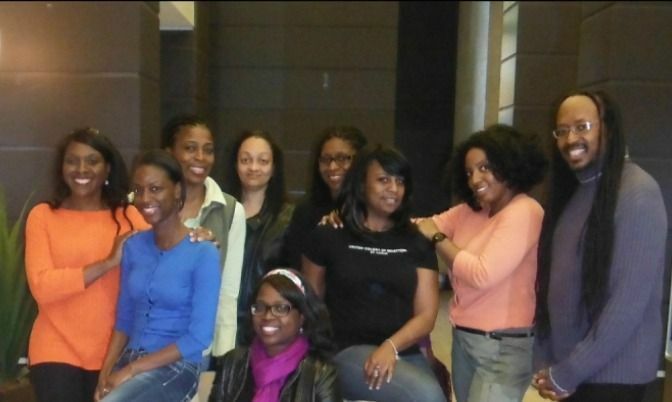 The Blackstarline Readers gave the book a 2.5/5 star rating. If left up to me, this would have been a higher score but admittedly, that may be because of my own interests inthe UK, the book and the author. One thing for sure I will certainly have to visit the real NW sooner rather than later!
NW by Zadie Smith is published in Canada by Penguin Group.
Dayo Kefentse lives in Toronto and has been a member of The Blackstarline Readers book club since 2005. The Blackstarline Readers meet in the Greater Toronto Area once a month from September to June. For inquiries and membership requests, please contact: This email address is being protected from spambots. You need JavaScript enabled to view it.