This fall, the university welcomed its largest cohort of Black med students in its 177-year history. The BMSA has contributed to several initiatives, including launching a national group consisting of Black medical students from all 17 Canadian med schools. During the pandemic, the BMSA and Black med students from across the country collaborated to publish a groundbreaking new book for incoming students. "The Unofficial Guide to Med School" is the culmination of six months of hard work, according to Semir Bulle. Bulle is a third-year medical student and the former co-president of the BMSA. He's also the co-founder of Doctors for Defunding the Police. Bulle says the book covers everything from how to find a mentor or prepare for the MCATs (Medical College Admission Tests), to the history of systemic racism in Canadian medicine. Throughout the pandemic, we've seen the disproportionate effect COVID-19 has had on the Black community, as well as the need to have greater ethnic diversity and more people with the cultural dexterity to serve all kinds of patients. "The pandemic proved to be the perfect time to put the book together," Bulle explained. When I interviewed Bulle, we talked about the guide, his journey to med school, and what he hopes students who read the guide will learn from it.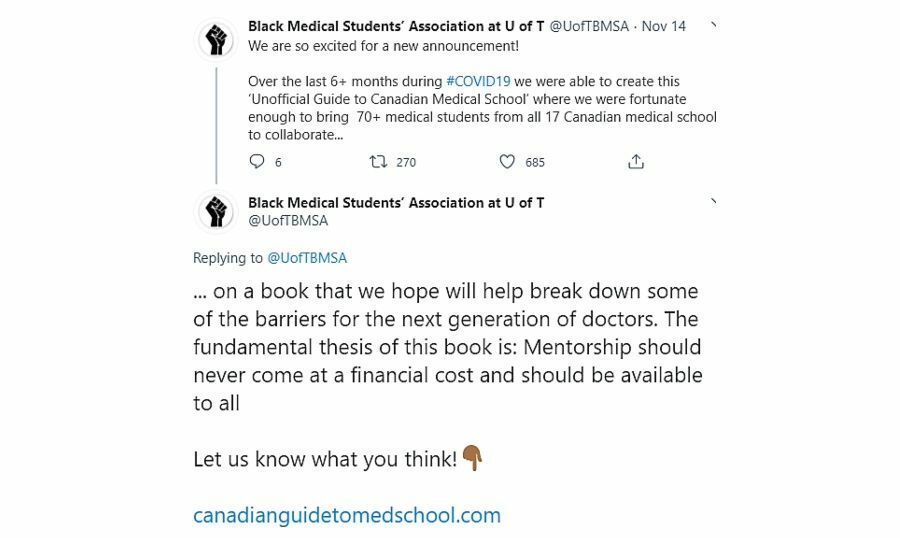 What was it that kicked off the conversation about starting to put this book together now?
COVID-19 to be completely honest. The other chief editors and I are former friends, and they were also part of the BMSA. We talked about it and thought we could do it during the year, but school just kept hitting us over and over again; there was no time to breathe. Then COVID-19 hit and we had a one-month period where the school didn't know what to do with us. That gave us a little bit of time off. From there, we decided to go into hyperdrive with the book until it eventually just happened.
How did you and your colleagues go about putting this guide together at a time where in-person meetings can't happen and you're gathering students from 17 different med schools around the country?
In 2016, there was one Black medical student in Toronto. Then the community came together, formed the BSAP (Black Student Application Program), and we got more Black students. I'm a part of that first cohort. I have 15 Black classmates with me, which is the most Black classmates I've ever had. With our new numbers, we had a sense of duty to do more for the community that helped to put us there. It started with us holding events and networking. After connecting with other Black medical students, we got the idea to form the BMSA. At the time, we didn't have any type of national organizational structure where we could communicate and support each other. Even though we all had individual challenges, most of them stemmed from the same isolation and cultural disrespect we got from our institutions. We had a meeting in 2019 and started building connections. Some of us flew in. After the COVID-19 lockdown was initiated, we thought about how to mobilize.
When my friends and I got into medical school we thought it would be cool to make a guide that made the experience easier. None of us knew how to get in because it was all a minefield of just bullshit. And when you see who gets into medicine, you eventually realize that it's people who have connections and understand the system. We all saw that and thought there should be a website or book that makes this easier. But It was hard work completing the book because the information had to be vetted, accurate, and pertinent to what any medical student would need. The goal was that anyone with a high school education could pick it up and have a good idea of how to get into medical school without talking to anybody else.
Outside of strictly medical information, what kind of advice and "things to know" are included in this guide?
The guide is 13 chapters long and has every step from what each school has to offer. What is medicine? What's a day in the life of a med student look like? Even input from both current and past medical students about what's gone wrong or what's gone right within the institution. Another thing wanted to address is how throughout history, different groups of people have been purposely excluded from medicine and the clear racism that these schools had. There have been quota systems in place for some time. We wanted to say, "Hey, you can get involved and there is a space for you here too." We're also fighting for more BSAP programs and spaces for Black students.
What are some of the things you learned about the racist history of medicine or groups that were excluded from medicine?
I'm going to preface this right now by saying more will be coming out in the coming months and a lot is happening behind the scenes. Information that might be a little more explosive or enough to make the schools accept these BSAP programs, but I digress. What we have on the record is regarding Queen's University's School of Medicine. A Black Ph.D. student went through stacks of historical documentation and figured out that in 1918 after Black people were enlisted to fight in WWI, that Black medical students were expelled from the school. Queen's wanted to have a better standing with the American Medical Association. There were 6 Black students at the time. One of the expelled students was in his fourth year of medical school. Queen's invited the descendants of that expelled fourth-year medical student to a school reunion last year. That student ended up working on the railway and his family ended up in poverty. That family's lives could've been so different and their community changed if this ancestor had been allowed to become a doctor. That was just one example. Do you know how many of these schools have done things like this and pretended they never happened? That's what we're trying to get at. These Canadian schools have purposefully discriminated against and excluded Black students while claiming that diversity is their strength for the longest time. This is a bombshell.
I think the unearthing of this evidence is shocking because it's not something I've ever heard about. On the other hand, that this is a practice that was documented and well-known among a lot of Canadian universities is not surprising. We've had a lot of conversations, especially this year, about systemic racism... and this is it right here.
Look, you've destroyed generations of potential income and community influence. That's what they never appreciate. These Black people were going to be leaders in their communities because they were going to be doctors creating generational wealth for their families and managing the health of their communities. How many people could they have inspired?
We've seen over the course of the pandemic that Black people and people of colour are the people most affected by COVID-19. Not just in terms of getting it the most, but even in terms of having the most adverse effects because of other underlying health issues. The fact that it has this information in it makes it even more interesting. What's something included in the book that you wish you had known when you were preparing for med school?
Oh, that's a great question. So much stuff. I took my MCAT after I graduated and got into medical school a year after. I didn't know when I was supposed to write it. I figured out everything off of Reddit. I had no mentors or family in medical school. That way of getting into medical school where you finish school and then you figure out what to do isn't fair. I didn't have the resources to help me figure out I had to take my MCAT in the second year and had to take courses here and there that would be easy enough to get me into the third year. No one told me, these specific schools have these particular requirements but these schools don't. It's the game and understanding it. Understanding that "Hey, your degree doesn't matter." That's something that most people don't know. Your degree doesn't matter and you don't have to go into the sciences.
Wait, what do you mean by that?
Your undergrad or whatever you specialize in doesn't have to be science to go into medical school. You could go into basket weaving as long as you take one or two science courses as prerequisites. People don't understand that. Many of the privileged people that get into medicine know it's just a numbers game and they know how to play the game. Meanwhile, we're trying to figure out how to get into schools and get good grades to earn corresponding degrees that are worth nothing. Although I could burn the life sciences degree that I got from McMaster, that's what we were taught to do; go get a degree. We tried to put as much of this information in the book as much as possible too.
In the tweet that announced the release of this book, it said that the hope is the book "will help break down some of the barriers for the next generation." Could you tell me what some of those barriers are and how the book helps break them down?
Obviously, this book isn't magical. This is not going to do anything to break down systemic barriers that have been built up purposefully over generations. We're doing other work to try to break those down. But this book in and of itself should be a stepping stone. This book is for that confused teenager in communities that don't have too many doctors to look up to. They can just look at this book and say, "Hey, these are the ways or the steps I could take to do this." It's reader-friendly and not overbearing. Something that also comes with the book is our contacts. You can contact us and we'll try to get you involved with ways to get into medical school. This is not just a book. We want mentorships to come from this as well. It's about networking and building up the Black community as much as we can.
This is an unofficial guide, meaning that it's not directly affiliated with any school or hospital, but what can these institutions do to contribute to your efforts and end goal for this book?
The institutions should implement Black student application programs with culturally competent people to review their programs. Some of these schools still don't have any Black students, so that needs to be the first step for these schools. Have an active Black student body that can change the culture of your class, so you don't have ignorant people coming out of your schools who don't know how to work on Black patients or work with Black skin. That's what we need to start breaking down. And you can't just throw Black people into these positions that don't work for them. We need to build infrastructures for them to thrive in those institutions. We have to have our own undergraduate programs and community supports that bring up our students and have good schools everywhere.
U of T offers a four-week program, called an observership, where high school students shadow various professionals to gain exposure to the medical field. They also have the BSAP program, which you've mentioned before. What are the benefits of outreach programs like these?
They give students a glimpse as to what could happen. The idea is that they want students from poor, Black, and racialized communities that don't usually have doctors in them, or who don't usually go to the University of Toronto, and send them for a month to experience what it can look like and what you can do. Hopefully, they inspire some kids. To be honest, I've seen a lot of kids get inspired and I know a lot of doctors who said they've been through that program. It was a big inspiration and motivational push at the time.
The tweet specifically mentions that "mentorship shouldn't come at a cost and it should be available for all." What is the state of mentorship in medicine now?
When we're talking about, especially when it comes to getting into these professional programs or getting ahead in these careers, it's usually who you know, not what you know. Knowing the ins and outs of these fields is something that should be given to our youth because that's the biggest stepping stone that they can be given. We don't want them to fall through the same holes that we fell in. We want to have the best for our people and we want to see them do better.
How should a prospective student go about finding a mentor and getting mentored?
Great question. I think the first thing is, it takes a lot of luck. It's not easy to find a mentor. People who have better resources get better mentors easier. Still, if you work hard enough, many connections can be made online. Nowadays, what we're seeing is people using Twitter or finding people's emails on public-facing pages. You can find people that you look up to, or people you see are in your field, and find something you want to talk to them about. They're more accessible now than ever, especially in the Black community. You may have to send dozens of emails to get the reactions you want, but in the end, it's about effort. If you know what you're doing, it's possible.
You mentioned earlier that there are 15 Black students in your class. How do you feel about having that many Black students in your class?
Oh, it's the best. I came to medical school expecting to just put my head down and do what I could for my community because I know where I come from. I thought I was just going to fly through, but being with them is kind of empowering. These people have the same type of experiences. We're all very different but we can bounce thoughts off each other and understand the isolation. All of us have always been at the top of the class, but never with somebody who looks like you. We are always trying to figure out how to fit in and how to do our own thing without losing ourselves. It's a whole dance.
The last question that I want to ask you is, how has COVID-19 and the pandemic affected the way you think about the field of medicine and your role within it?
I would say that COVID-19 hasn't changed the way I see my role, especially as a doctor during a public health crisis. The definition of public health to me has always been the overall well-being of every individual in the community, whatever you define as a community. If doctors aren't taking into account every aspect of public health, like education, housing, police violence, etc, then I don't think they're doing their job properly. As a doctor, you're supposed to take care of the patient. Now I think we're trying to change the definition of what a doctor does. The definition of what a doctor actually should be is that you advocate for your patient at all times, no matter what. A doctor can't just say, "I will be an advocate for them when they're in my office, but the second they get out of here, I'm going to vote to defund the whole system." Because what people don't understand is the Ontario Medical Association was the biggest non-party defender that got Doug Ford elected. It's these political groups that are spending money because they care about their own pockets over what happens to the health care system. So I think it's the power structures that need to change too.
The Unofficial Guide to Medical School covers topics such as finances, preparing for your interview, managing your wellness during the program, and more. The guide is available for free and can be found at http://canadianguidetomedschool.com/index.html