I can't recall if I was intentional with my goal of assimilation, but I was determined to become Canadian. And I chose the easiest thing first: music. I was naturally a music lover who had the privilege of having a brother who taught me to appreciate different genres. So I immersed myself in the local tv channels (Much and MuchMoreMusic), learned all the VJs names, from Master T, George and Nam to Devon, Hannah and Amanda. I watched Electric Circus every Friday night dreaming of one day having the courage to dance that freely.
I got through the difficult transition of migration and settlement listening to Chantel Krevizauk's album 'What If It All Means Something' and navigated a complex relationship with Sarah Maclachan's album 'Fallen'. I bopped on transit to K-OS and harmonized with Jully Black, Sugar Jones, Melanie Durant and Bedouin Soundclash. Though I did not own any albums by Our Lady Peace, Sam Roberts or Simple Plan, I could still easily recognize their songs as I strolled through stores and restaurants on Queen Street West so much that my best friend joked that I was too into "white" music. Deep inside I felt naively proud because (I thought it meant) I was close to becoming...Canadian.
I left Zambia right at the age when I'd be eligible to vote so I had never participated in the political process. I didn't fancy myself a fan of politics but, determined to become Canadian meant paying attention to who was in power and what it meant to be Liberal, Conservative, NDP or Green.
As an eager graduate who was also looking to build her resume, I chose to volunteer for a Liberal candidate in my riding. He was the most visible and appeared a community favourite so I figured he must be doing something right. Either way, I needed him as much as he probably needed me (and my vote) *wink, wink*. My best friend and I spent that summer at his office surrounded by his supporters calling to remind constituents to vote on election day and drop off flyers door to door. His team was kind, friendly and let us know they were grateful for our support. It was a glimpse into what it looked like when a community believed in and rallied around a candidate.
But as I evolved, I was eventually drawn to Jack Layton and the NDP. His passion, principles and down-to-the-earth vibe were enough to get my attention. Though I didn't volunteer for the party, I listened to his message and watched his actions and those of other NDP candidates. Though my allegiances have shifted over the years, I have continued to use this strategy to make voting decisions whenever election time has come around.
My first years in Canada were the toughest. Knowing what I now know about depression, I am certain I was depressed for almost two years. I spent days eating alone on the UofT campus and running to classes; from Sid Smith to St Mike's, the Bahen Centre to Vic college only seeing less than a handful of other people that looked like me or sat in my classes. Classroom conversations with my peers never extended past the lecture room. My nights were spent studying, journaling, and then going to sleep in tears.
It wasn't until I met my best friend and subsequently the Black Students Association (BSA) that I felt seen. And also, when I was introduced to a new identity: Black(ness).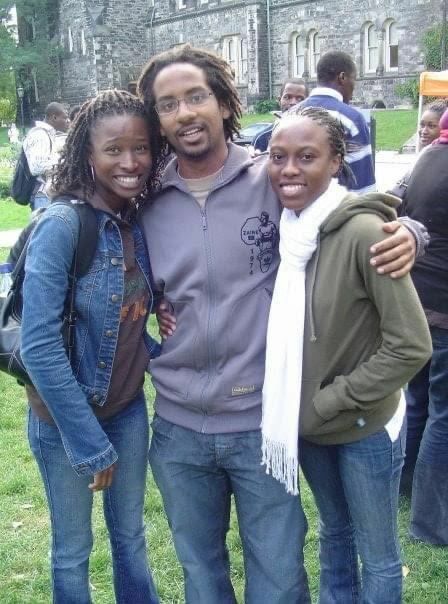 From the left: my best friend (Shanique Pinnock), former BSA president (Adom Jeffers) and myself after a BSA event on UofT campus (Hart House).
As odd as it sounds, I didn't realize I was Black until I moved here. I know my skin is Black, (duh), but it was not an identity marker. When I was living in Zambia, identity consisted of what city you lived in (Kitwe), what (high) school you went to (Ibenga Girls Sec. Sch) and what tribe you came from (Bemba). I learned that here, that doesn't matter. You're Black. Period.
Therefore, to Become Canadian has been to confront an unpleasant reality in the form of anti-Black racism and white supremacy. I have been called the N-word (as a joke they'd said) by someone I thought was a friend and a few years ago by a client at work. I've been ignored in stores, made to wait while others have been served, and suffered consistent micro-aggressions both personally and professionally.
But there are two incidents that stand out the most. The ones I have buried deep and tried to forget.
Small businesses were opening up in the neighborhood I was living in and I was looking for a dentist when I entered a new establishment, and was met with questions and scrutiny by the receptionist. I remember wearing a navy blue University of Toronto sweatshirt. What did I want? Did I have insurance? She badgered. I responded accordingly providing proof, despite feeling slightly surprised and irritated. She had a strong European accent and for a moment I thought she didn't understand me. A white woman in a white coat whom I can only assume was the dentist, proceeded to come out from a back room. I remember feeling slightly relieved thinking she was coming to help me, perhaps translate. I was wrong. She waved her hand and gestured for me to get out, literally chasing me out of the office. I remember trying to explain myself, "I go to UofT, I have insurance", I pleaded, but she was having none of it. I left, feeling shocked, angered, shaken and close to tears but afraid to be seen crying in public, so I ran back home. I remember how knotted my insides felt. How my heart beat so hard I could hear it, how my voice shook as I shared the story with a friend who lived an ocean away.
My voice still quivers when I retell this story, and also the story of the time I was unceremoniously fired from what I thought was my dream job. When I'd gotten hired I had no real knowledge of tokenism or performative allyship. My then bosses had never had an assistant and I'd never been one, so it was a mutual agreement that we were both learning and open communication was the key. My immediate boss made me feel at ease and encouraged criticism to reign them in. Months in he took me aside (right before getting on a flight) and ambushed me with a laundry list of criticisms giving me no chance to defend myself, stating I could read them over and email him back my thoughts.
I was furious but stayed calm and days later emailed him back, strategically referencing each critique and producing receipts of my efforts. The day I was let go was my first day back after being away on vacation (I'd just gotten married). When I entered the office, I felt the heaviness in the air, like I could lift it. No one made eye contact with me or smiled. As my boss led me to a nearby cafe, the uneasiness snaked into my insides wrapping itself around me tightly. But we'd had these cafe checks in every week for nine months so I shook the uneasiness off like dirt on my shoulder. We ran into my other boss who smiled in my face and joked about my nuptials while knowing his partner was about to crush me. I was so blindsided I didn't cry. He did. My first encounter with white tears. I asked if I could leave after he explained something to the effect of I wasn't performing up to expectation and refused to give me another chance. Months later, I found out they'd hired one of their own, someone younger, less qualified and who I learned shouted at them openly. It was one of the most difficult times of my life and the second time I fell into a depression.
Looking back, the Black Students Association and the friends I made there were my saving grace. I learned the history and contributions of Black Canadians and how they've been neglected in the curriculum and in history books. I then realized that growing up in Zambia, we were not taught African American or Black Canadian history so there were pieces of my identity missing. I learned that colonization had a lot to do with those reasons. I learned that I was connected to something greater - that Blackness was powerful and I could be loud and proud. I also learned that it can be painful, exhausting and at worst, deadly.
I'd be remiss however, if I didn't mention that becoming Canadian has also been the realization of my privilege through colonization to be on this land and my responsibility as an ally to speak up about the injustices facing the Indigenous peoples of this land and to fight for justice alongside them.
What I've learned along the way is that I didn't need to try to become Canadian by abandoning my identity. I didn't have to hide my accent or parts of my culture. I could be myself. In Blackness, I found community, and home.