But a Blerd is just a nerd, who happens to be Black. And in the world of sci-fi and fantasy, where anything and everything is possible that shouldn't be a problem, right? There should be room for everyone in Utopia. But how do you really imagine a world for yourself when you're never given room to believe you can be anything?
I wanted to know what other Black creatives who were into sci-fi and fantasy thought about Black representation (or the lack of it) in sci-fi. So when I had an opportunity to attend Black Women Film!'s TIFF picnic for Black women creating work in film, tv and media arts, I was geeked, to say the least.
Everyone I spoke to shared my feelings in various ways about the appeal of sci-fi in allowing you to dream of other possibilities, across all genres, including music, art, books and graphic novels.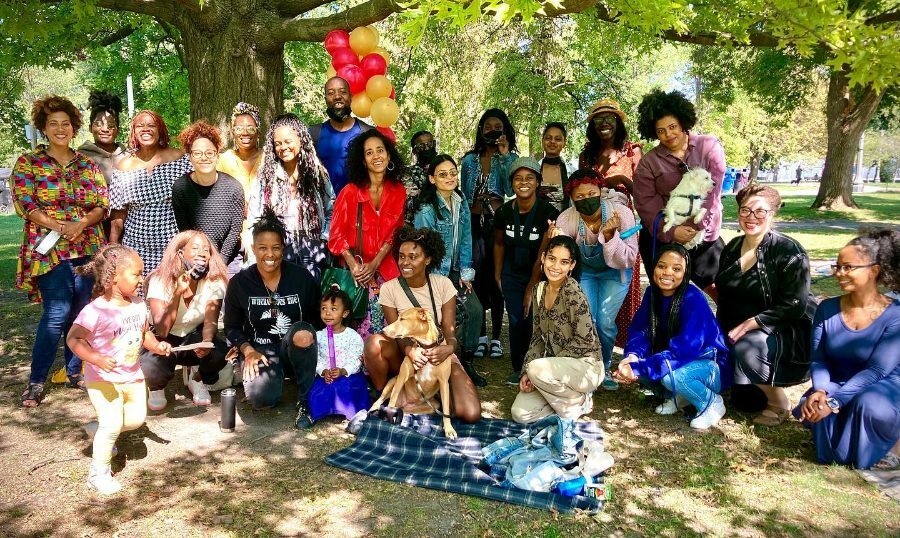 TIFF Black Women Film! Canada picnic. Photo by Ella Cooper.
Kaïa Kater, an award-winning Montreal-born Grenadian-Canadian, musician, writer and film composer mentioned something I thought was great about sci-fi in music
"Artists like Erykah Badu (Badubotron), Janelle Monae and Sun Ra Arkestra (Afrofuturism) all immerse their art in a kind of kaleidoscopic, futuristic lens. It's really creative and it allows them to bring us, the listener, with them to other worlds and spaces. And it's not a world of suffering either; it's really joyful and musical."
Vanessa Magic, award-winning Toronto costume designer, writer/director and I bonded hard over our multiple mutual interests in the sci-fi and fantasy realm and I'm stanning over her movie work. Sci-fi draws her in because of "the escapism and the thought of new worlds - worlds where a bit more harmony exists"
"In films, it's always the production design, the soundscapes and the costumes. I also love the idea of embracing the other".
When I asked my friend, award-winning Trinidadian-born Montreal-raised screenwriter Clint Murphy, what he liked about sci-fi, it's because of "the action and adventure of a new world."
"As a writer, it's about creating my own world. And imagining the endless possibilities my characters will experience in those worlds."
For Tochi Osuji, a Nigerian-Canadian writer whose recent piece 'Bloodworld' was an alternate world of Timbuktu in the 1700s it was because "it's exciting"
"You're being transported to a world that doesn't exist but could. I love how SciFi/fantasy has the ability to make grand statements on the most important philosophical issues. Once you create a new and interesting world, you force people to think about how it works. And ultimately reflect on their own reality.
Tochi's thought connected with my own about what happens when the reality reflected back at you is negative or one-dimensional in a way that traps you instead of freeing you? How does it affect our psyche when the images we're being fed don't offer an escape but instead just a loop of our current state of oppression? Does it matter if they write us as monsters in an imaginary world?
I asked my fellow Black creatives whether they think representation matters for Black people in sci-fi and fantasy?
Kaïa said, "Like anything, it's been varied. I think there's a lot of talk about diversity in casting, but not enough on diversity in narratives. Often Black folks have been included to serve traumatic narratives. And that's white supremacy right there in my opinion. It's Hollywood. I think if there were more stories that, say, didn't have suffering under racism as the base character arc, we'd have so much more time to imagine other worlds and characters. For example, I love Lord of The Rings, but it's literally all white people. And those characters are allowed so many character shifts, so much nuance, so much internal struggle. And for someone who first fell in love with Sci-Fi and fantasy through the Hobbit, it's like, where am I in that story? I don't exist in that story. I think that messaging is so rampant and ubiquitous, and it's damaging. It lacks imagination—it's boring."
Vanessa had some similar thoughts on the subject: "Equality is always good. But I don't think there is enough yet. Finally, we are at a stage where they are adapting Nnedi Okorafor, Octavia E Butler and Nalo Hopkinson books. But we are still lightyears away from these stories being the mainstream. With the successes of Moonlight, Black Panther, Candyman and I May Destroy You, you can't deny the audience is there longing for more of this representation."
Tochi thought, "It is good to have more Black representation as long as it's done with good intentions. What I see are white decision-makers trying to add Black folk as a spice to reheat leftover and stale white-owned material. That's offensive to me."
Clint mentioned, "I do believe the push for BIPOC representation is a very good thing because there are so many untold stories out there that need to be shared and to help shape a new generation. I believe it has been done well, A great sign of this progress was this year's Emmy's there were a high number of BIPOC nominees showing that the status quo is changing. But there is still much more to be done and as BIPOC creators and performers to strive forward.
Black Panther is exalted and put up as a symbol of hope only to be wiped out by Thanos in the next movie. Wakanda left us swollen with pride so we could be extra deflated when it was flattened. Knowing what Chadwick Boseman endured to make that movie made it all the more devastating.
The death of Michael Williams, which some have linked to the heavy toll playing his character in the horror drama, 'Lovecraft Country', makes me question if the price of representation is worth it if we don't control the narrative, especially when no one in charge is thinking about the mental and emotional impact on Black actors being asked to delve into their darkest places for our entertainment.
Sci-fi and fantasy are where many Blerds go to escape but sometimes our escape feels like a nightmare where we have very little control and even less access. How do we change this? What world do we need to imagine to be able to exist and dream of joy?