Justin Bieber, Drake and The Weeknd. They were joined by fellow Canadian Shawn Mendes the following week when the teen's single "Stitches" broke the top 10.
According to Eb Reinbergs, the man who trademarked "The 6ix", Toronto has even more talent to offer. Reinbergs is one of the country's most well-connected entertainment lawyers and a founding partner of Three60Legal law firm. Reinbergs has worked with high-profile clients such as R&B superstar Karl Wolf, electronic-music duo DVBBS, celebrity-chef Robert Rainford and Grammy award-winner Melanie Fiona.
Four years ago Reinbergs organized the Canadian Urban Music Conference, Canada's first city-style music conference complete with seminars, interactive-workshops and cocktail events. Reinbergs added to the Conference this year with the introduction of TDot Fest; a free all-day music festival celebrating both signed and unsigned artists from the GTA. This year's TDot Fest saw performances from Karl Wolf, rapper Rochester aka Juice and Chystina Sayers, formerly of Girlicious, as well as many others.
ByBlacks had a chance to chat with Mr. Reinbergs about Toronto's maturing music scene.
Pictured below: Eb Reinbergs talking at TDot Fest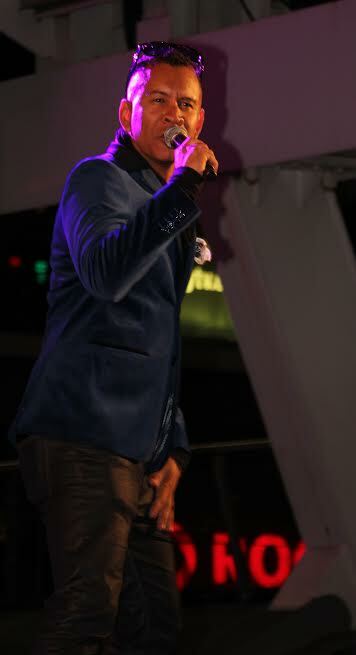 What has the successes of Drake, Bieber and The Weeknd done to the music industry here and abroad?
It shows that we're on the up. It shows that we as a city and a country have arrived. And that is the impetus here at TDot Fest. I'm taking the other 45 acts in the city and saying 'Hey! Here's a platform, get your music out there. You may not be at the level of a Drake but he started (from the bottom) somewhere. There are 3 or 4 acts performing tonight and I've talked to other people who think they're ready. This is an opportunity for them to showcase and exercise their skills, like a muscle, and build their ability to perform.
In an interview last year you said Toronto already has the musical talent but we have to build the infrastructure, how do we go about that?
First we have to recognize that there's a demand for urban music in this city. Once we recognize that demand we have to have the individuals to satisfy that demand, whether it be through showcasing the talents in clubs, or investing money into the artists so we can sell their music, whether it's streaming or distribution/ Only by giving them a stage like this can we see that there is a demand in the city. I don't just promote it; I'm putting my money where my mouth is. I tell these artists 'look at this Square. People are here to see you. I'll spend my money because I know it's going to come back and you have to do the same.' That's my duty in life, I just want people to recognize it and they will.
There were several workshops and conferences happening, what is the most important thing for the young artists and entertainers to take away from the conference?
I want them to know that the emphasis in the music business is the business. You've got to understand the business if you're going to be successful in it. For example, if you weren't here yesterday for the conference component then you don't get to go on stage today. If you're not willing to learn and hone your craft, then you're not going to get the chance to exercise the creative aspect of it. And I'm happy to say that yesterday was jam-packed. They loved it. And I only want acts in my conference or my show if -they're serious about their craft.
Carlin James, 24, a rapper from Hamilton, was one of the artists who attended the conferences and performed at the concert.
I heard that TDot Fest was your first open-air venue performance, what was that experience like?
It was a great experience for the CUMC, the fans and myself. I'm very strategic with where I perform and I felt that this performance made sense. I thank everybody who came and out and supported, look for my act to get better as time progresses.
What did you take away from TDot Fest and the conference?
I made a lot of good connections and I was able to showcase my talent and catalogue in front of fans of music. I was able to see which songs the people gravitated towards and which ones needed some work. Overall a great experience.
It's become easier to make music now that the tools are more accessible, but as an emerging artist how do you make yourself stand out?
There are now many platforms that can help propel artists to that next level, but the challenge is staying there. I stand out because I out work and outsmart the competition. It's all about making the right moves, and the right connections. In 2015 anybody can be famous, but it's staying relevant, that's the challenge.
Staying relevant is a challenge all artists face and one Reinbergs hopes initiatives like TDot Fest and the CUMC will help solve. But Reinbergs says it's something that can't be done alone and requires a joint effort.
How can everyday people help support and develop local artists?
Honestly, it's about hearing that one song. So if you see someone at a bar and you like their song, call a radio station to see if they have the track. Giving (the artists) support, going to the shows, showing that we, as a city, are going to support these local acts is where it starts. That $1.29 goes a long way.
What advice do you have for artists who haven't made it yet?
I like that word; persevere. If you're passionate about something don't stop. You can have 99 no's but the power of a "yes" erases those 99 no's. Like any sport, if you want to be good you have to practice, practice, practice. You have to get on every stage you can. You have to take the constructive criticism and don't be angry. Be happy someone said that so you can make yourself better. And maybe in a year, or three, you'll be where you want to be, where people are appreciating your work.
When you started off you were a corporate financial lawyer but you said it wasn't something you were passionate about. Why is it important that people stick to their passions?
Because if you stick to your passion, you'll never work a day in your life. You can make money from anything in life but the only way to be successful is to love what you're doing because you're going to work at it day and night and become better at it than the next person. Think about what you'd do if you won the lotto and do it now. The first element of success is to follow your passions. You have to experience it to know it but it's 100% true.