The group of 17 singers, rappers and Dj's hails from all parts of Canada including Toronto, Manitoba, Nova Scotia, Newfoundland, and Montreal. They'll all take the stage during the concert on August 13 at Mod Club.
Honey Jam is known to showcase some of the best female artists in the country. More than a great source for talent, it is a mentoring opportunity for up and coming artists. Songwriting workshops, vocal performance training, and music management lessons are some benefits of the Honey Jam experience that help finalists prepare for the international stage.
With a beautiful view overlooking the city, the crowd was welcomed with a delicious spread. In her greeting, Honey Jam's founder Ebonnie Rowe was quick to credit sponsor TD Canada for making it all possible, though emphasizing, "We are still a struggling non-profit" in need of support.
Like years before, guest speakers shared their experience and knowledge with the crowd. Last year's finalist Nefe and pop star Victoria Duffield attended the event. Nefe, now signed to Universal Music, spoke about the opportunities she received through Honey Jam and encouraged the talents to use the platform to "sing your heart out" and connect with people.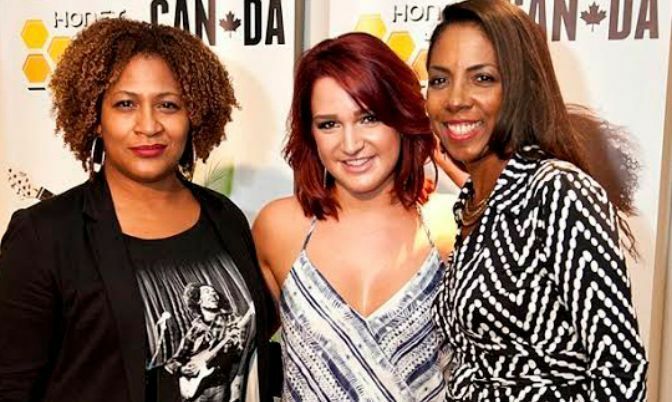 Vivian Barclay of Warner Chappell Music Publishing, recording artist Victoria Duffield, Honey Jam Founder Ebonnie Rowe
Victoria Duffield in a Q & A session with Warner Chappell Music Publishing's Vivian Barclay spoke candidly about her journey as well as her involvement in the music process. The twenty-year-old artist who is without management at the moment started her career as a dancer. After a few commercials and acting gigs, she got major exposure through Canadian kids reality YTV show "The Next Star". When it ended, she was approached by the show's vocal coach, who recorded a song with her and sent it to Warner Music Canada. The B.C native was signed to Warner Music Canada in 2011 at only 16 years old—the youngest person ever signed on the label.
In the music industry, a great concern for young talent is the pressure to compromise their image or comply with industry standards to sell records. Though this was something Victoria was initially scared of, she said it is no longer a concern for her because she's made an effort to set boundaries. She advised the group – with talent as young as 16 — to do the same.
"You just have to lay out what you want to talk about; what you're comfortable singing about; what kind of artist you are. Are you comfortable putting a swear word in a song? Are you comfortable talking about this? Sometimes I'm like no, I don't want to talk about this. Don't be afraid to speak up. If something's uncomfortable or you don't like something, say I'm not comfortable with that. That's not me. I wouldn't wear that. I wouldn't do that. I wouldn't say that. Don't be afraid to speak your mind because you are the person that's going to be representing that article of clothing or product later on."
Building excitement for the August showcase, the 2015 Honey Jam finalists gave the crowd a taste of what to expect with a group performance of Duffield's debut hit "Shut Up & Dance". The artists, who had never met before, gathered just minutes prior to the start of the launch to practice.
The talent is undeniable, leaving us excited to see who will be the next breakout artist to emerge from Honey Jam.