Karrueche is in town to celebrate her grandfather's 90th birthday and to host an event.
The afternoon started off with volunteers and visitors assisting Karrueche and Karla with the distribution of sandwiches and clothing in the park to those in need. Later, the crowd relocated to St. James Cathedral Centre to hand out the remaining contributions to walk-in visitors. The public's generosity was well received by the centre, which welcomes drop-ins on Tuesdays between 1:30 pm-3:30 pm.
Karrueche started the food and clothing drive in November of last year when she was in Toronto. "It was freezing out here. I had Karla helping me out. It was really nice. It was the same kind of thing but much smaller than this. We brought food and water and because it was winter time we had tons of socks, ear muffs and gloves. We ended up just coming here to drop it off and we made a connection. I'm here again for a week, and I thought, we should do it again. I hit up Karla and it was such a great turn out. I didn't expect it to be this big."
Karrueche says her influence as a celeb is a reason to get involved in charity work. "I travel a lot and I have a platform now, so I want to be able to spread positivity and love." There was not much media frenzy or hype around the three-hour event, though there were definitely some star-struck people in the crowd.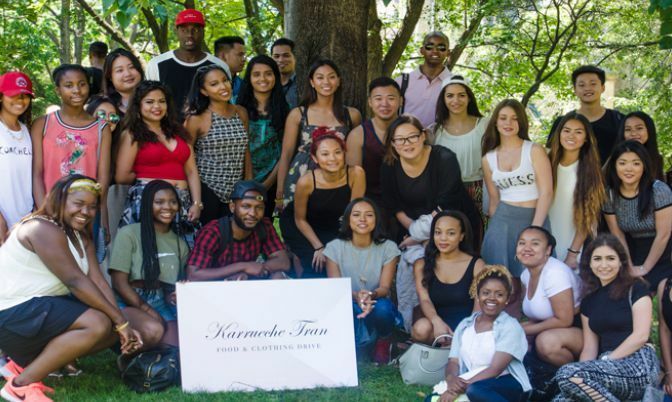 "People are asking me for pictures, but I wanted to make sure that we're here for what we're here for: a cause. I don't want it to be, oh, people are here to see me. No, I want it to be that people are here to give back to their own community. Although this wasn't on a grander scale, it's okay. People within your community were able to receive stuff that we take for granted. Toothbrushes, water, lotions, pads, tampons, we don't necessarily think [about] stuff like that because they are so accessible to us," says Karrueche.
She continues, "It doesn't have to be, publicity-wise, on a big scale. I don't care if people on social media know – that's not the point. If I can spread the word to more people and bring in more stuff that's good. I would most definitely love to have it on a bigger scale as far as just spreading the word and bringing more people in to give back."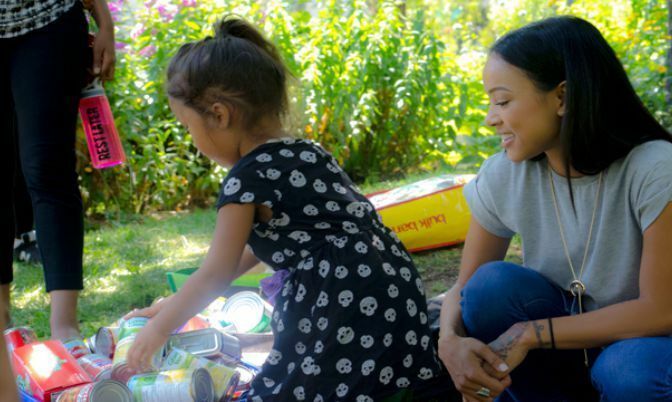 Karrueche has been a part of other charitable events in and outside her home. "Every city I travel to, I try to do something charitable— even back in LA." In Los Angeles, she is in involved with the AIDS Project, where she participates in the AIDS Walk; as well as volunteers with the Children's Hospital. "I do things on my own, like this. It's easy and it brings out a lot of people. It doesn't have to be an organization like the U.N. or whoever. Any form of giving back, to me, is a good deed. It's a great gesture," she adds.
Karrueche says she will be doing the drive again, the next time she returns to Toronto.