The event, presented by Jamaica Tourist Board and organized by JACANA, marked the start of a three day event series celebrating Jamaica's culture and the Jamaican athletes at the PanAm/Parapan Am Games being hosted in Toronto.
Jamaica Tourist Board director in Canada Philip Rose played host to a room of media reps, sponsors, industry people, athletes, and special guests. Though there were only a few athletes at the event, other names on the guest list proved that Jamaica House is a place "where winners meet".
President of Jamaica Paralympic Association Christopher Samuda; Senior Advisor in the Office of the Prime Minister Dahlia Klein; High Commissioner for Jamaica to Canada Janice Miller; chef de mission for Jamaica's team Jacqueline Walters; and, Toronto's G98.7 FM President & Founder Fitzroy Gordon were among the crowd.
After showing appreciation to sponsors and guests, Rose, who mentioned "When you have an audience you need to say or sell something to them," sold the crowd on Jamaica's impactful culture and the country as "the most diverse destination in the Caribbean". Jamaica House, he said, is a way to "sprinkle some spice" into the Pan Am initiative.
Miss Jamaica Universe Kaci Fennell, in an elegant white outfit, made a dazzling appearance, capturing the room's attention. Rose invited her on stage and jokingly encouraged the media to get a buzz going. The pair was later joined by some members of Jamaica's Pan Am team and band Rootz Underground for a photo op.
When Kaci Fennell was shockingly named the fourth runner up in Miss Universe 2015 many thought she was cheated out of a top spot. The crowd's loud disappointment when her name was announced (not to mention the #MissJamaicaShouldHaveWon hashtag on Twitter) was evidence of this.
Misreading the boo's, Fennell said, "I thought they were booing me. I was like, oh my God, why are they booing me? After the fact, I realized, no one was booing you, you silly girl. When they lifted me, I was like, wait, I don't know what's going on here!"
Despite the controversial loss, Fennell says the pageant has only reaped positive benefits for her.
"I am going to countries I've never been to; Canada is one of them, for example. I am able to visit our neighbouring countries in the Caribbean. I am going to be travelling even more with new deals that have come my way. I have been blessed and it's all because I went on Miss Universe 2015 and I did my best. I am so grateful for that."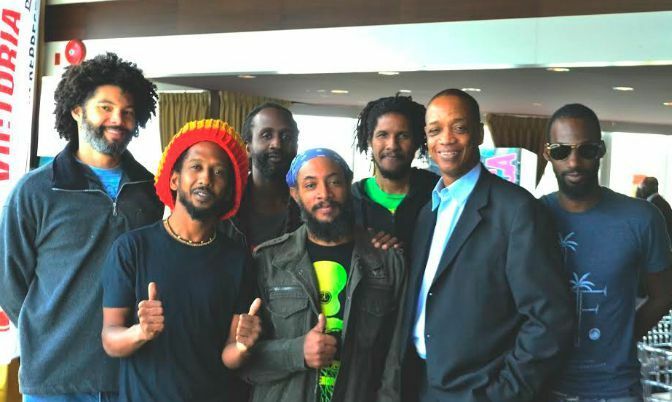 Rootz Underground with Fitzroy Gordon, G98.7 FM President & Founder
Unfortunately, due to technical difficulties that had nothing to do with the band, Rootz Underground was not able to perform. Attendants used the time to mingle, enjoy Jamaican cuisine – which was definitely the highlight of the event— and bask in "drink, revelry and good ole Jamaican fun" as Rose encouraged in his greeting.