After waiting five minutes at the meeting point--which you learn of the day before--a band of musicians takes stage on the sidewalk and starts singing. No slow curtain parting or big reveal to signify the beginning of The Postman—a site specific play about Canada's first Black postman Albert Jackson (played by Laurence Dean Ifill).
With a playground as their backdrop, the performers lull the crowd with a medley of music foreshadowing the mixed mood of the evening's events. Some people tap, clap and sing along softly as the band makes soulful magic. Once our interest is engaged, the music ends. We hear the booming voice before we see its owner. Jackson appears donning his postal service uniform. After his brief introduction, Naomi Barriffe's character speaks for the audience by asking to follow Jackson on his route. The production is then put into motion, and the band leads us to some of "the porches of the very homes" Jackson delivered mail to in the Brunswick Avenue area in Toronto.
The Postman is a melodrama produced by Appledore Productions and commissioned by PANAMANIA. Using flashback, narrative and music, artistic director David Ferry tells a compressed story of Jackson's journey and family history. Jackson, the youngest of nine children, was born in Delaware into slavery in 1856. After losing two children and her husband Jackson's mother Anne Maria Jackson (played by Karen Glave) fled with her other children from Delaware to St. Catharines, Ontario via the Underground Railroad. Later the family moved to Toronto, where in 1882, Jackson applied to the Postal Service.
Despite getting the job, verbal and physical abuse shadowed him from day one, where he was given a broom and resigned to porter duties. The Black community, wherein Jackson's family was well known and respected, would not stand for it. With his eye on the Black vote, Canada's first Prime Minister John A. MacDonald intervened and declared that Albert Jackson be allowed to carry out his route "without obstruction and prejudice".
The production is a noteworthy tale whose strengths lie in the exceptional performers and the immersive nature of how the story is told.
A 17 member all-star cast delivers an emotional rendering, and every scene gives performers notice-- from Raha Javanfar's violin solo to Layne Coleman's humorous moments. Nicky Lawrence, Ngabo Nabea and Matthew Brown create rippling effects throughout the sky as they pour their hearts into original songs created by Saidah Baba Talibah and Brooke Blackburn. Combined with traditional folk songs, Talibah and Blackburn's music carries our spirit along hills and valleys.
Other than constantly feeling sympathetic towards the drivers waiting patiently for us to cross the road, there isn't a single mood leading the evening. Sadness, anger, humour, curiosity and confusion take over as actors relay dominant themes of Racism & Prejudice; Love & Family Relationships; and Freedom & Equality. Jackson's encounters with his white racist co-workers stir the most anger. You are not prepared to hear one of his white co-workers ask, "What's the difference between a bucket of shit and a ni***r?" or when you witness the swift kick he receives as he bends forward to retrieve his postbag off the floor.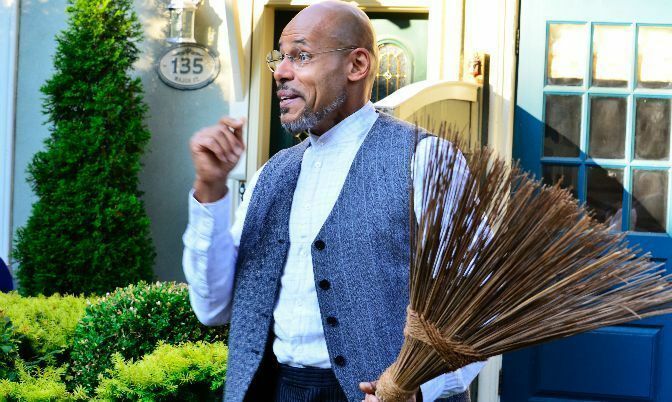 The most memorable moment, however, is the solo scene of Jackson's father (played by Maurice Dean Wint) lamenting over the loss of two of his children. One minute, Wint cuddles a broom like it was a new born; the next, he plucks at the bristles, counting and recounting all nine children. With every stomp, quiver, grunt and pause Mint relays a grieving man trying hard not to break down; a man working hard at keeping on. He "sweeps" instead of weeps – seemingly sweeping out a pain that would hurt more if he allowed it to mount in his house. "What good is freedom when heaven gives you nine and you're left with seven?" he asks. Watching him, I think of the families who were separated during slavery, and imagine how separation must have felt like death when you have no control over if and when you would ever see your loved ones again.
But where some scenes run deep, there are others to lighten the mood. The political humour is not lost on the audience. And Miss Van Peet's (played by Claire Armstrong) awkward interest in Jackson also breaks the heaviness of the play.
Though I'd be interested in seeing how spectacular The Postman would be on stage, the mobile nature of it is intriguing. The outdoor element makes it feel like I have stumbled upon a movie set; other times, like an inquisitive neighbour peeping through different windows of the house in order to spy on my neighbour. But my presence doesn't always go undetected. At some points, actors walk among the crowd, delivering lines accompanied by powerful stares. Roy Lewis' preacher like character overlooking the crowd gives you the feeling of sitting in on a sermon. The actors' ability to remain in character as they closely face the audience and distracting pedestrians passing or stopping to ask questions deserves respect.
The walking is less than I expect, and the slight costume changes among actors performing multiple roles keep the production moving steadily. Manoeuvering around cars parked along the street to see the porch is an inconvenience. And unless you're at the front or you're a tall person at the back, getting an unobstructed view takes effort. It is possible that this problem is exclusive to the Brunswick Avenue route since the production's locations change.
Showing the highlights of Jackson's story leading up to being Canada's first Black postman allows much to be packed into the hour-long production--which originated from a 2.5 hour script. Understandably you sense that something is missing and the play doesn't flow as smoothly. Nevertheless, if the play becomes a longer production with more focus on Albert Jackson's character there is an impetus to see it again.
The next show is on Sunday July 26th. To learn more about the production, cast, and tickets visit www.thepostmanwalks.com.