After opening performances from artists, D.R.A.M and Travis Scott, the rapper from Compton, California, blasted on to the stage, shouting the opening line from the track D.N.A., off his most current release, DAMN. The arena was charged with his powerfully magnetic energy; everyone was on their feet, bouncing vigorously, doing their best to keep up with "loyalty inside my D.N.A". With my eyes fixated on the stage, absorbing the vibration of each line, it was even more clear to me what the fuss around Kendrick Lamar is all about.
Growing up in the 1980's and 90's most of the hip-hop music I exposed myself to managed to capture the essence of the socio-political resistance of which rap and hip hop music was born. Of course, any hip-hop fan of my generation would be disingenuous to suggest that the music was, even in the earliest stages, all about resistance. Along with stories of resilience and triumph over the adversities of racism and classism, there has always been themes of sexism, glorification of violence and criminality in the music and within the culture. As time passed, and hip hop became more and more a part of mass culture, it also became increasingly clear that the music was losing an integral part of what the genre needed to preserve, to continue promoting pride and resistance.
I joined the Kendrick Lamar fan party a bit late. I was turned on to Lamar about three years ago when I first heard his verse on Big Sean's, "Control" single and by that time, he already had two studio albums and a critically acclaimed mix tape circulating within the mainstream. As a moderately serious hip hop fan, that verse got my attention. I felt like I was holding my breath; I was completely still for three minutes, as I listened to every well placed word. With nostalgia, I often romanticized the days when hip hop artists crafted rhymes that provoked reflection, rhymes that made you want to do more than bounce and sway. Of course, there are a number of hip hop artists, new and old, who have continued to push out fairly decent music over the last two decades but there is a sharp, unique quality to Lamar's style that is undeniable.
Lamar has remained a steady and remarkable force within hip-hop since his mix tape Overly Dedicated, released in 2010 when he was 23 years old. His songs reflect a sequence of personal stories that connect to the lives and experiences of his fans. Although themes in his music frequently reflect some of the language and behaviour in which hip hop is commonly criticized, his approach to topics such as sex, violence, misogyny and materialism expose a deeper, more provocative narrative which often challenges the everyday tropes of hip hop culture. In an age when radical Blackness and resistance to mass culture is unpopular and hip hop artists are often forced to "dumb down" their lyrics, the evidence from his first studio album "Section 80" to his fourth and most recent "DAMN.", tells us that Kendrick Lamar knows who he is, what he stands for and he expresses this unapologetically.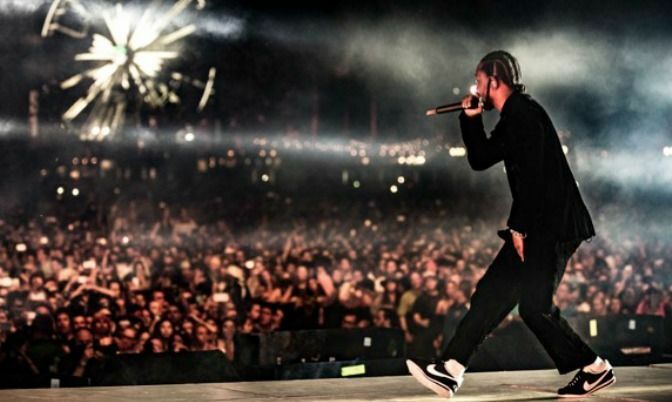 But what does Kendrick Lamar really mean to his younger generation of Black fans? I spoke to a few of them at the concert. One sixteen-year-old black girl noted, that even though some of her peers seem to enjoy hearing about sex and excessive drug use in music all the time, she does not. She wants to enjoy the hip-hop music like everyone else so she appreciates Kendrick's lyrics for giving her something else to think about. Ryan Marshall acknowledges Lamar's exceptional storytelling style, "he has an uncanny ability to put together an album that not only tells a story but is cohesive enough to feel like he's narrating through a movie." Another young man described Lamar as the meaning of self-expression, authenticity and truth. He said, "Kendrick Lamar means I am not alone, as cliché as that sounds". Lamar's music provides access to a form of artistic symbolism that relates to lives of Black people.
I asked 24 year old, Alyiana Martin the same question, her response struck me; she said, "Kendrick has been the saviour of my generation. It is hard to be young and Black in this city, and in this world. Trying to succeed and make it to a place and age your friends never were able to live through. He is what everyone my age needs, he is a mentor and he's unapologetic about his self-expression. Dude is inspiring."
Her words reminded me of the reason I, and other Black men and women like me connected with hip hop growing up and continue to seek solace from the now co-opted genre that was created to speak to and for us. I realized that in spite of the generational shift, and the often dangerous perspectives heard in hip-hop music, that Black fans, regardless of age, continue to hope for and seek out authentic voices within hip hop. Voices that represent the realistic, common tensions faced due to the complexities of the Black experience.
In recognizing this, hearing the accounts of young Black hip hop fans and understanding fully how hip hop speaks to common Black experiences, I was saddened by the absence of Black fans. Lamar also surprised a crowd at his pop up shop in Toronto earlier that day. Mostly young white people lined up for hours waiting for the star. At the concert, I was surrounded by non-Black fans screaming Lamar's thoughtful and deliberate pro-Black lyrics. I gasped as I listened to the two white young ladies above me, continually yell the word "nigga" with no consequence; "If I gotta slap a pussy-ass nigga, I'ma make it look sexy" they say as they rap along to ELEMENT. While trying my best to continue to enjoy the show, I wondered what it would be like to share this experience with an arena filled with young Black people For them, Kendrick Lamar is more than just another hip-hop artist to commodify. For them, he represents more than a dope beat or that quick and non-threatening look into the Black experience. For young Black fans, Lamar represents a connection to humanity that many Black youth feel excluded from on a daily basis.
I don't think there will come a time that hip hop will be free of the messages and themes that many adults find deplorable. Much like the reality of life, the music will also reveal and perhaps normalize, the tensions of racism, sexism, homophobia, and all other forms of oppression. However, it is important for all generations to know and understand the history and power of the music and culture. Hip hop can be used as a tool for critical self-expression and empowerment. Even with his excessive use of the N word and other forms of profanity in his narrative, Lamar and perhaps a few other more conscious hip hop artists of the day represent hope for the generations of Black people who similar to the era in which hip hop arose, are still feeling lost and pushed to the margins.