YPT will offer a refreshing new take on L. Frank Baum's classic musical, including a number that was cut from the original movie. They're also taking a diverse twist with a black actress as Dorothy. We sat down with triple threat performer Vanessa Sears. She was born in Deep River, Ontario of Jamaican and Guyanese heritage, and is a recent Honours graduate of the Sheridan Bachelor of Music Theatre Performance program.
You've been a kind of shooting star even before you graduated. With a stand out role in Brantwood while you were still at Sheridan and then landing the role of Nicola in Kinky Boots almost straight out of school. What has all this success so soon been like for you?
I actually didn't have any time off after Sheridan; the first day of rehearsals for Kinky Boots was the day after Brantwood closed. It was really incredible getting to be a part of such a huge production right out of school.
It was intimidating, I was literally working alongside people who I had learned about in school. It was very surreal, I felt honoured and grateful to have gotten the role. It was humbling to make my professional debut in a Mirvish production. I think some people were worried I'd become a diva, but being young and fresh out of school gave me a sense of responsibility. There was a lot of pressure to prove, mostly to myself, that I was worthy of being in the room with so many incredible performers. I wanted to prove that I was the right choice for the job. Eventually, I gained confidence in my choices and my abilities, and I got more comfortable in rehearsals and at the Royal Alex.
But I couldn't have done it without all the love and support I received. Taking a bow on opening night to a packed theatre full of screaming friends and family was an experience I wouldn't trade for anything in the world.
I took my final bow March 13th and started rehearsals for Wizard of Oz March 14th. I was really hoping to close the show with everyone, but in the end I chose to go on a new adventure with Dorothy. The lovely Elena Juatco has joined the Kinky Boots cast as Nicola and she's doing a fabulous job.
Can you tell us about how you landed the role of Dorothy, what was the audition process like?
The audition process was pretty standard. I went in knowing I was auditioning for the Wizard of Oz, but I wasn't yet being seen for a specific role. I sang a song and did a monologue, and I actually thought the audition went really badly! I was genuinely surprised I got a callback at all, let alone for Dorothy! But I went back in with the specific material for the character (scenes from the script and two songs). There was a great energy in the room, I got re-directed a bit and felt good playing around with the material, adjusting to what they were asking for. A while later I got the call from my agent that they were offering me the part.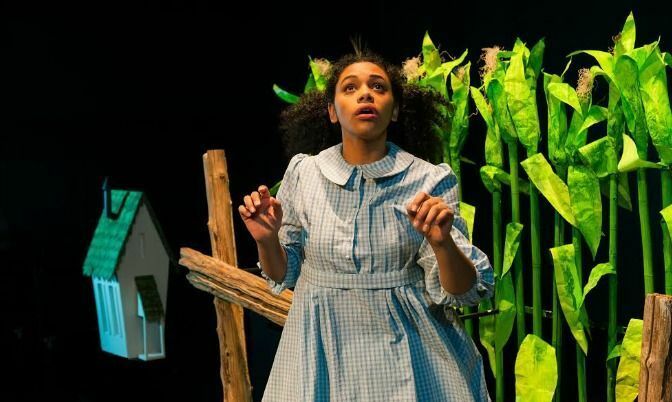 Vanessa Sears as Dorothy/Photo Credit: Avital Zemer
I can remember dreaming of auditioning for the part of Dorothy when my elementary school was putting on Wizard of Oz one year. It was just understood that only a white girl could play that part. What does it mean to you to be able to step into this role?
I'm really excited to be playing Dorothy, but I'm especially excited to be performing as a black actress in a leading role for young audiences. I think it's important that children of all backgrounds see themselves reflected on stage (and screen etc) in positive roles. Dorothy is such a representation of childish innocence, imagination, playfulness, she reminds us of the good in the world. I think seeing such purity portrayed by a young black actor is wonderful. I think it's always exciting when productions cast someone unexpected for a role and stretch people's preconceived notions of what characters should look like.
From your acting credits though, it seems like you have a track record of stepping into traditionally "white" roles. Eliza Doolittle in My Fair Lady and Belle in Beauty and the Beast for example. Do you feel like you've faced any challenges because of your race?
I've been very lucky so far in my career. For the Kinky Boots casting call the role of Nicola was for a caucasian actor, so I was pleasantly surprised to be called back for and eventually land that role. I believe I was the first woman of colour to play Nicola, if not the first woman of colour to be in any Kinky Boots production at all. So I've been extremely fortunate to have auditioned for teams that were looking at performance, not skin colour.
In 2016 I think being an ethnic actor is generally more of an advantage than a hindrance. Many companies are actively trying to diversify their casting and are opening up new opportunities to ethnic performers. People are more willing to challenge preconceived notions of which actors can play which parts, and the public holds theatre companies more accountable for unnecessarily white-washing their productions.
I've been fortunate not to face many challenges based on race in my career, but I know that this may not always be the case. I'm hopeful that when I face those types of challenges in the future I will be able to rise above them and continue to push boundaries. I will always aim to play the parts that I feel connected to, not just the parts that are mandated to be black. That being said there are many incredible roles that are specifically for black actors that I would absolutely love to play. Nala in the Lion King and Nabulungi in the Book of Mormon.
Do you feel like we've reached the point where any actor can play any role despite their race?
I think unless a show requires specific racial casting for the plot to make sense there's no reason any person can't play any part. It's exciting to see people from different backgrounds work together, as they bring different ideas and values regarding culture, socio-economics, religion, etc to a production. If you're working with diverse people, you end up with deeper discussions and a wider variety of ideas to play with. In the end I think you should pick the person who's best for the part, regardless of race.
What is your dream role that you want to land?
I recently saw The Color Purple on Broadway and added Celie to my list of dream roles. I'd also love to play Sally Bowles in Cabaret. And of course it's a goal of mine to play a lead in a Sondheim show someday!
Can you share your most important piece of advice for young actors?
Make bold choices, see as much live theatre as you can afford, and never stop learning or asking questions.
The Wizard of Oz
MAINSTAGE | April 4 to May 15, 2016 | Recommended for ages 5 & up
Opening: Thursday, April 7 at 7 PM | Weekend matinees: Apr. 9, 10, 17, 23, 30, May 8, 14 – 2:30 PM
Apr. 16, May 7 – 2:30 PM & 7 PM; Apr. 24, May 1, 15 – 11 AM & 2:30 PM
School Matinees (open to the public): Apr. 4 & 5 at 10:15 AM | Apr. 6 & 7 at 1PM | Apr. 13, 15, 20, 22, 27 & 29; May 4, 6, 11 & 13 at 10:15 AM | Apr. 12, 14, 19, 21, 26, & 28; May 3, 5, 10 & 12 at 10:15 AM & 1PM
Young People's Theatre | 165 Front Street East, Toronto
Tickets: $10-$45 + HST & service charges | Online: youngpeoplestheatre.ca | Prices subject to change without notice
Box Office: 416.862.2222 | For more information visit youngpeoplestheatre.ca