Although one of the most successful and beloved Broadway musicals in the world, what made it score a resounding applause at the end of being featured on a stage in Toronto was the delightful singing, seamless choreography, excellent acting, and that the characters reflect the diversity of this city.
Multi-award-winning African Canadian actor, Vanessa Sears, is Mary Poppins, the "practically-perfect" nanny who sings, dances and makes magical moments happen in the life of this family.
The warmth she exudes and her talent endears an audience to her easily in this world of fantasy mixed with practical life lessons.
Two years ago, Sears starred as Dorothy in YPT's Dora Award-winning production of "The Wizard of Oz."

In Mary Poppins, Jane and Michael's father insist upon precision and order in their household. But when the children write their own advertisement for a nanny, their dreams are answered with Mary Poppins.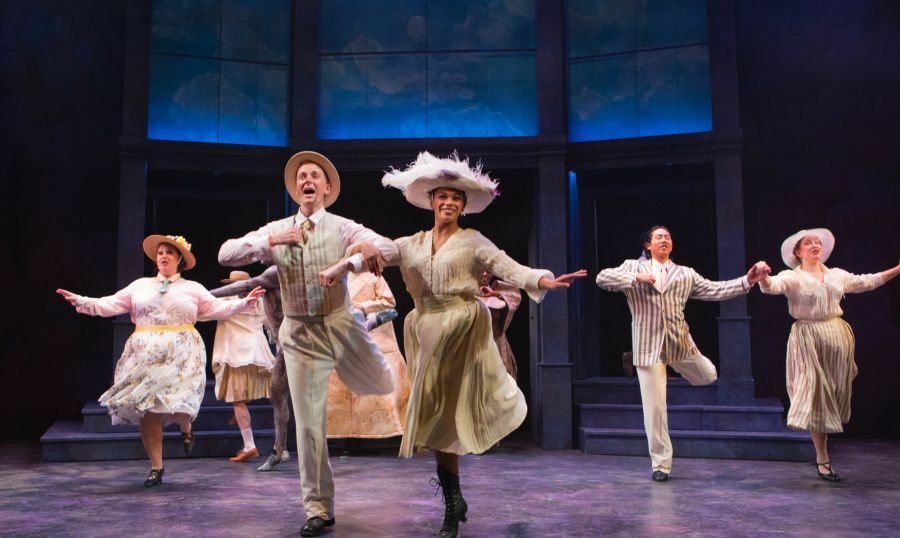 The entire Banks family learns a great deal about each other through Mary, who has the uncanny ability to turn everything upside down and, miraculously, just right.
As Mary Poppins, Sears is kind and thoughtful in teaching Jane (Jessie Cox) and Michael (Hailey Lewis) to be considerate and that there are more things of value in life than money and material wealth.
Cox, as the white daughter, and Lewis, as the black son, are curious kids growing up with many privileges who need a nanny in their lives to teach them about caring for others and sharing what they possess.
It is through the children's instigation and Mary's example that Mr. Banks (Shane Carty), their white father, learns the importance of family and helping others who are less fortunate.
Jewelle Blackman, a Toronto-based actor, singer-songwriter, playwright and violinist, plays Mrs. Banks, their black mother who has a Trinidadian accent, and whose conscience counters that of her husband.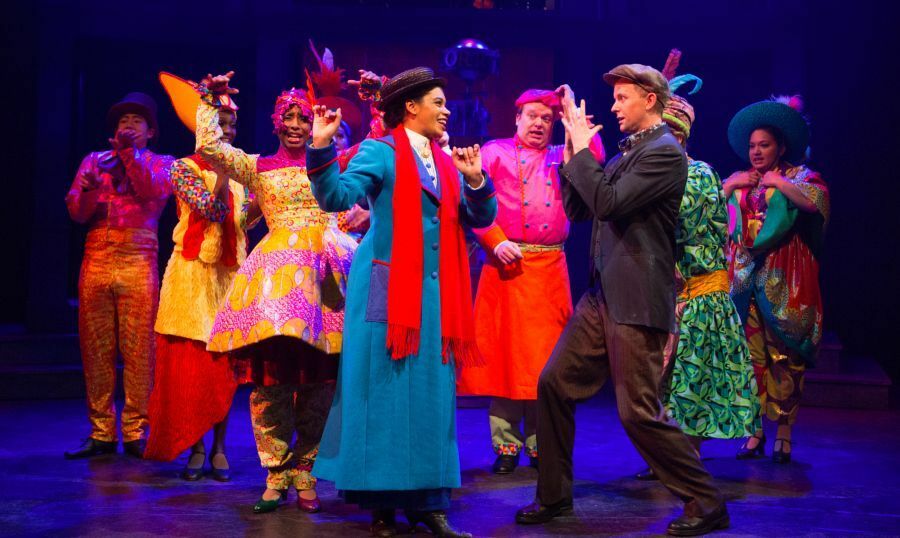 Director, Thom Allison, has much of the action happening within the Banks' home and outdoors in parks, on the rooftop of a building, in the sky, and within a bank.
Under his direction, the pace of the musical is even and the sequence of scenes flows uninterrupted throughout the production.
Mary Poppins beams under the inventiveness of the creative team which includes musical director, Wayne Gwillim; choreographer, Kerry Gage; set designer, Brandon Kleiman; costume designer, Bill Layton; lighting designer, Jason Hand; sound designer, William Fallon; stage manager, Andrea Baggs; and assistant stage manager, Emily Mewett.
The musicians are Geoffrey Bruce, percussion; Michele Jacot, winds; and Erik, Larson, bass; the assistant director is Darwin Lyons and Jane Gooderham is the dialect coach.
The songs are catchy and the costumes bright and apt for creating the mood of the scenes in the musical.
Starr Dominigue who plays Mrs. Corry and Hailey Lewis who plays Michael are the two other African Canadian cast members.
Dominigue has performed all over the United States, Europe and Canada – most recently at the Shaw Festival – and she was "excited to be back in Toronto doling out her own spoonful of sugar" to the production. This is Lewis's YPT debut as Michael.
The remaining cast members are Jak Baradell, Kyle Blair, Jarret Cody, Kyle Golemba, Aisha Jarvis, Jordan Mah, David Lopez, Jade Repeta and Sarah Lynn Strange.
Mary Poppins is a must-see for the whole family this upcoming holiday season and is on stage on the Mainstage until January 6, 2019.
A black and talented Mary Poppins can have a positive impact on not only a family but a whole village – everyone she encounters – and knows when to make her exit when her job is done.


Young People's Theatre (YPT) is the oldest professional theatre company in Toronto and is a national producer and presenter of theatre for young audiences – the first of its kind in Canada.
Go see Mary Poppins, you'll be singing along and you'll leave the theatre smiling from the experience.
Photography by Cylla von Tiedemann
Neil Armstrong is a Toronto-based journalist who freelances with the Jamaican Weekly Gleaner, Pride News Magazine and Caribbean Headline News aired on Rogers TV. Previously, he worked at Radio Jamaica Ltd.(RJR), CHRY 105.5 FM (now VIBE FM) and CJRT FM (now Jazz FM).