Alvin Ailey returns to Toronto in February to celebrate this milestone anniversary at the Sony Centre. "It is a privilege to return to Toronto as we honour Ailey's storied legacy. We hope you will join us to be uplifted during our "Ailey Ascending" 60th anniversary performances at the Sony Centre!" says Battle.
Ailey's 32 extraordinary dancers will reveal the power, passion and astonishing beauty that have become a hallmark of the Company, performing exciting premieres and repertory favorites, with the must-see American masterpiece Revelations as the inspiring finale for all performances.
ByBlacks spoke with one of the prolific dancers who has been with the company for nearly a decade.
Daniel Harder began taking dance seriously when he enrolled at a performing arts high school in in Maryland. He is a graduate of the Ailey/Fordham BFA Program in Dance, where he was awarded the Jerome Robbins/Layton Foundation Scholarship. After dancing in the European tour of West Side Story, Harder became a member of Ailey II. He joined the Company in 2010.
What did the Alvin Ailey company mean to you, as a young dancer?
Seeing the company as a young dancer was truly a gift. To be able to look up on the stage and not only see myself in the many talented artists performing, but to also feel represented through the different works that were performed was key in my falling in love with the Ailey company.
You've been with Ailey almost 10 years now, can you describe what the last decade has been like?
The last decade with the company has been exciting. I was fortunate enough to be selected by Judith Jamison to join the Company during her last season as Artistic Director. Working under her was phenomenal. Her pursuit of excellence and passion for driving her dancers to thrive helped me build the foundation that I still use to keep me moving forward year after year with the Company. The last eight years with our current artistic director, Robert Battle, has been just as monumental. Mr. Battle's development of the repertory has challenged me in ways that I never could've imagined and allowed me to discover many new and exciting paths in my artistic growth.
The company itself is now 60 years old. How do you think it has managed to stay relevant all these years?
I think the Ailey company has continued to stay relevant because of the genius of Alvin Ailey's legacy and vision. Mr. Ailey often said that he wanted his dancers to be a reflection of the audience. That vision allows for diversity on all levels - in the dancers you see on stage, the repertory that is performed, and the many different stories that connect with the human spirit in the most visceral of ways.
What is your favourite part of this 60th anniversary show?
I don't know if I have a favorite part of the 60th anniversary program. However, what excites me most is being able to share all of the amazing works that we have in our repertory. Whether it's timeless ballets, world premieres, or fan favorites.
How do you think people who are "non dancers" can relate to this work?
The beauty of the Ailey company is that there's something for everyone. No matter what we're performing or what story we are telling, anyone can look up on the stage and see themselves. That's the genius of Alvin Ailey.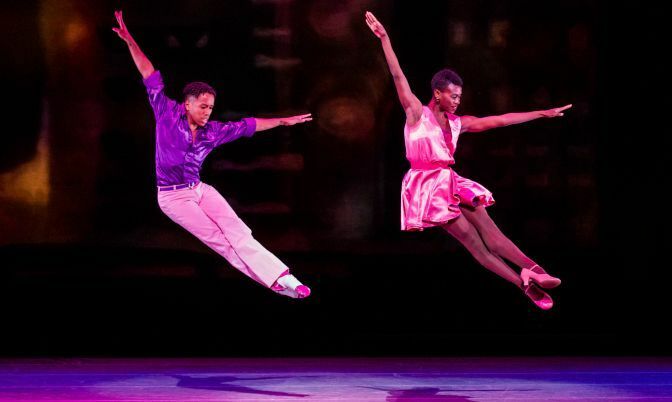 AAADT's Daniel Harder and Rachael McLaren in Talley Beatty's Stack-Up. Photo by Paul Kolnik.
The Alvin Ailey Company has performed for over 25 million people in 48 states and in 71 countries on six continents. Alvin Ailey American Dance Theater inspires all in a universal celebration of the human spirit using the African-American cultural experience and the American modern dance tradition.

The programs for their three performances at Toronto's Sony Centre for the Performing Arts are:

Fri. Feb. 1, 8PM and Sat. Feb. 2, 2PM:

Stack Up (1982), choreographer Talley Beatty
To the backdrop of an urban graffiti landscape and a throbbing 1970's beat, patrons in a crowded disco dance with attitude, sass, and at times, fierce despair. Featuring the music of the legendary Earth, Wind and Fire; American jazz-funk/soul-jazz saxophonist Grover Washington, Jr.; old school hip hop group Fearless Four; and American jazz fusion drummer Alphonse Mouzon, the stage sizzles with street life, break dancing, and physical pyrotechnics.

Members Don't Get Weary (2017) choreographer Jamar Roberts
An acclaimed dancer with Alvin Ailey American Dance Theater, Jamar Roberts' Members Don't Get Weary had its world premiere at New York City Center in 2017. Roberts says, "As a response to the current social landscape in America, Members Don't Get Weary takes an abstract look into the notion of one 'having the blues.'" Set to the powerful music of the legendary American jazz saxophonist and composer John Coltrane, the work uses the dancing body to inspire the audience to transcend their own personal blues momentarily.

Ella, (2008), choreographer Robert Battle
Using a live concert recording of Fitzgerald performing the song "Airmail Special," Ella is a high energy comic duet that matches the iconic singer's virtuosic scatting with lightning-fast, articulated movement in an irresistible tour-de-force that leaves audiences (and the dancers) breathless.

Sat. Feb. 2, 8PM:

Lazarus (2018), choreographer Rennie Harris
Acclaimed hip-hop choreographer Rennie Harris was inspired by the life and legacy of Mr. Ailey for Lazarus, the Company's first two-act ballet. Lazarus connects past and present in a powerful work that addresses the racial inequities America faced when Mr. Ailey founded the Company in 1958 and still faces today, and recently had its world premiere at New York City Center as part of Alvin Ailey American Dance Theater's 60th Anniversary celebration. The New York Times highlighted it as a "Critic's Pick" and raved "many brilliant samples in a score by Darrin Ross that is rarely simple. … When that music is going, Mr. Harris gives us something like heaven."
Alvin Ailey's 1960 masterpiece Revelations, which has been seen by more audiences around the world than any other modern work, closes every performance. Using African-American spirituals, song-sermons, gospel songs and holy blues, Alvin Ailey's Revelations is more than just a popular dance work, it has become a cultural treasure, beloved by generations of fans.