The Broadway play is directed and choreographed by Janelle Cooper and centers around Amy, played by JA Marie, a newly married mother-to-be with naive aspirations of perfection. During her surprise baby shower, she gets a loving reality check from her three closest friends in the neighbourhood. Brooke is a lawyer who wrestles with the guilt of many working moms, Tina, who recently divorced, struggles with co-parenting and Barb the stay-at-home mom of five, believes there's always a good reason for a glass of wine. The hilarious testimonial by the all-female ensemble has audiences erupting into belly laughs or fighting back tears from one musical number to the next.
JA Marie brings Amy to life through an effortless musicality and innate femininity. Her emerald eyes glisten with vulnerability while a powerful voice captures the emotional complexities of a young woman who wants the best for her new family. "Dance is an art form, it's storytelling. The way that you can move your body is sometimes ethereal and otherworldly… so it takes a lot to train your body to be able to put yourself in those shapes and spaces and carve those stories."
During the rehearsal process, JA Marie says she had to be willing to stretch herself emotionally and spiritually in order to show the range of emotions of a young mother and wife. The self-described dance mom nurtures the potential of her students as a choreographer and teacher at COBA Performance Institute – where she and her husband N'dere Adeifa run the children's dance and drum program. Reflecting on the creative journey, she says the parallels between each actor's role and real life is uncanny. "There are moments that we unpack ourselves and unpack the character and find the similarities. It's just enough to keep it personal but not too much that it's overwhelming. That's what the rehearsal process is for. We can go through the emotions and then pull from it and deal with it in a healthy way."
Learning the importance of work-life balance took years for her to appreciate. As the daughter of two creatives – her parents co-founded Ballet Creole in Toronto - the triple threat knows her talent alone cannot sustain her as a performance artist. She has been performing since she was a toddler and is a graduate of the esteemed Randolph College For The Performance Arts. She became passionate about changing the sacrificial narrative often glorified in the dance community after a serious injury almost ended her career. She's now formulating a practice inspired by the four elements that both heals and strengthens the body.
Over the years, the 24-year-old considers her drive and work ethic to be her strongest trait and when asked for the best advice she'd give to her peers, she responds, "Be open to learning everything that you're interested in and to find ways to receive that knowledge. Take what you resonate with and leave what you don't. Understand what is meant for you and what is meant for someone else and cultivate your own practice and your own holistic healing of yourself. So even if you're not 'successful' in the world, you are successful within yourself and how you're living and making sure that you are healthy. So that when you are ready, you can pursue your dreams in a way that is to the best of your abilities."
Janelle Cooper brings her own brand of Black girl magic to this body confident, soulful and sidesplitting stage play. The original playwright Sue Fabisch may not have imagined Amy in an unravelled, African-printed head tie after a sleepless night with a newborn, but those nuances serve as familiar affirmations to Black moms everywhere. Described as a maternal mentor, when it comes to character development, Cooper's style of directing is a metaphor for childbirth. It's going to get messy and painful before beautiful moments are created.
"For me, my biggest thing is helping an actor find what their truth is. What is your authentic self? We do a lot of emotional excavating. I'm pulling open someone's ribcage and sticking my hand in, in love - leaving all the BS at the door. We spend quite a lot of time doing table work and quite a lot of time talking about character, motivation, what is a want vs a need. Art is cathartic. Particularly theatre - it involves text, movement and vocalization. There is something that you resonate with, there is always a connection to be found. Something that tethers you."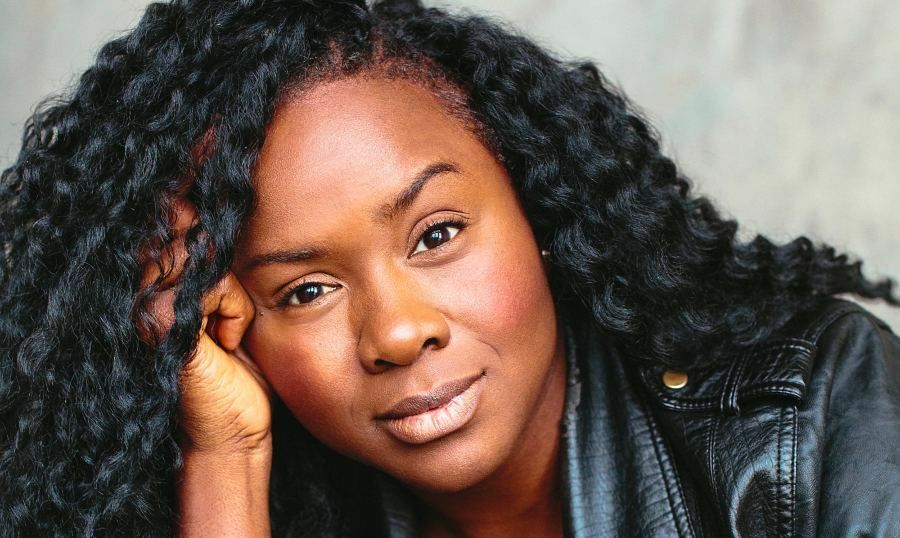 Janelle Cooper, director and choreographer - Motherhood The Musical
JA Marie and Cooper are the first Black women to work on this production in their respective roles. Cooper is also a writer, producer and prominent stage actor with a long list of theatre credits, including her role as Sofia in the Canadian premiere of The Colour Purple.
In recent years, Black women have been celebrated for their breakthrough performances on Broadway and recognized on the world stage for their brilliance and showmanship. Whoopi Goldberg became the first and only Black woman to snag an EGOT (Emmy, Grammy, Oscar, Tony) in 2002. 2015's Broadway revival of The Color Purple catapulted Cynthia Erivo's career when she won a Tony for Best Leading Actress in a musical, and last year, 11-year-old Charlotte Nebres made her debut in the New York City Ballet's Nutcracker, as their first African-American heroine, Marie.
As the paradigm shifted in the U.S., African-Canadian women were also being recognized for their firsts in the theatre community. Trey Anthony's beloved and iconic production, 'da Kink In My Hair was the first Canadian play to be staged by Mirvish Productions at The Princess of Wales Theatre in 2005. The successful leap of faith from stage to screen solidified the careers of Ngozi Paul, d'bi young anitafrika and Weyni Mengesha.
Mengesha, a visionary and thespian in her own right, accepted her seat at the table in 2018, as the Artistic Director of Soulpepper Theatre and made history as the first woman and person of colour to sit at the helm. Although the talent has always been there, the opportunities to shine have been limited. Which is why Cooper has become used to her role as the game-changer in unwelcome spaces. She is the founder and Artistic Director of Ellipsis Tree Collective - a Calgary-based Afrocentric performance society dedicated to the professional development of women of colour - the first of its kind in western Canada.
"Being a black woman artist, there aren't a lot of tables with available seats. I was always pushing against the mold or reshaping it. I'd like to see us not just taking over the head office but to be building our own organizations, institutions, populating our own board of directors, rewriting the language and polices like ACTRA or Canadian Actors Equity Association where the language doesn't include us. I would like to personally establish more in terms of affordable arts education. There was nobody in my community to mentor me, so I will spend the rest of my career to help create space for young artists and especially people of colour to do what they love."
Motherhood: The Musical plays in Toronto at the Lower Ossington Theatre until March 8th.
Know a Black Canadian play we should cover? Email us: info(at)byblacks.com.
True Daley was born and raised in Montreal, Quebec and relocated to Toronto in the 90s where she was a fixture in the hip-hop journalism scene as a freelance writer for various urban publications.
 She's also worked as a morning news anchor, actor, late-night TV host and commentator on pop culture and politics with appearances on Flow 93.5, BET, HBO, CBC and MuchMusic.
Currently, the proud Parkdalian is a community worker and filmmaker with an unhealthy attachment to vintage clothing. Follow True Daley on Twitter @truedaley