Toronto's The Musical Stage Company and Obsidian Theatre have revised the multi-award-winning production. Tony Kushner's musical had its Broadway debut in 2004 and came through Toronto in 2012 with award-winning actress Arlene Duncan playing Caroline. Fast forward eight years and the complicated and demanding lead role is now occupied by a woman who in recent years has vowed, with monk-like focus, to live an uncomplicated and truthful life.
With no formal musical stage training singer Jully Black, affectionately known as Canada's Queen of R&B, takes on the mammoth task of becoming Caroline. "I've traded in industry for ministry. When I say ministry, it's a ministry of purpose, true bridge-building. I've traded my career for my calling. Calling is what you're made for, career is what you're paid for."
What's the most important part of this calling?
"The most important part of this calling is connection. Minute to minute honesty in all of my feelings. The ability to be vulnerable enough to give everyone else permission to be vulnerable. I think that's the power of my privilege as Jully Black and my platform. Allow people to feel again."
The 42-year-old Toronto artist has entertained audiences the world over with high energy, Tina Turner-esque, sweat laden concerts, for a quarter of a century. In February 2020 at the storied Winter Garden Theatre in Toronto, Black trades in the sequin dresses and mini black leather shorts for a crisp, white maid's uniform with white stockings and sturdy work shoes.
How did you become Caroline?
"Musical Stage company asked me to do this series called Uncovered, a series honoring Carol King and Joni Mitchell and I went solo. No manager, no band. I was humbled, I went in as a student, to learn. I fell in love with the space of contributing, being there and being humbled. Learning songs that I didn't know and going into the theatre every day by myself. Peace. Peace just kept falling over me (Jully eyes well up with tears while talking about the experience), I knew I was healing. Then one day the director Robert (McQueen) saw me and asked me, would I be Caroline."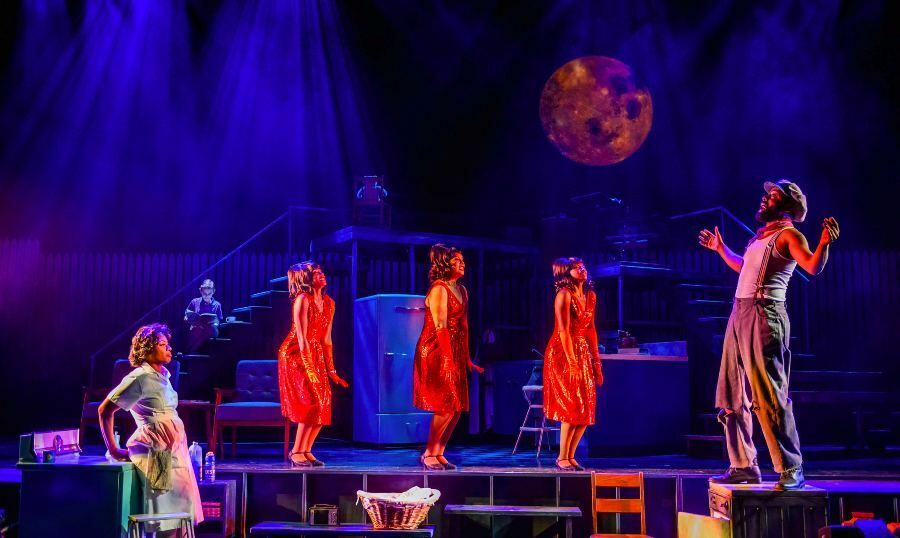 A scene from Caroline, or Change (Dahlia Katz)
Black sought healing after the death of her mother, Agatha, in November 2017; an event that infused her life with grief and new purpose. "I've always been a sensitive child even according to my mum, and dad (laugh). There was a time since mom passed, I didn't want to feel. The pain... I didn't think I'd ever... the pain was too hard to bear. But, since caring for mom before she passed, there was space made. I moved in with her. Turned her space into a sort of hospital. During that time, I realized that God took care of all my needs, all my wants, a year and a half, sis, of almost no shows, but the right thing will come in at the right time and being raised by a woman who was so wise financially, she always had money, she always had a stash and she taught me that, to always have SOMETHING. She didn't call it a " rainy day fund", she would say, "just make sure you have, a lickle som-ting, your roof comes first." So, time was afforded me, for me to be able to care for mom and be there with her...I have her recorded saying, "I love my children. This is what parents dream about, their kids being by their side to care for them and I know you guys are OK." After that, though the pain was heavy, it was like, don't let grief pin you down Jully."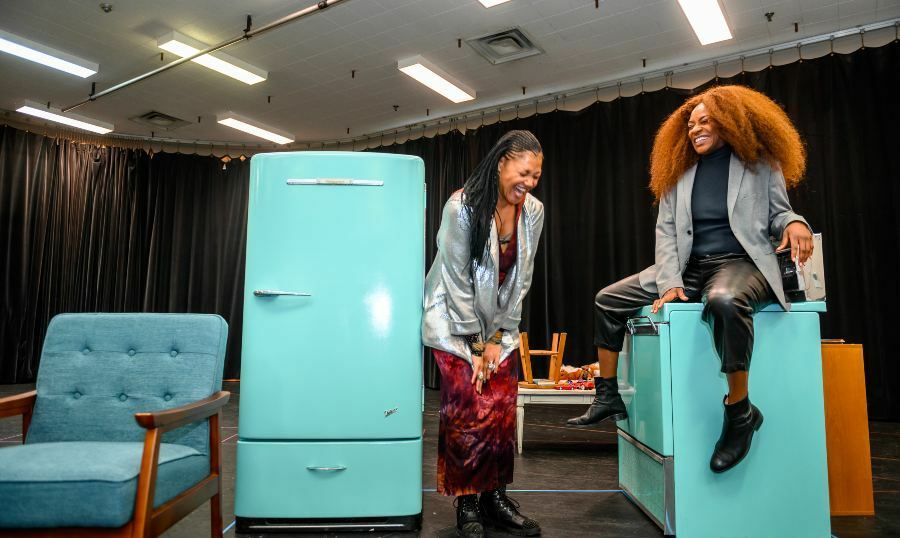 Jully Black during rehearsals with co-star Measha Brueggergosman, who plays The Moon. (Dahlia Katz)
Jully liberated herself from the grips of grief with life-affirming mantras such as, "Mom's last breath became my first breath." "There are many different paths to the same destination." The destination Jully was headed to next was a stage unlike any she had known before. Becoming a musical stage performer meant assuming a rigorous training routine.
"I'm an alto, a lot of songs are soprano so I had to train up and I had two procedures on my vocal cords. So, 12 weeks I was out while preparing for Caroline. Nobody knew! So I said, "God! For the sake of your reputation! Yeah, that's how I talk to God! "For the sake of your reputation, deliver me, heal me. I'm here, I'm willing to do the work." So I trained, I got a vocal coach for the first time ever-Elaine Overhold- and every week, 365, Reza Jacobs, the musical director (of Caroline of Change), I told him I will train for this outside of the contract. If he's willing to work with me, I'm willing to do the work."
The whole process took 9 months.
Where do you go when you become Caroline?
"Ha! Deep. It's Deep! I understand the whole idea of becoming this character. It's not acting, it's just telling the truth. I go into full surrender. When I'm not surrendered, I can tell, it's mechanical, then I (snaps fingers) take a breath and give Caroline permission to come through." In the opening scene of Caroline, Or Change, your character has a very angry disposition. Does anger serve a purpose in your life? Sometimes you have to get angry to move the dial to shift the narrative. But it's not to project your anger onto anybody. It's needed to turn the burner on. Without the fire, the food doesn't cook.
What would make this show a success in your mind?
"Seeing White, Black, Asian, Southeast Asian, etc. in the audience. Seeing many Black faces, our mothers, grandmothers, daughters...generations. As young as five, bring all the generations that's what would make it a success for me. This is an event that our community needs to be at, 100%. The Black Canadian community will get to hear their grandmothers, mothers, ancestors, what they felt, what they were thinking... Caroline's body language, her facial expressions, her presence was always felt, her feelings are expressed. The audience will get healing cause they'll see themselves in this character. Sis, the deliverance, it's unreal."
Tell me about Robert McQueen, the director.
"I love that guy! (tears) I love him. He changed my life, he changed my life...He gets it. He asked for permission to direct this, he asked for permission to tell these stories and he respects that it's not his story and he allowed me... he said: "Jully, go deep." I gotta say, I love that guy so much (full exhale). His soul is beautiful, he's honest. He pushed me, he stretched me, he believes in me. I know my mom would have loved him too."
For director Robert McQueen, the reverence is mutual.
"We understood each other. I can walk up to her and say 4 words to her and she would get it. This work requires a trust that allows us to go to a kind of creative intimacy. It just means that barriers have to be able to drop away and we have to be able to stand in the room and be vulnerable and be present...I don't know what that is or how it happened but it happened quickly. There's something that's been cracked open in me, by being on the floor with Jully.
Can you see a future for Jully in musical theatre?
"Oh! Yes, Absolutely! Completely! I mean, the thing is, we need writers to be writing pieces for people like Jully."
One of my favorite Jully Black songs is Running. At this point in your life, what are you running to Jully?
"I've moved from running to, to running for, absolutely. I'll say, the first word in legacy is leg. The first word in legendary is leg. I'm actually training to run a 10k this Spring. You got to build your body up, build your legs up. If you can't run for yourself, you can't run for somebody else. Harriet Tubman, freedom, you know all of that, there was a run involved. Running for purpose. To feel the life in my body, to feel the breath. To feel my body get winded is miraculous."
Are you comfortable being uncomfortable?
"Oh, yeah! Being comfortable is overrated. It is in the discomfort that you find your grit. It's in the discomfort that, for me, my faith kicks in. Resistance creates change. It's like weightlifting, the muscles have to get torn down so they can build back up and get stronger. There's one more thing my mom used to say, she used to talk about a seed. I cry easily, yeah, I break down, I break down, but then she gave me a reason to enjoy the breakdown... she said the seed has to go into the cold, dark earth by itself and it's not until that seed breaks that we benefit from the food. The goodness only comes out when we break. I said, all right, there you have it."
Jully Black in Caroline, Or Change
Winter Garden Theatre, 189 Yonge St., Toronto
January 30- February 15, 2020.
Presented by The Musical Stage Company and Obsidian Theatre Production.
All photography by Dahlia Katz.
Know a Black Canadian story we should cover? Email us: info at byblacks.com.
Rosey Edeh spent a decade (2005-2015) bringing the latest entertainment and pop culture news to the masses as a senior reporter on Global TV's ET Canada. Building on her vast experience as a news anchor and TV personality as seen on CNN, MSNBC and Global News, Rosey has founded an award-winning production company, Micha Muse Media Inc. Movies, plays, art exhibits, good books and all things track and field get this journalist, filmmaker and three-time Olympian excited for life. Human connection, struggle and triumph, maintain Rosey's mission to tell meaningful and even entertaining stories that hopefully offer readers insight, depth and even a little levity.
Twitter: @roseyedeh