Johnstone plays the monumentally conflicted Marcus Brutus, in Crow's Theatre's explosive Julius Caesar until February 2 2020 in Toronto.
Johnstone's passion for Shakespeare's work at an early age has translated into a successful career on stage. Fresh off the heels of his Broadway debut in King Lear co-starring Oscar-winner Glenda Jackson, the Stratford Festival denizen was handpicked to play Brutus by director Chris Abram. This production marks Dion's fourth turn in Julius Cesar and his first as the tragic hero.
What have you learned about yourself playing Brutus?
"I find I'm always learning something about myself through playing these roles and trying to understand the language on a deeper level. Which is why I can come back to this play on the fourth round and still be excited by it.
What I keep working towards is that faith, that trusting in oneself because the life of an actor can be one of constantly looking outside yourself for approval. To be able to trust that you have the skill and be confident in the choices you make, whether they're right or wrong, knowing that it's all a learning experience… to be able to rest easy in that and to take it in stride. I think that would help make the journey of being an actor an easier one.
I'm excited to take that further leap of letting go and trusting that the work is there and letting the spirit speak. Speak through and use me! I don't think I can pull back from the logical, rational and intellectual aspects of breaking down the part because there's so much work that has to be done to understand what exactly is his argument at any given point. I find I have to do a lot of work just getting really clear about what it is I'm saying and what it is I want."
How focused are you on the audience during a performance?
"In order to break the fourth wall and have an instant connection with the audience, I need to take the audience in even though I may not be looking out to them right from go. I need to let them have access to my thoughts. You can also feel those moments when you've really hooked the audience and they're breathing with you. That's when it's really exciting because we're all undertaking this experience together."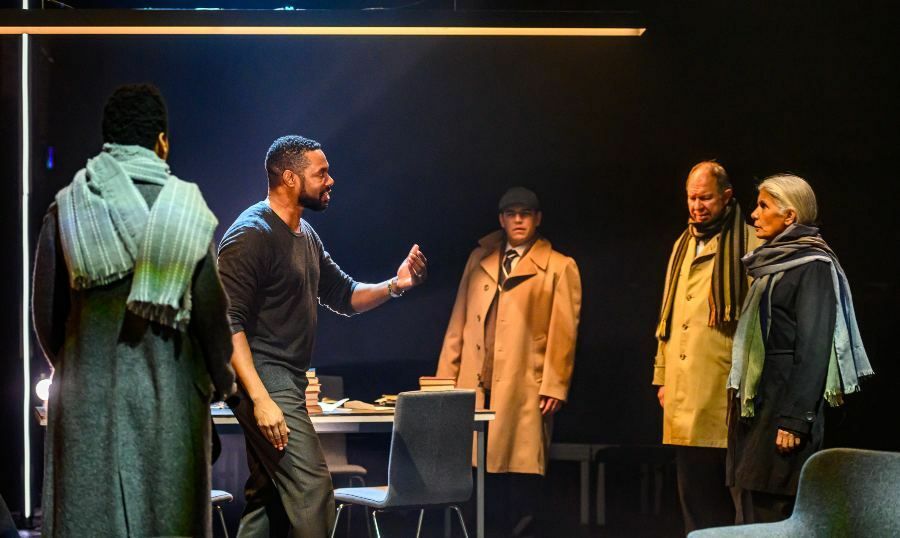 Under the crisp direction of Chris Abram the play is a rapid and at times violent web of machinations set in a modern-day cage match atmosphere replete with an actual cage, thunderous sound and jolting lighting effects. At the center of the pitch-perfect boil of turmoil, is Brutus and Julius Caesar. Johnstone's Brutus builds in presence and purpose.
On opening night, Johnstone's final scene was consumed by a rapt audience including star author Margaret Atwood, who couldn't bring herself to witness Brutus' end and hid her eyes from his demise.
Why should regular folks see this play?
"It speaks to our times. The fear of the rise of authoritarianism, the suppression of people's rights. The whole discussion of how do we talk to each other when we have different points of view… how do we engage without fear of, well, if I understand what you have to say then I somehow lose my position? I think those are big discussions in the play. Audiences going to see the play will see Black actors in multiple roles. We also have Indigenous actors playing multiple roles. The virtue of our presence and our own point of view and our own thoughts and energy will allow the audience to find waves of resonance in all kinds of ways."
The 44-year-old actor credits his wife, actress Lisa Berry who plays the grim reaper on the TV series Supernatural, with keeping him grounded and encouraging him to steer clear of bringing work home. Johnstone's emotional well-being plays a large role on and off the stage.
"The more you build and attend to yourself, the more you have to bring to the work and the world."
What words of encouragement do you have for young Black Canadian actors looking to make their mark in the world?
"When you have the technical skill to perform in any kind of house, your talent and ability become undeniable and it becomes very difficult for people to not open doors for you. So on one level, I think training is very important. I think also, not being afraid to create your own work and put it out there is vitally important. I think we're at a time where, as Afro-Canadians from whatever background we come from, we have so many stories to tell. Always finding a way to create is important. Taking care of yourself spiritually and mentally is important. If you're not taking care of that it becomes really hard to bring yourself fully to the work. You need to get out of your own way."
Julius Caesar is at Crow's Theatre now through February 2, 2020.
All photography by Dahlia Katz.
Know a Black Canadian story we should cover? Email us: info at byblacks.com.
Rosey Edeh spent a decade (2005-2015) bringing the latest entertainment and pop culture news to the masses as a senior reporter on Global TV's ET Canada. Building on her vast experience as a news anchor and TV personality as seen on CNN, MSNBC and Global News, Rosey has founded an award-winning production company, Micha Muse Media Inc. Movies, plays, art exhibits, good books and all things track and field get this journalist, filmmaker and three-time Olympian excited for life. Human connection, struggle and triumph, maintain Rosey's mission to tell meaningful and even entertaining stories that hopefully offer readers insight, depth and even a little levity.
Twitter: @roseyedeh